Houdini the Baja Bus
---
Smiley

-

November 12th, 2014 at 07:55 PM

I thought I had better start a thread for my Bus. I've had him almost a month and a half now. This is my first foray into Kombi ownership (well, running and registered bus it is

)and I have to say that they are a hoot to own and drive. Named Houdini for his ability to magically make engine oil disappear



The bus is a 1978 panel van that has had windows added to it. Has a auto box and was originally a 2L injected engine. But it presently has a carby 2L fitted, though the computer is still in the engine bay. Has a rear seat which folds into a bed and rear seat belts fitted. Is currently blue plated as a five seater. Has factory air con in the overhead console style, though there is no compressor fitted to this engine. All the other components and hoses are still fitted to the bus.

Has 15" Merc wheels. And I picked up the awning a few weeks ago when I was down Brisbane way for Buggyfest, massive thanks to Paul at Steelart for hooking me up with this. It's 4m long and 2.5m out, so a huuuuge area to sit and have smoko under.

I know you all love pictures, any questions feel free to ask away!






Plans for the bus is a little bit of lift, some big tyres, manual box with a locker, twin batteries, second fuel tank, fix the aircon, maybe a bigger Type 4. You guys all know the drill, it can't stay standard!!!


Smiley

---
Scottkombi

-

November 12th, 2014 at 08:54 PM

Looks great - love the accelerator pedal.

Will look great up in the clouds with big rubber.
---
adlbeetle66

-

November 12th, 2014 at 09:04 PM

OR.....
You could do this.......
---
Smiley

-

November 12th, 2014 at 11:57 PM



Yeah. He suffers from Kombi pedal hinge syndrome too






I can't wait to get stuck into modifying him. They are pretty huge just stock height. I pulled up next to a Patrol the other day and was looking down at them


It's a very different sensation being so high up. My bug was pretty big, but no where near as big as a bus to drive around in.




Not entirely sure they have a blue plate code for that in Queensland





Smiley

---
nils

-

November 13th, 2014 at 05:20 AM

So that's why you are dragging your feet on the Baja



. Still love Baja buses, mine is still the car I should not have sold to me. If you decide to go real big let me know, I'll give you the low down on how to do the suspensions all legal and stuff.

---
modnrod

-

November 13th, 2014 at 05:30 AM

I had a 2L auto panel, mine was a '76 from memory.
When the twin carbs finally crapped out totally, I plonked on a manifold off the injected model, then a WW Stromberg off a 253 Kingswood onto a flat plate, then added a few other little bits here and there.........
Lights up and squeaks out of corners, jumps off the lights, sits on 100-110 all day, carried my bean bag and bike for the drags, just the best thing in the whole world.

---
11CAB

-

November 13th, 2014 at 06:50 AM

You're about 15 years behind the times...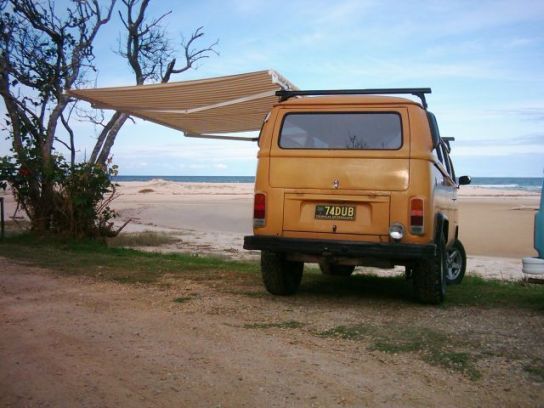 ---
Smiley

-

November 13th, 2014 at 08:05 AM



Hahahah! Love it! Same awning and everything!

I'm restarting the times! Once mine's done and yours is on the road we can restart the Big Bus trend! There's bugger all of them around these days!


Smiley

---
pete wood

-

November 13th, 2014 at 03:57 PM

You know, if that auto aint broke, I wouldn't be in a hurry to change it. It will put up with big tyres and low speed much more happily than a manual... stronger too.

20bkombi could probably help you with it if it needs converter or valve mods. That's his specialty now.
---
vduboy

-

November 13th, 2014 at 05:58 PM


Hahaha that's great nils! I've seen your "legal Baja"!
Yeah get cracking on this Smiley, looks like great fun. Do you think you'll finish yours before Andrew finishes his...?
---
Smiley

-

November 13th, 2014 at 07:38 PM



Mines already registered and driving isn't it??










Smiley

---
Smiley

-

November 13th, 2014 at 07:42 PM



Thing is, the auto is broke. It's really on it's last legs at the moment. And a 2L box doesn't have the ratios to put up with 33s. So I'd have to change to an 1800 box anyway. I figure if I'm going to swap the box out I might as well switch to a manual.
Plus the autos don't last very well offroad cause you can't easily fit a cooler to them.
And you can't fit the diff locks to the auto boxes



But I can see your point, I have enjoyed putting around in the bus with the auto. It's just too many negatives versus positives for the particular use I will have for the bus.



Smiley

---
DubCrazy

-

November 13th, 2014 at 09:26 PM

whats going on with poor alice?????
---
Smiley

-

November 13th, 2014 at 10:14 PM



I have more updates for Alyce too.

I might need someone to paint her soon

hint hint


Smiley

---
pete wood

-

November 13th, 2014 at 10:19 PM



I'd have a talk to him. Have you seen the stuff he's doing with autos for his drag car? Other thing being, there's a bunch of guys running vanagon autos in sandrails in the states. They're supposed to be bullet proof. There are a few guys who've fitted BMW LSD centres to VW autos I think too. Do a little research, I think you might find it's a better option than you think. If your's needs a rebuild, all the better to do it now.



P.s. don't put an 1800 manual box in your bus. They're not as strong as 1600 boxes. Don't ask me how I know this....

---
modnrod

-

November 14th, 2014 at 02:29 PM

I'm with Pete. Aaron has those autos humming. If you want or need manual control then put a full-manual valve body in it, but remember if you select 1st gear at 100kph on the highway, it WILL GO IN, and you may look slightly uncool for a few seconds while spinning off the highway out of control.


Coolers are as easy as drilling and tapping 2 holes (really that easy), if you think the 2L won't pull the 4.11 diff in that gearbox, then getting the heads pocket-ported (and checking the seats while in there would be good) with high-flow valves, adding an exhaust and a decent intake will give you another 20%.........which is more applied torque multiplication to the wheels than changing the diff from 4.11:1 to 4.37:1 and probably cheaper, heaps cheaper than reinventing the wheel and trying to slide a manual gearbox in..

Just think how cool you're gonna look if you're cruising in a Kombi that uses a B&M race Ratchet shifter!

---
mackaymanx

-

November 14th, 2014 at 03:01 PM

If you are looking to go to a 094 5 speed let me know, I have a AGT(2.1) and a 1.9 box here in Mackay. Not sure of the code on the 1.9 as I don't like crawling under cars that have been sitting for awhile in snake country. Gets delivered on Monday and can get the code then if you are interested.

AGT has locker boss, 1.9 does not.

Edit AGT is 4.83 and 8E(1.9) is 4.86
---
mackaymanx

-

November 14th, 2014 at 03:15 PM

Can suppy shift box and linkages if needed but I'm not sure how or if they would fit a bay window.
---
h

-

November 15th, 2014 at 06:53 AM

awesome! it looks like the bus will tip over when the awning is fully extended lol
---
DubCrazy

-

November 19th, 2014 at 01:38 PM

Sure I know someone who can help u with that :o)
---
baghall

-

November 29th, 2014 at 05:12 PM

So cool Smiley. What brand of awning is that and if you don't mind me asking, what did cost you? perfect size for my bus Henrietta.
---
Smiley

-

November 29th, 2014 at 09:11 PM



Hey mate. I didn't buy the awning new. I picked it up second hand from Paul who runs Steelart in Brissy. He used to have it fitted to his T3 bus a few years back before it was written off. And it doesn't have a brand or any markings that I could find, but I will have another look for you. I think Paul said it is one that would normally be mounted to the side of a caravan or motorhome. It's 4m long and 2.5m out.


Smiley

---
Smiley

-

November 29th, 2014 at 09:25 PM

I just went and had a look. The brand is printed right on the end caps. It's Everite.
I quick search yielded this
http://www.homedepot.ca/product/manual-retractable-awning-12-feet-x-8-feet/91...
Which is exactly the same as what I have, just a different colour. I hope this helps mate.


Smiley

---
baghall

-

November 29th, 2014 at 09:28 PM

Thanks Smiley, appreciate it!
---
Smiley

-

November 29th, 2014 at 09:55 PM

Pete while I understand there are many advantages to the auto I just don't have the money to pay for one right now. Plus I have pretty well all of the gear here to swap to a manual. And a locker that is sitting around looking for a home


And it's funny that you mention Aaron because the 2L carby engine that is currently in Houdini is the original engine out of his black bus! Interesting bit of history that I found out about the car recently




Smiley

---
Smiley

-

November 29th, 2014 at 10:08 PM

Well this happened....






The auto gave in and decided to go on strike. I knew it was bad but thought it might hold on for a little while longer.
The next time Houdini moves under his own steam it will be with a manual box!


Smiley

---
11CAB

-

November 30th, 2014 at 07:17 AM

I bought our awning new. It was at the local $2 shop/crazy Clark's type place and its meant to go on the side of a house. But worked perfectly for the Kombi. Was around $200 new when we bought ours probably 10 years ago
---
Bone

-

December 3rd, 2014 at 09:49 PM

Hey Smiley I have found a home for that locker diff! Here on the Sunny coast in a 5 rib box under my Baja! You know you want to make some shelf space! Lol.
---
Smiley

-

December 7th, 2014 at 01:43 PM



Hahahah. Nice try mate!!


Smiley

---
vduboy

-

December 7th, 2014 at 04:10 PM

Or you could roll it down hill to me! I'd like to see another locked manxter! Might as well be mine...!
---