76 Mk1 Golf turbo build
---
motha

-

August 14th, 2011 at 09:46 PM

A few people have asked me a couple of times to share in what has been going on over the last 2+ years of this build from the initial $200 2nd hand turbo setup to how it was raced at Portland earlier this year.

I finally found enough time to transfer everything across from a previous build thread elsewhere.

This build started off below as my daily driver build up a few weeks before the 08 Nationals, where it took out 1st Mk1 & also "Peoples Choice" overall which felt pretty good for a watercooled car & more so as it was built in 7 weekends leading up to the Nationals & also built without spending a heap of cash & more so what was lying around the shed & what not.

http://forums.aussieveedubbers.com/viewtopic.php?tid=72149

Somethings & sentence/replies may not make a bunch of sense, as it has been copied over, but the spec & info is really what its about.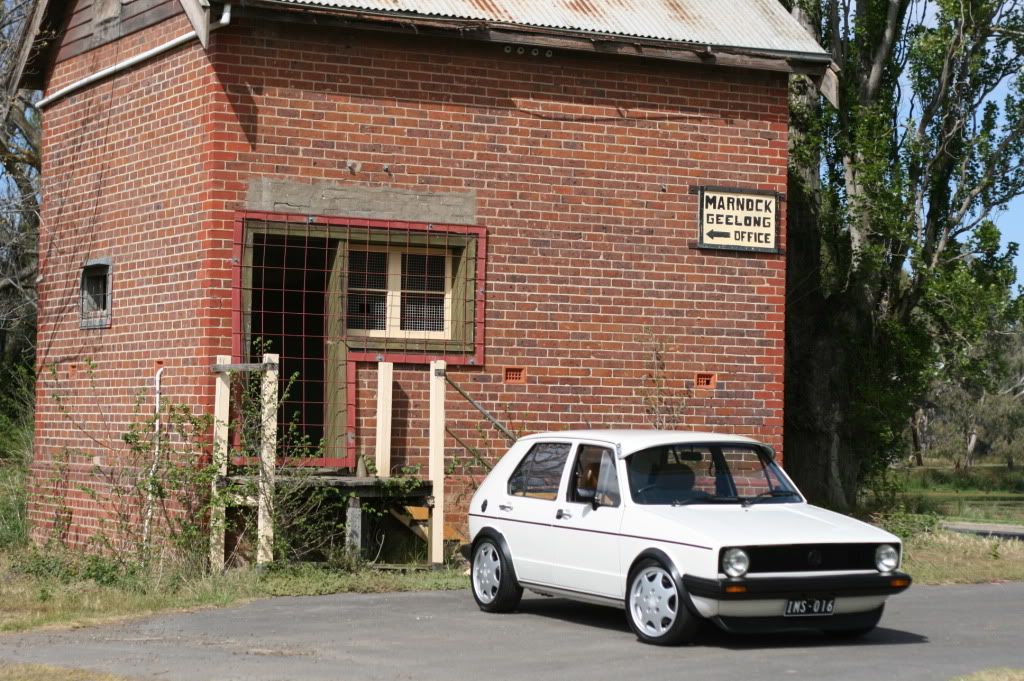 I've been gathering part's for the build over the last few month's for the turbo build up.

I thought I'd have a go at doing it "ol skool" style being a K-Jet turbo.

The spec is very basic & very, very mild. (only running 10psi, but maybe more if I can get the fueling right!) Nothing outrageous - Power expectation is unknown at this point. But hopefully it should be fun for awhile once sorted out.

Bone stock low compression "GX" "SLUG"
Autotech 270 Cam & Valve springs
Modified G60 intake
Ol Skool "BIG" Weber/Redline Throttle body I found. (This was a common mod to replace the stock twin throttle body in the 80's & can be a pain in the **** to find one)
Same stock Volvo K-Jet I've already fitted, except deleted Aux. air valve & Cold start valve
Audi 5000T boost referenced Warm up Regulator
Stock modified Distributor
ATP Cast 8V exhaust manifold
Saab T3 oil/watercooled turbo. V-Band 3" wastegate/dump pipe
Mitsubishi Galant VR4 Intercooler
Custom 2.5" exhaust & 2" intercooler piping
Tial 50mm BOV. (I'll be using this for my next project in the future.)

I'll also be fitting a Innovate Motorsport's wideband Air/Fuel meter/data logger to help me with the tuning side of thing's along with a modified Autometer fuel pressure gauge setup & also my favorite part. A genuine Callaway boost gauge, as fitted as part there Mk1 turbo kit's in the 80's!
I'll be tuning this myself, as there isn't a hell of alot of people out there who can successfully tune this sort of injection system, especially turbocharged too!
Once I'm happy with the tune, I'll put it on a dyno to get a idea of the power output.

I'm still waiting on some part's to arrive soon, but I'll post up what I've got & work done so far.

Saab Turbo & boost regulator (Just have to remove a broken bolt from the exhaust housing! DOH!) It's not a big turbo by all mean's (it's tiny to the other one I have here!), but it should be enough for now, until I get really power hungry. Only a matter of time! haha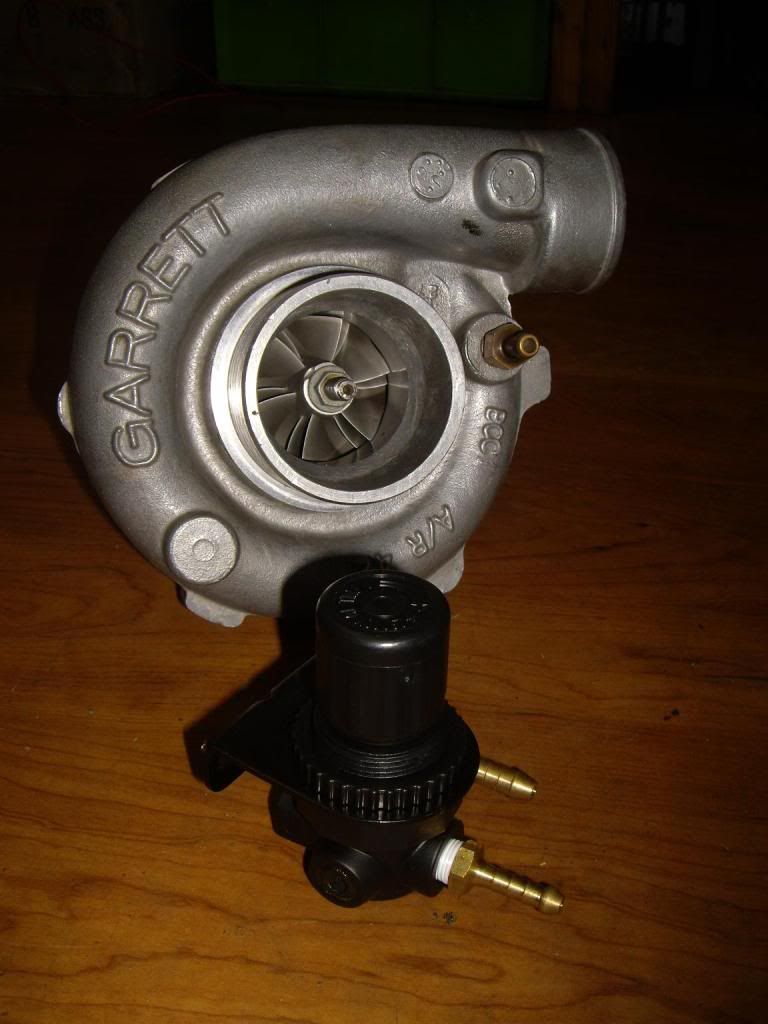 New Engine Breather/catch can setup. I know. No more Powerade bottle! haha




Audi 5000T boost referenced Warm Up Regulator fitted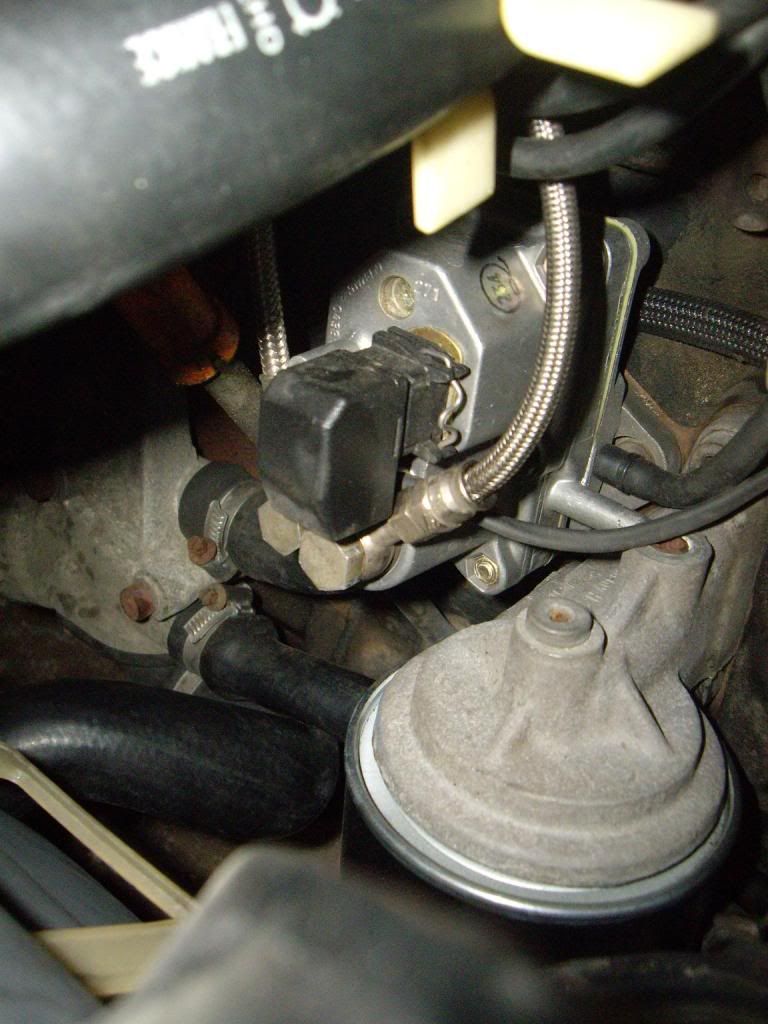 Autometer Fuel pressure tester I modified for testing purposes of the K-Jet, as this is how you basically tune a K-Jet system Note: the fuel tap to switch between "System" pressure & "Control" pressure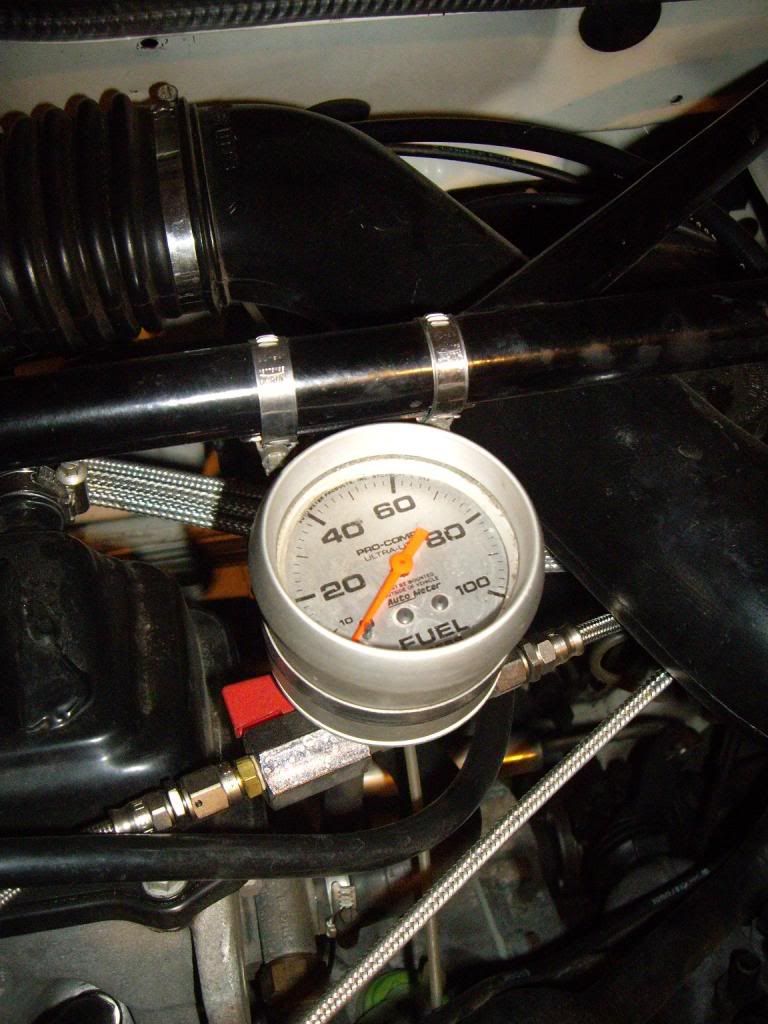 Weber "BIG" Throttle body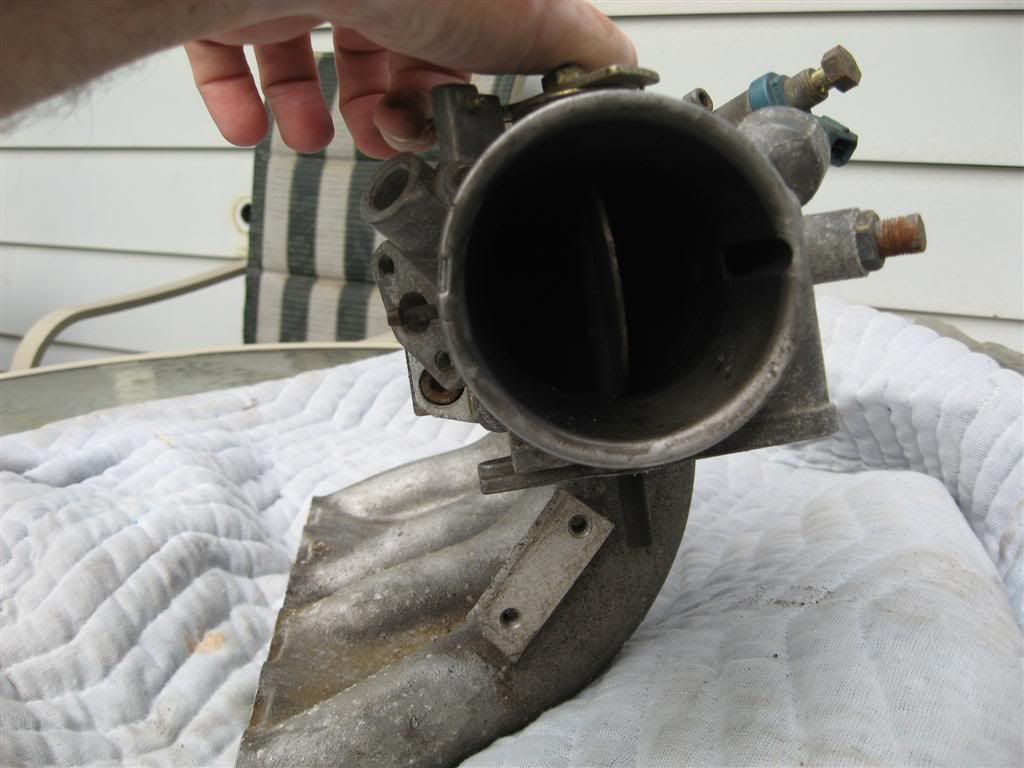 Test mounted up the intercooler to work out the bracket's & mounting after it was pressure tested. All good.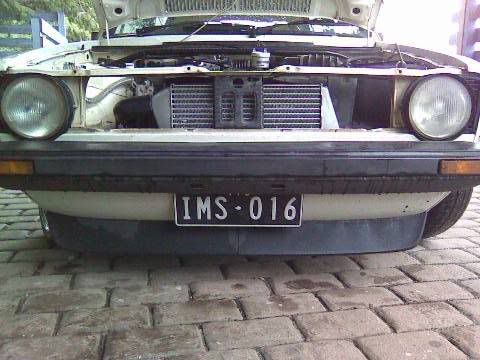 I placed it so it has full frontage coverage of the intercooler core & still has room to have the piping fitted. Once painted black, you won't even know it's there!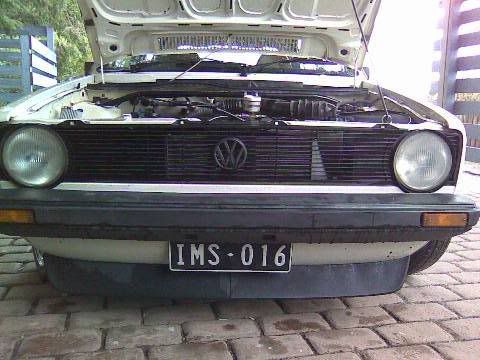 Had to relocate the Radiator back 1" & across to the driver's side 2" & then bend up a cover plate for the radiator core. Note: Underneath is is lined with some stick on foam to protect the rad. fins & keep it from moving.


---
motha

-

August 14th, 2011 at 09:47 PM

Intercooler with the mounting bracket's welded on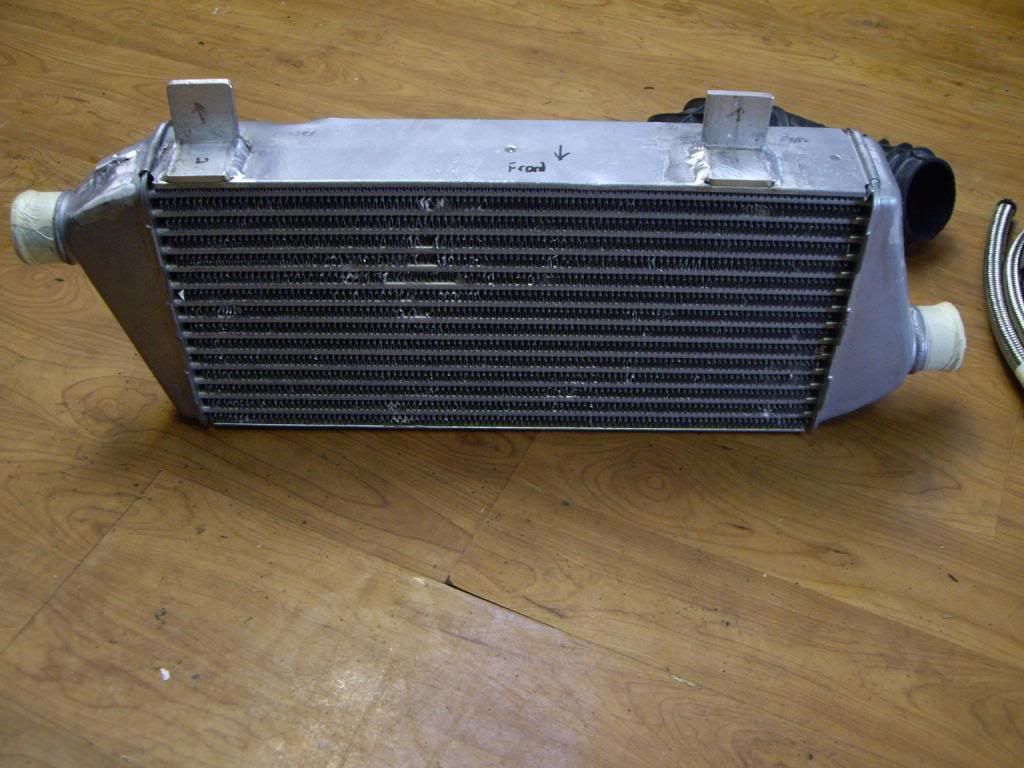 It's not a very big intercooler, but it will do the job easy as. A friend fitted one of these to to his TRX CA18T & on 20psi it made 199rwkw's & didn't have any trouble keeping the intake charge cool as!




Assorted boost piping & oil supply & return braided hoses & fitting's.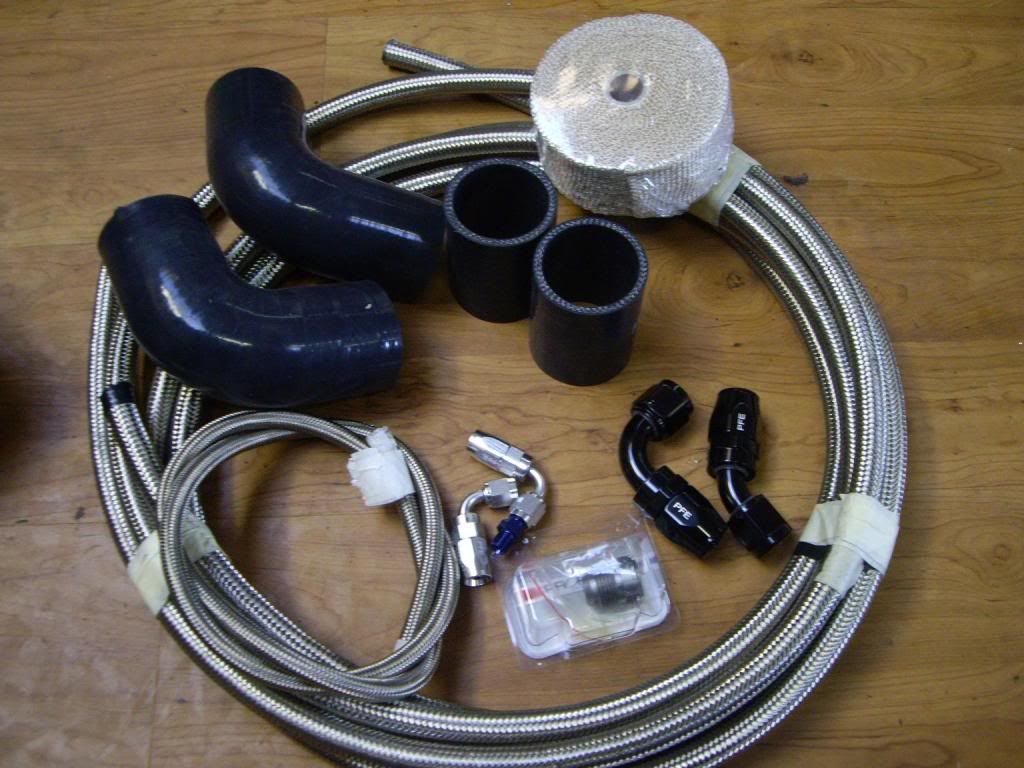 Volvo "Cobra head" K-Jet airflap intake boot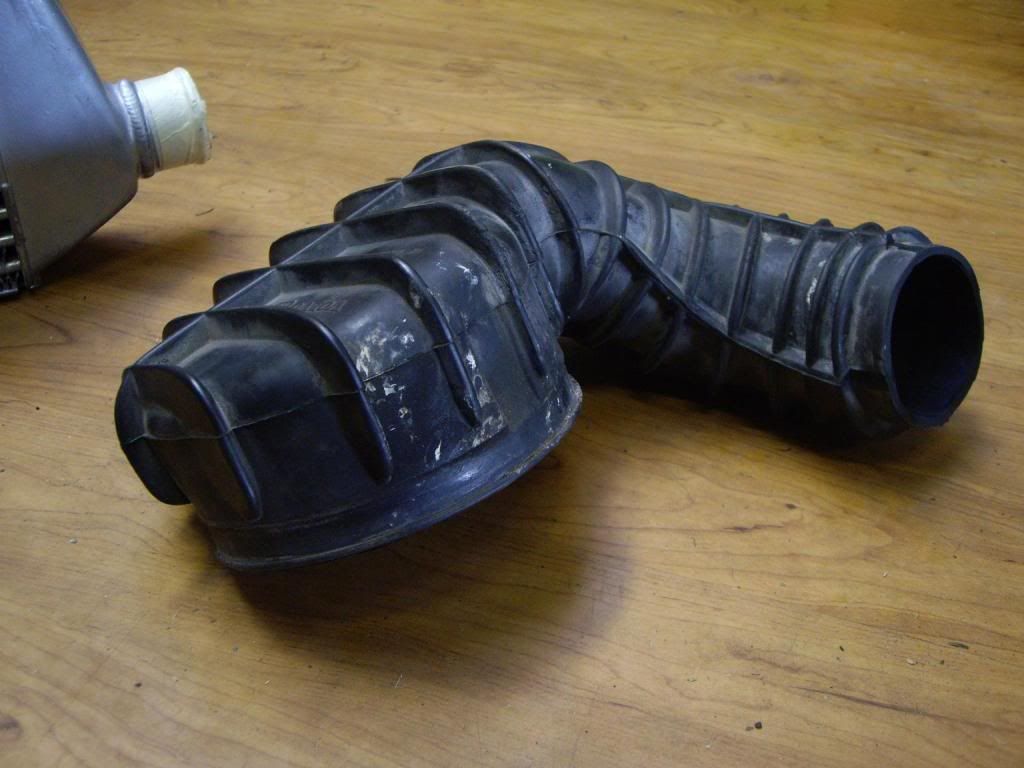 Innovate Motorsport's wideband A/F meter & data logger equipment




Callway Boost Gauge. (I've had this for year's waiting for the perfect project!)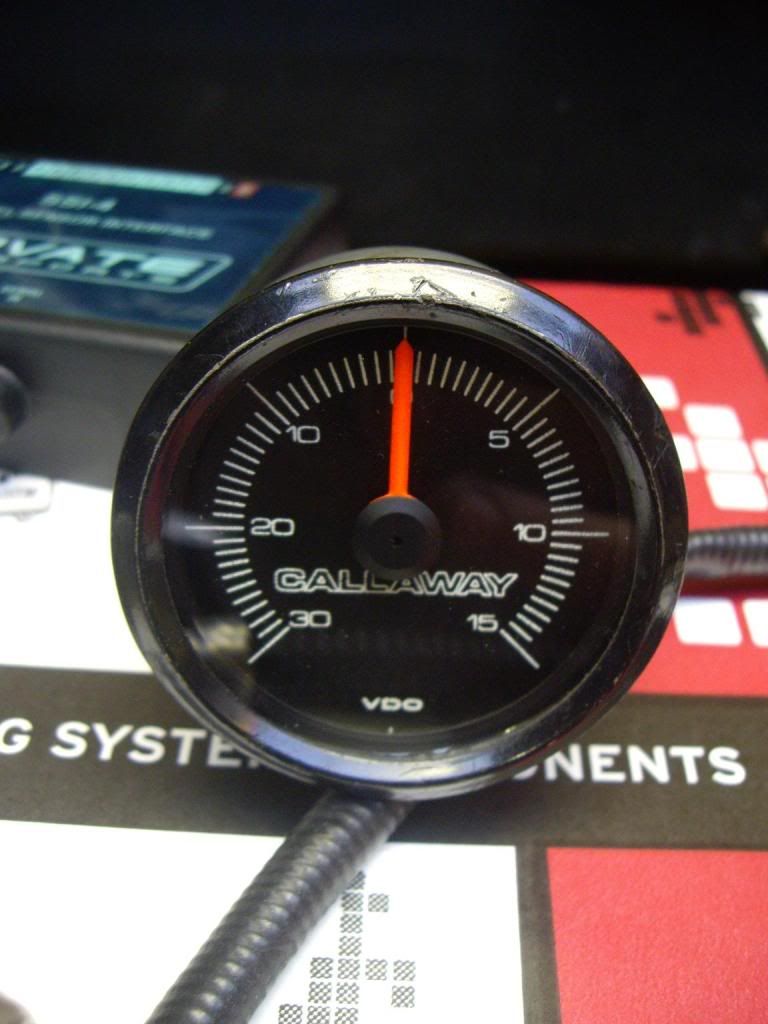 Another Project that has been waiting in the wind's for a few years now. One day!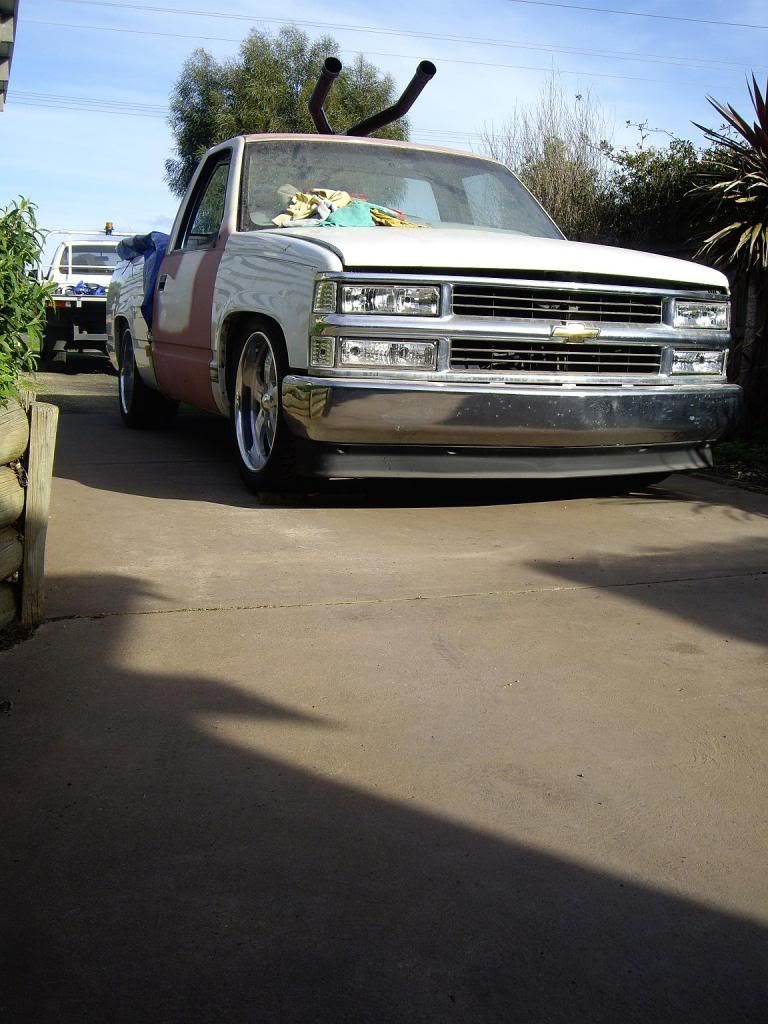 I did get a chance to remove all the useless mounting boss' off the G60 intake I've got here & went & sandblasted it today at a friend's workshop. I also drilled & tapped one of the manifold fitting's with a plug, as I only need one port for the brake booster. It also came standard with a boost/vacuum fitting on the end, which will come in handy for the other component's


These intakes do look alot bigger, but these intakes aren't really suited to NA purposes. These are mainly for forced induction only, due to slow air speeds through the runner's on NA application's. You'd be better off with a properly match ported & bottom 1/2 half of the runner ported/blended.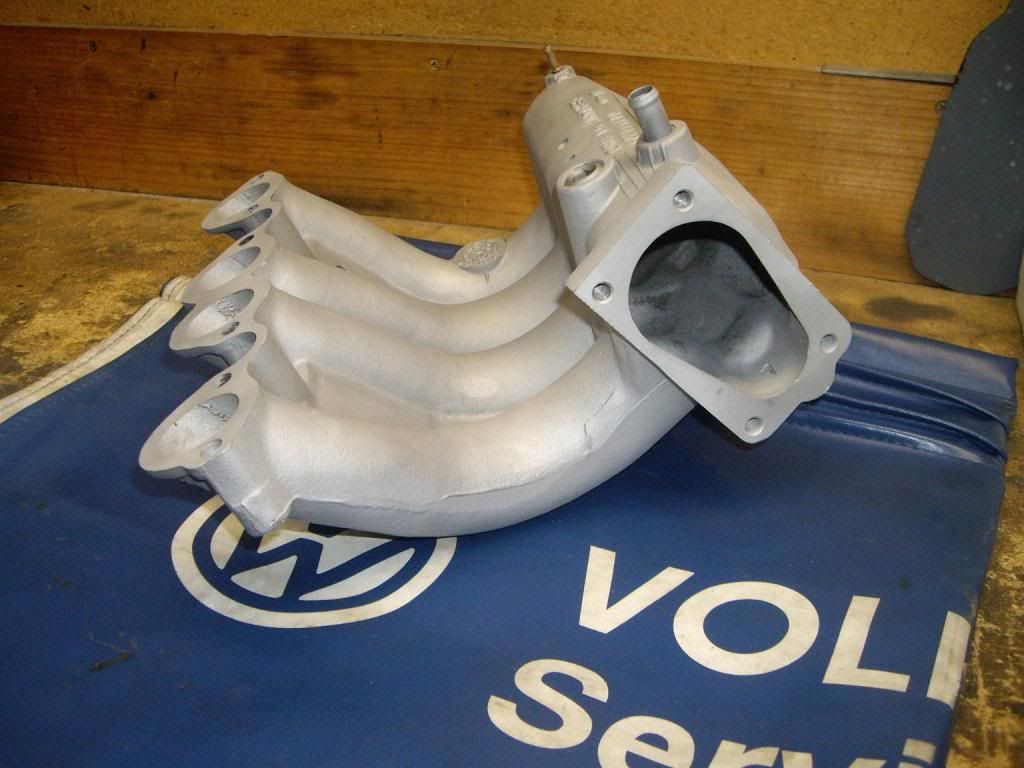 Here you can clearly see how much larger the intake runners are compared to the standard 8V K-Jet intake of a GTI.
I'm also not running any cold start injector or a aux. bypass valve to simplify the setup & also less chances of boost leak's too!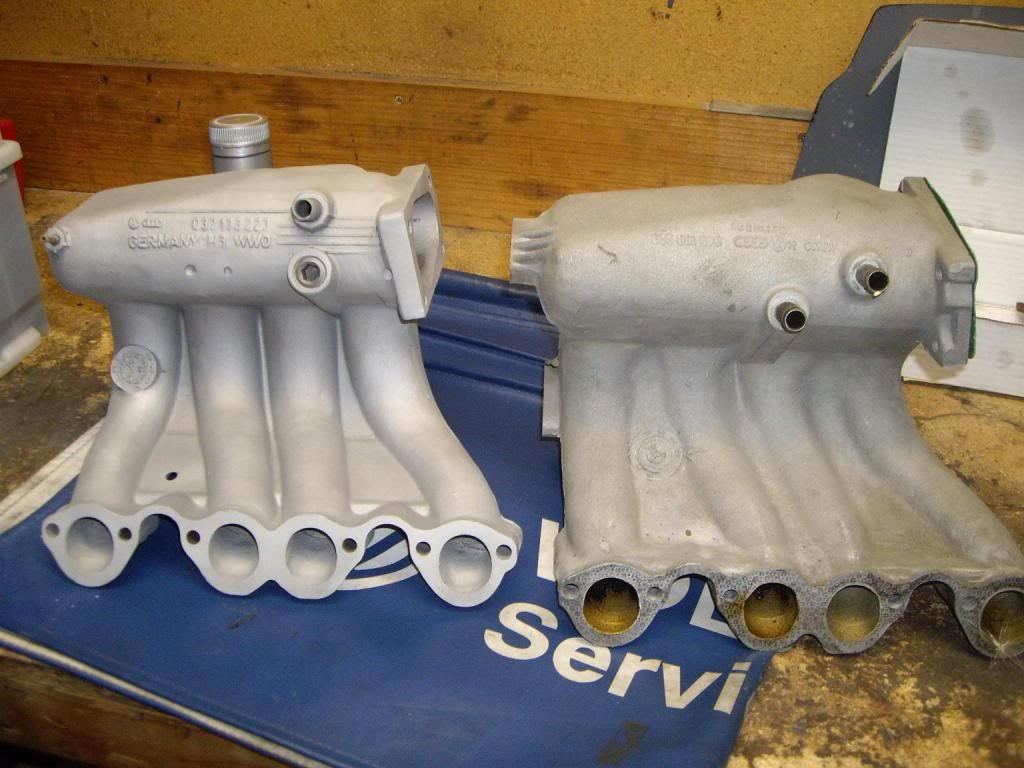 ---
motha

-

August 14th, 2011 at 09:50 PM

Weber Throttle body & Redline adapter!

Needs only alittle clean up. Very happy with it.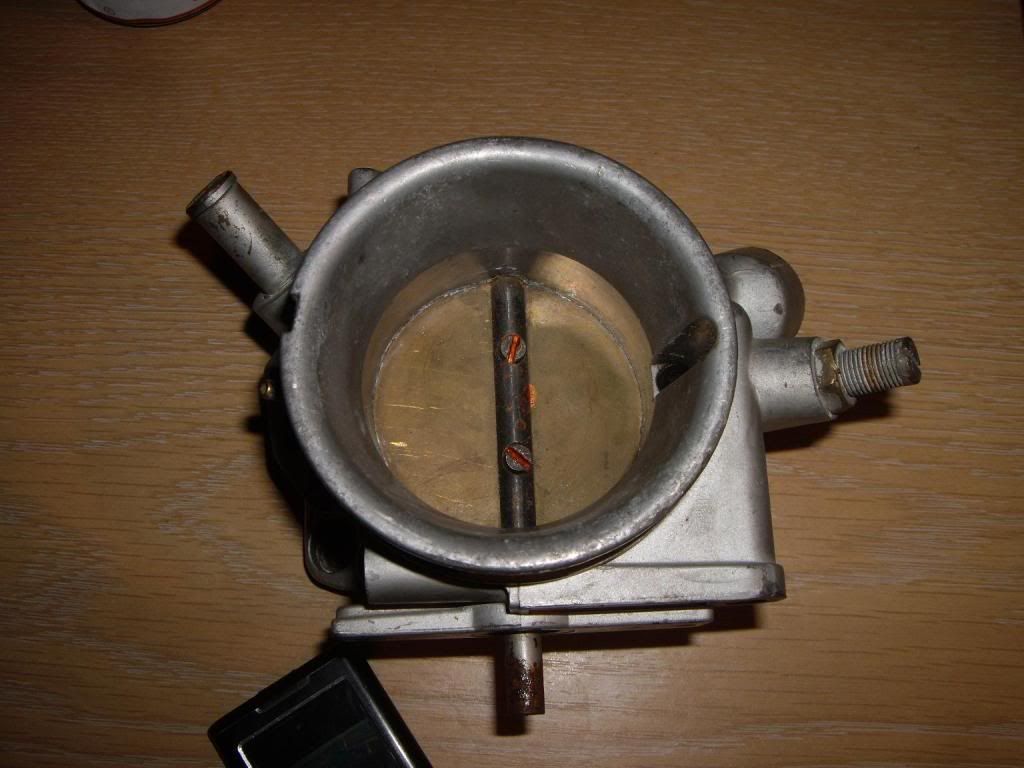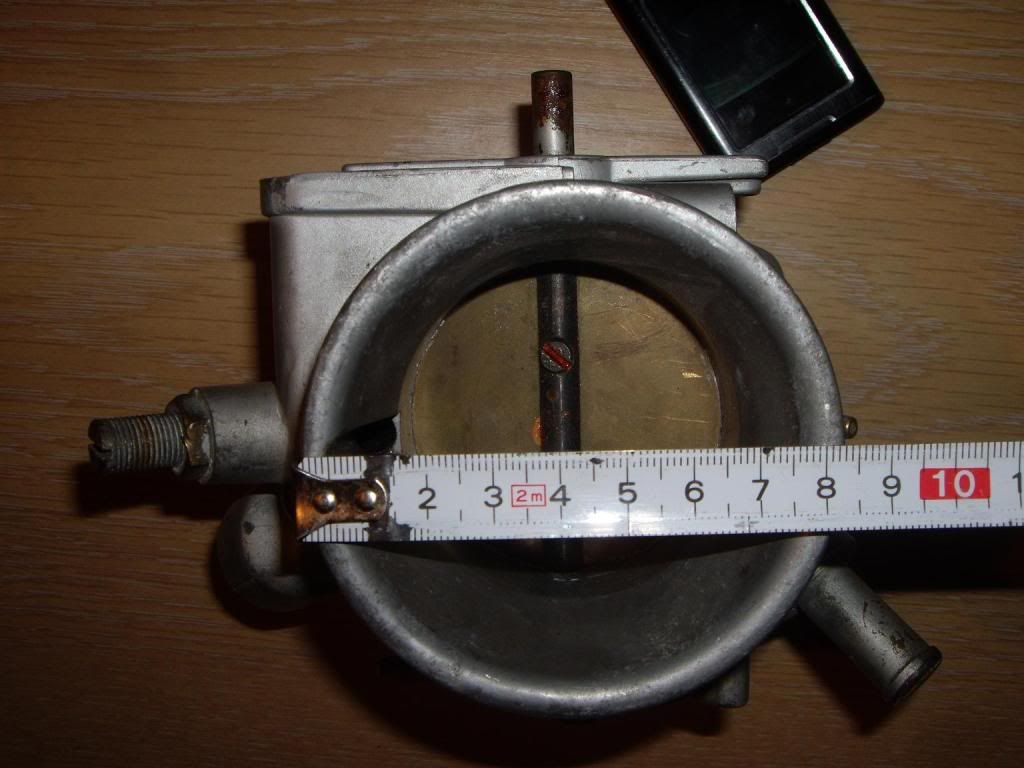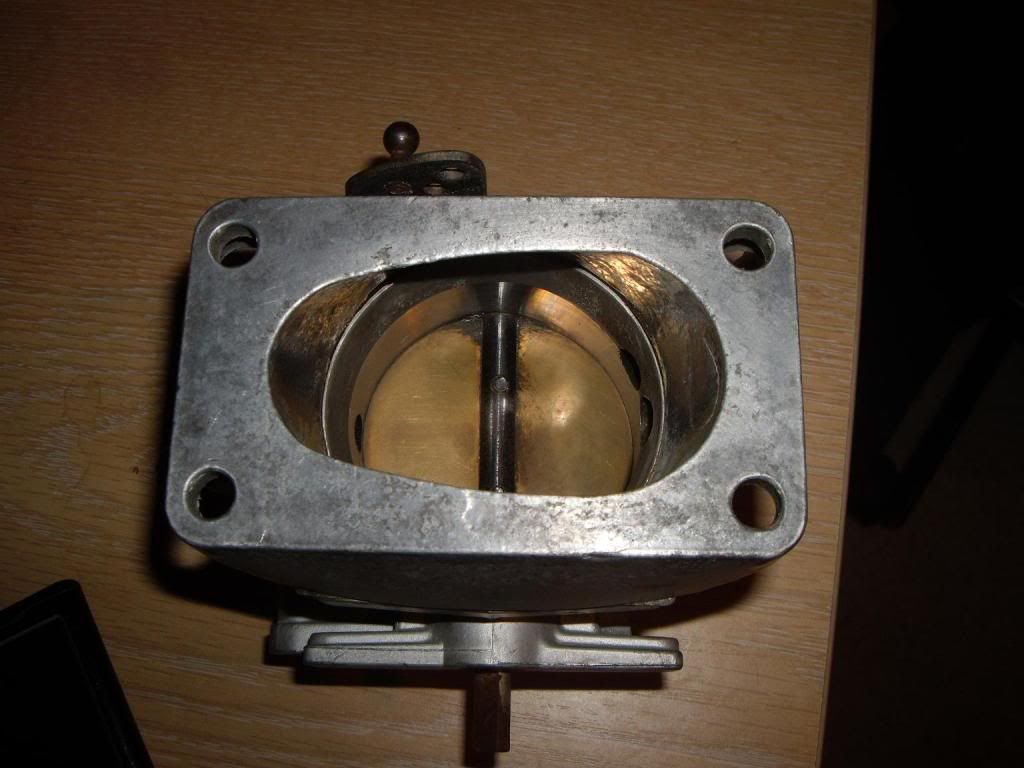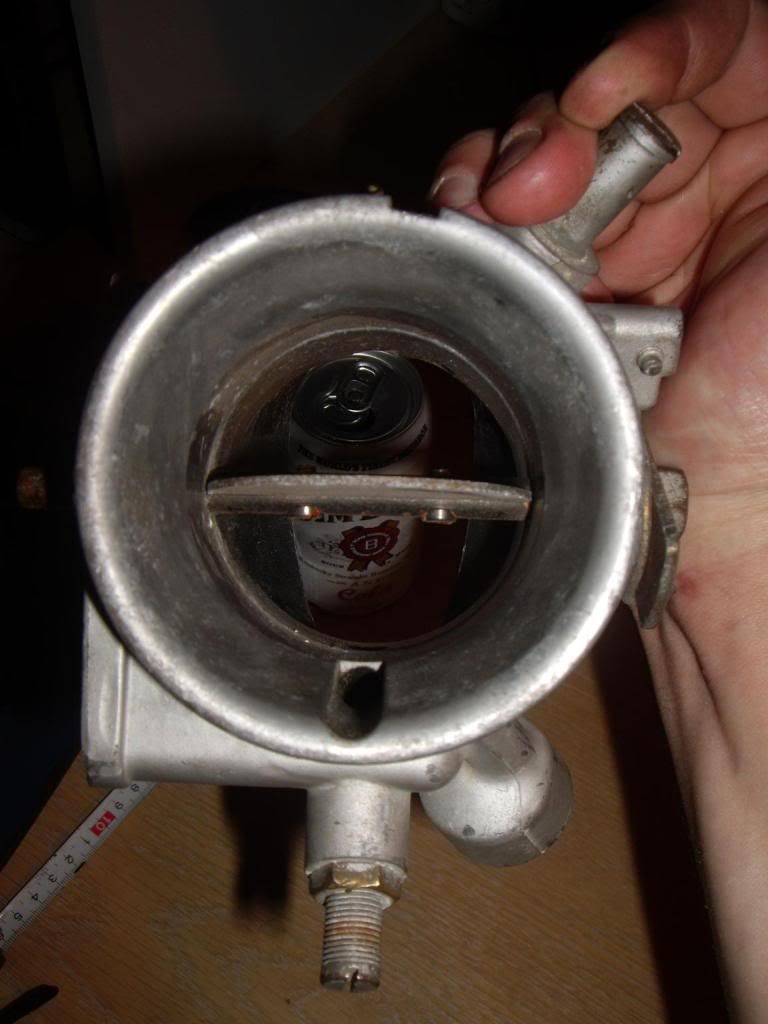 Well I thought I'd match port the redline intake to the G60 intake as I've been motivated lately just to do anything around the house & in the shed, so I went shopping for some more porting burrs of different sizes & shape's, as I've already got a bluepoint die grinder & snap-on 8 carbide burr kit here.

But here's the problem. As much as I love going tool shopping, I bloody hate it, as I always come home with stuff I don't really need, or had future plan's on buying when the need arose.

All I wanted was some nut's & bolt's & a couple of porting burrs!

So here's what I ended up with -

8" Abbott Ashby bench grinder with a wire wheel attachment
M16 x 2.00 Tap
Various stainless nuts & bolt's for the project & shed supplies
Carbide burrs with short & long shank's of different shapes & sizes
Porting flapper wheels
WD40 gun & 4 litre container

Pic. time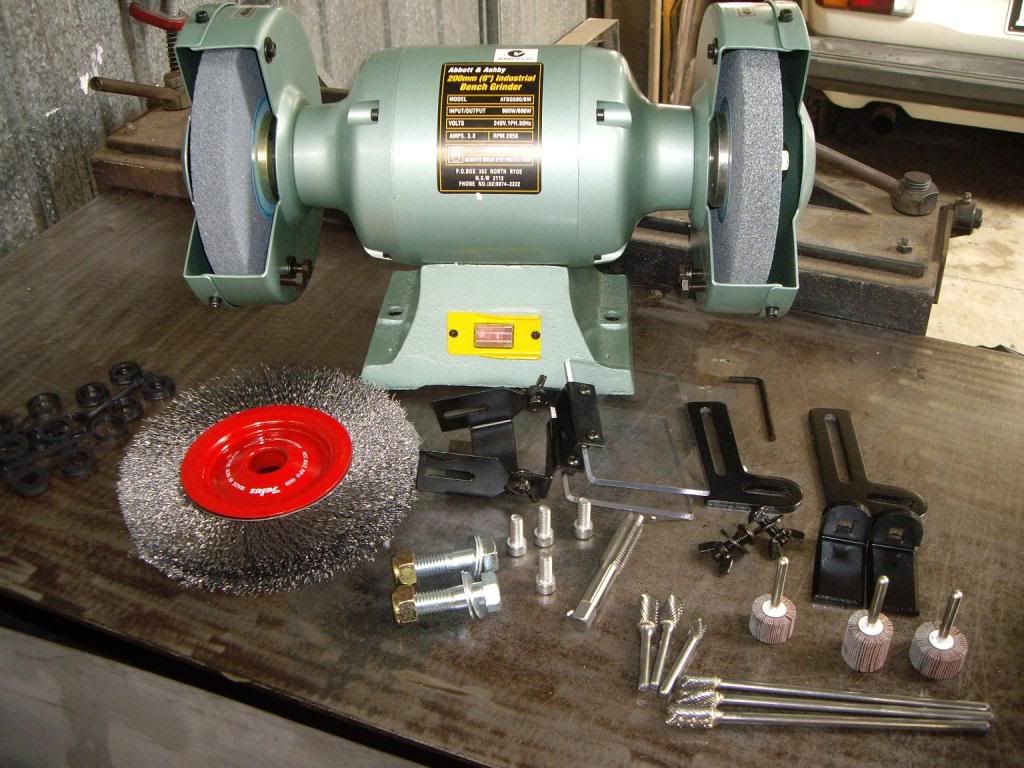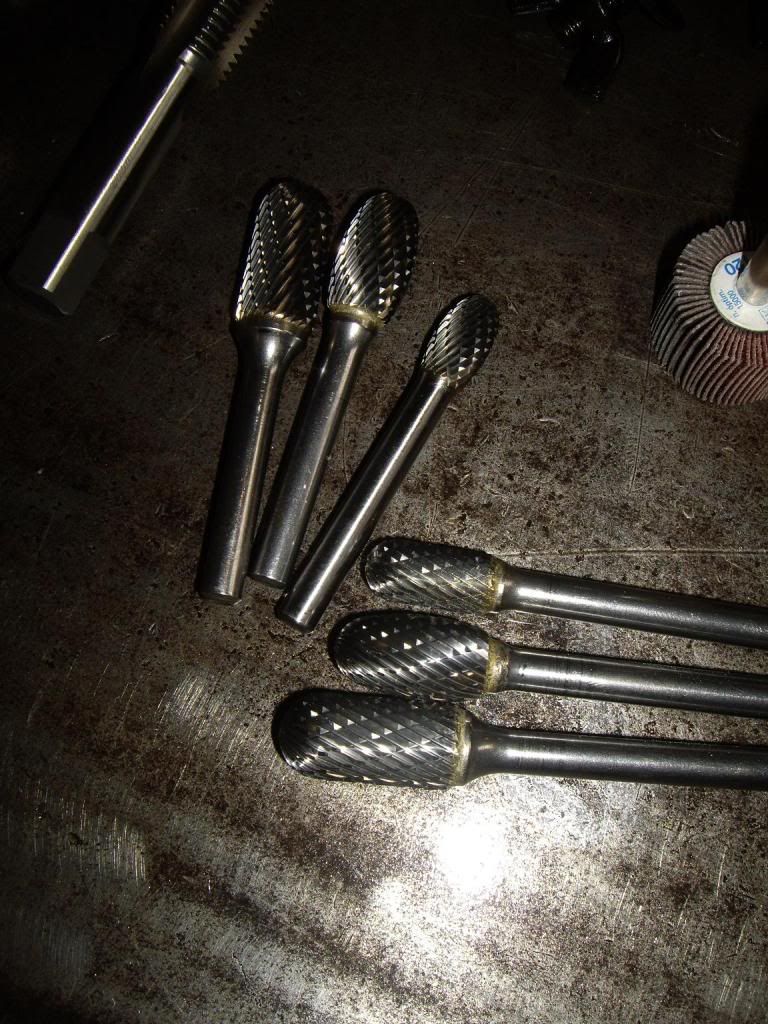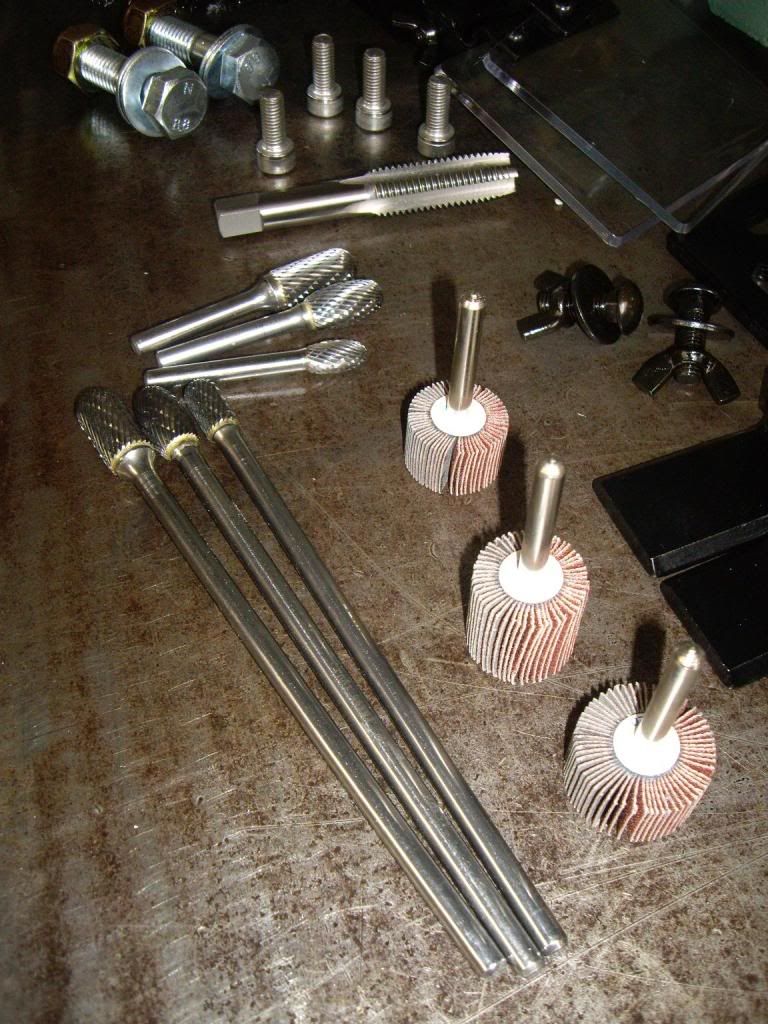 Snap-on burr set & Bluepoint Die Grinder




Mounted up the bench grinder on an old truck drum stand I made ages ago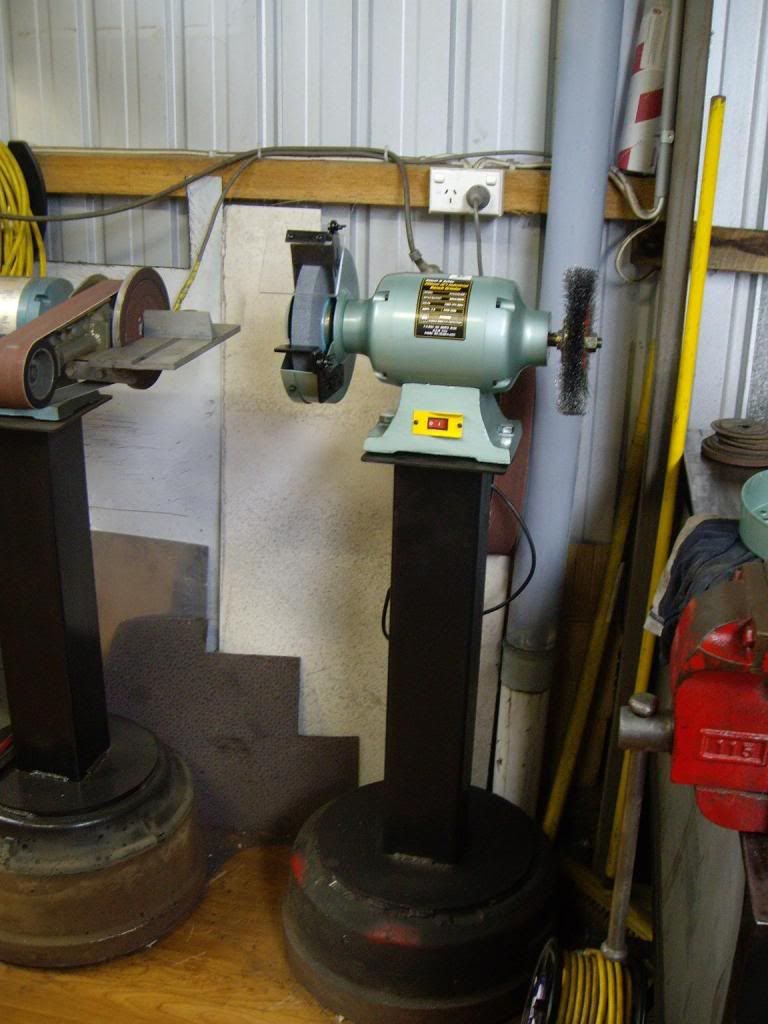 To match the other grinder/linisher & drill press on truck drum stand's. These are sturdy as all buggery & I got them for nothing as they were scrap. All it cost me was the metal to make up the rest of the stands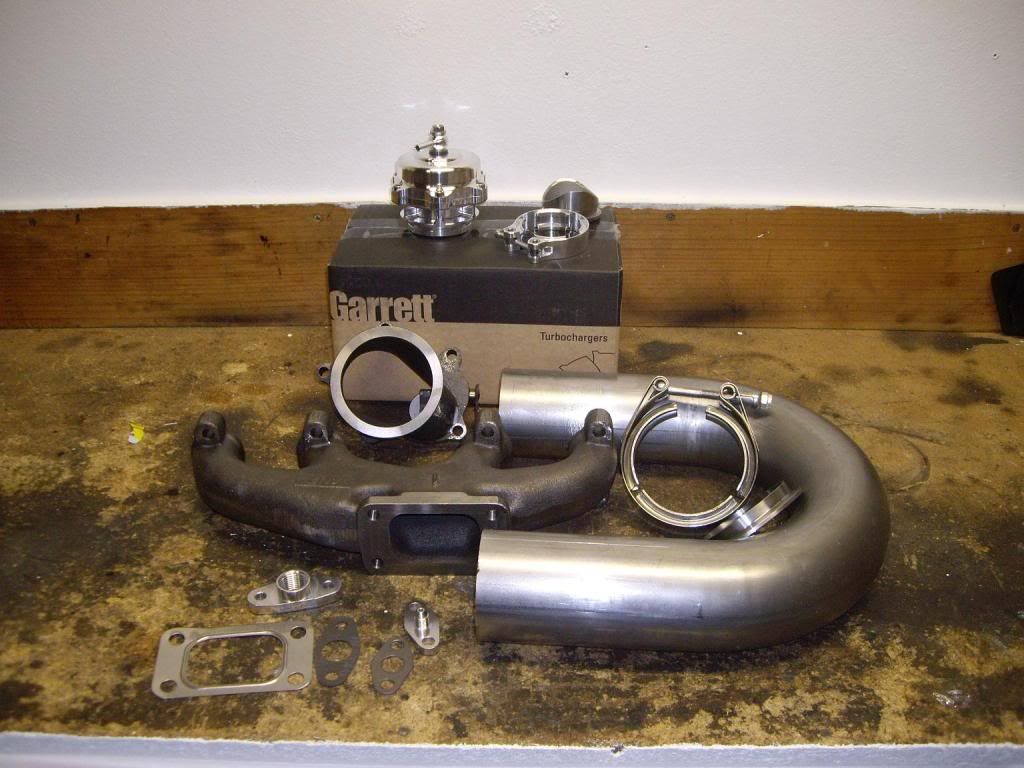 I decided to get a Tial BOV with V-Band, as it matchs a Tial Wastegate I've got here for another engine build later on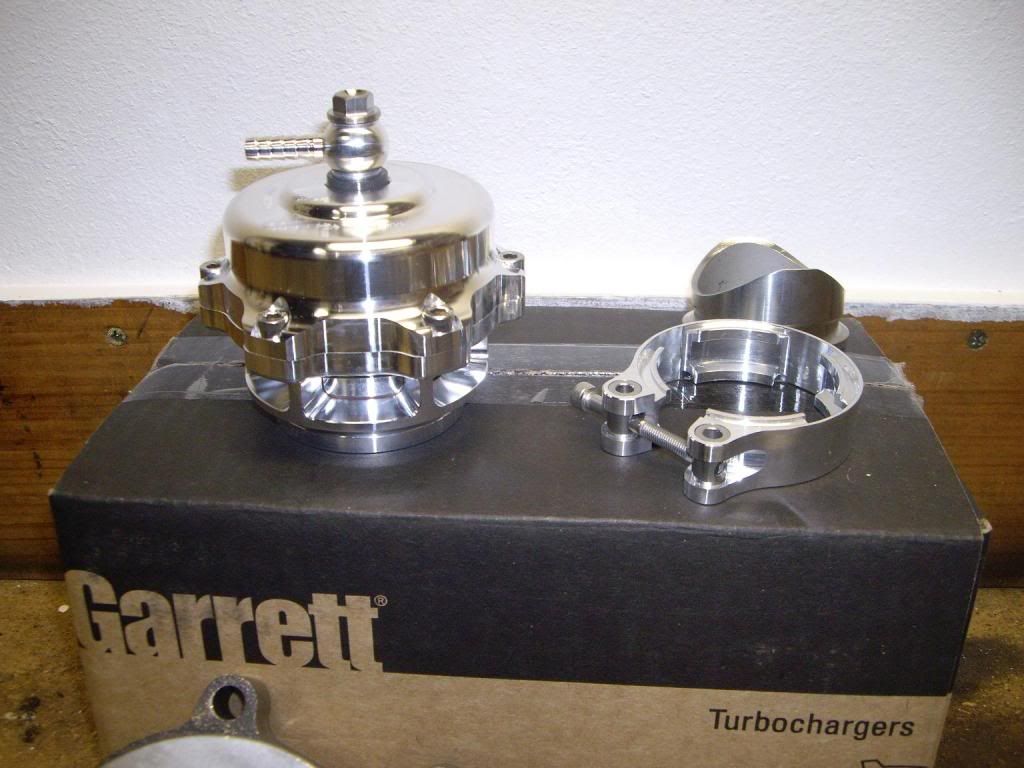 Internal Wastegate assembly which transfers into a 3" V-Band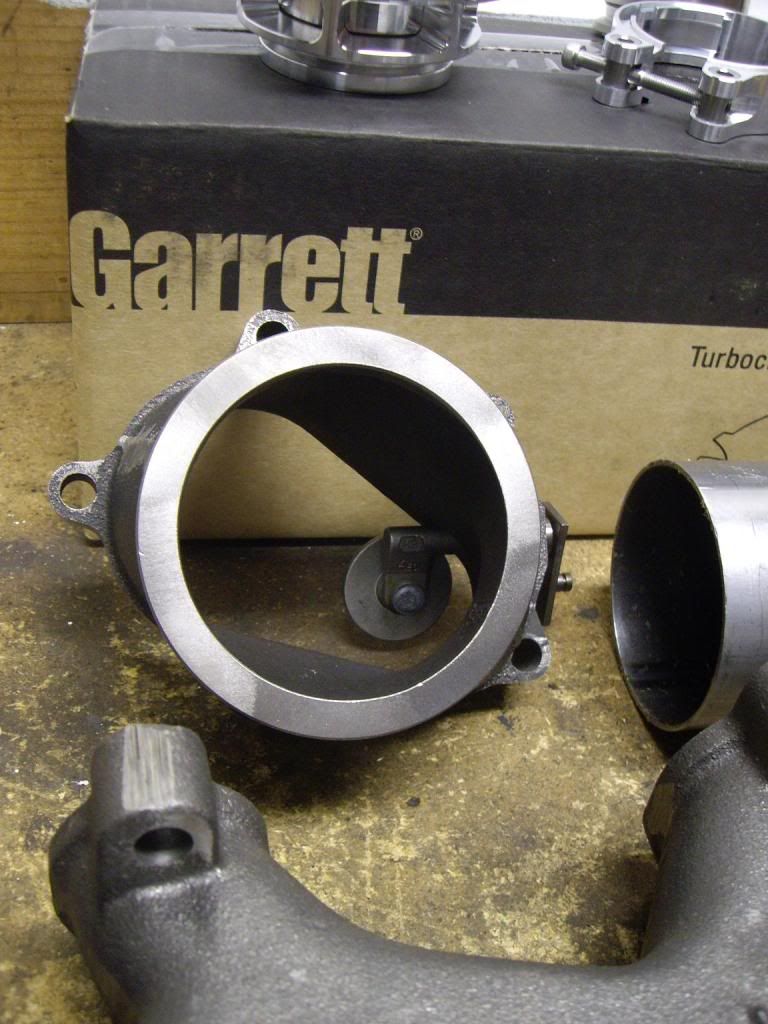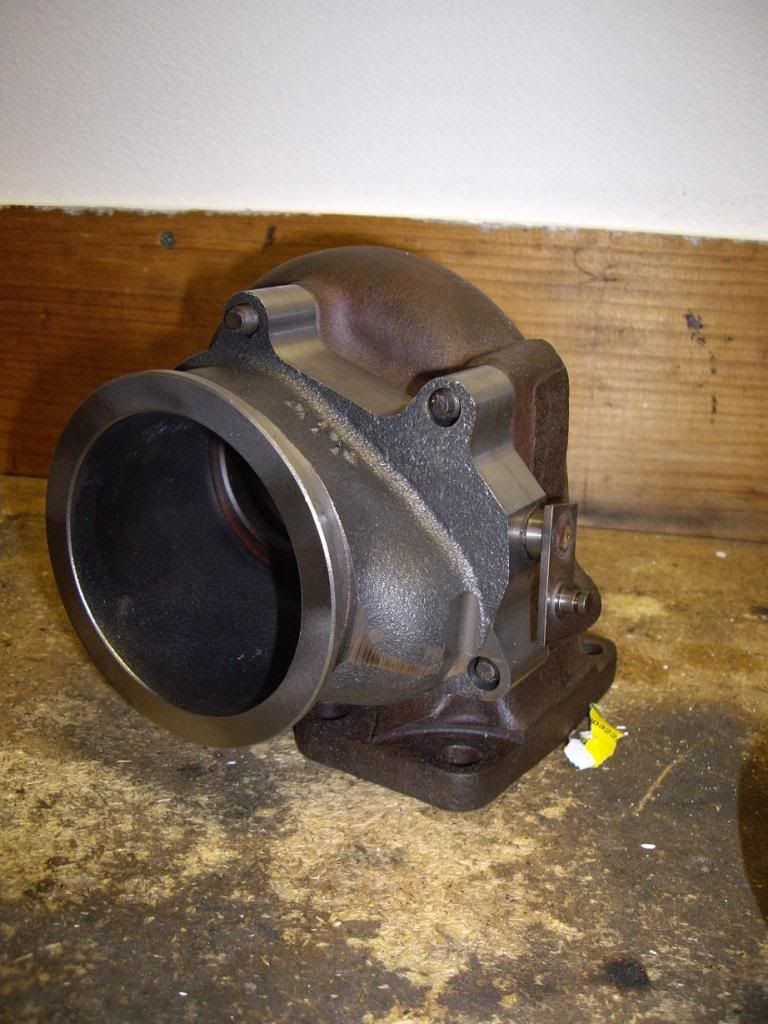 BIG difference to the standard Saab exhaust/wastegate assembly & the "whopping" great big 2" dump pipe! Very restrictive too!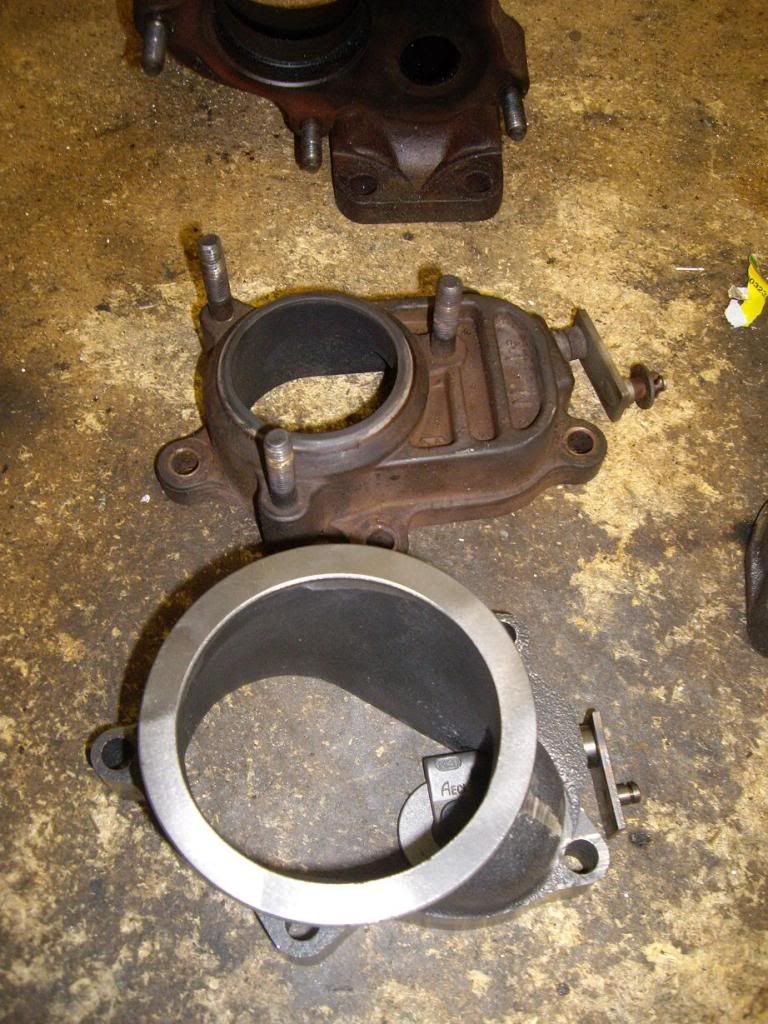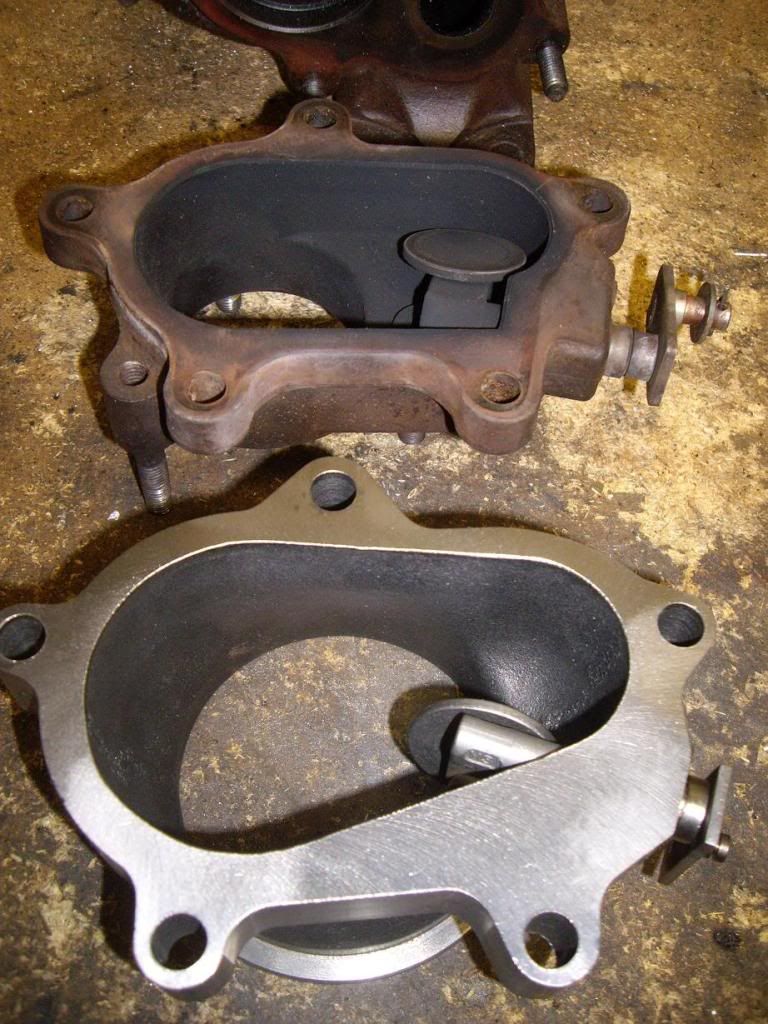 The all important 8V cast exhaust manifold




Various gasket's, adapters & oil fittings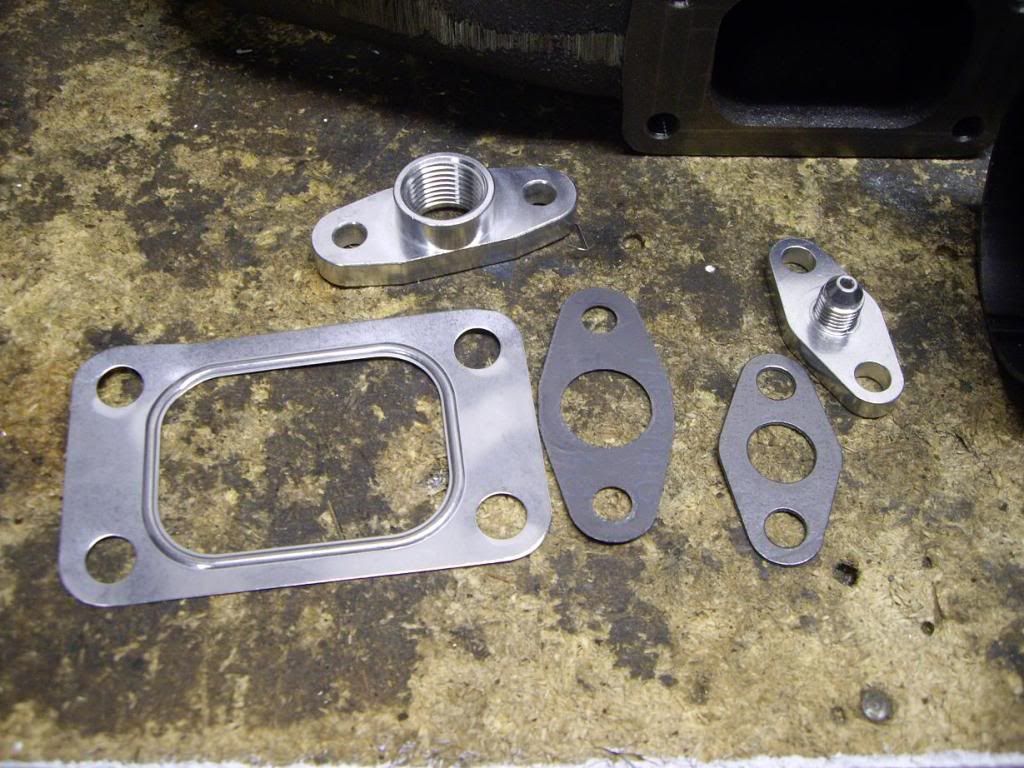 Some new brakes, as the old ones are, well old & warped!

ATE Power disc's front & rear. I got some 280mm for the big wheels & some standard 239mm Ive I ever decide to put smaller wheel's on to drag it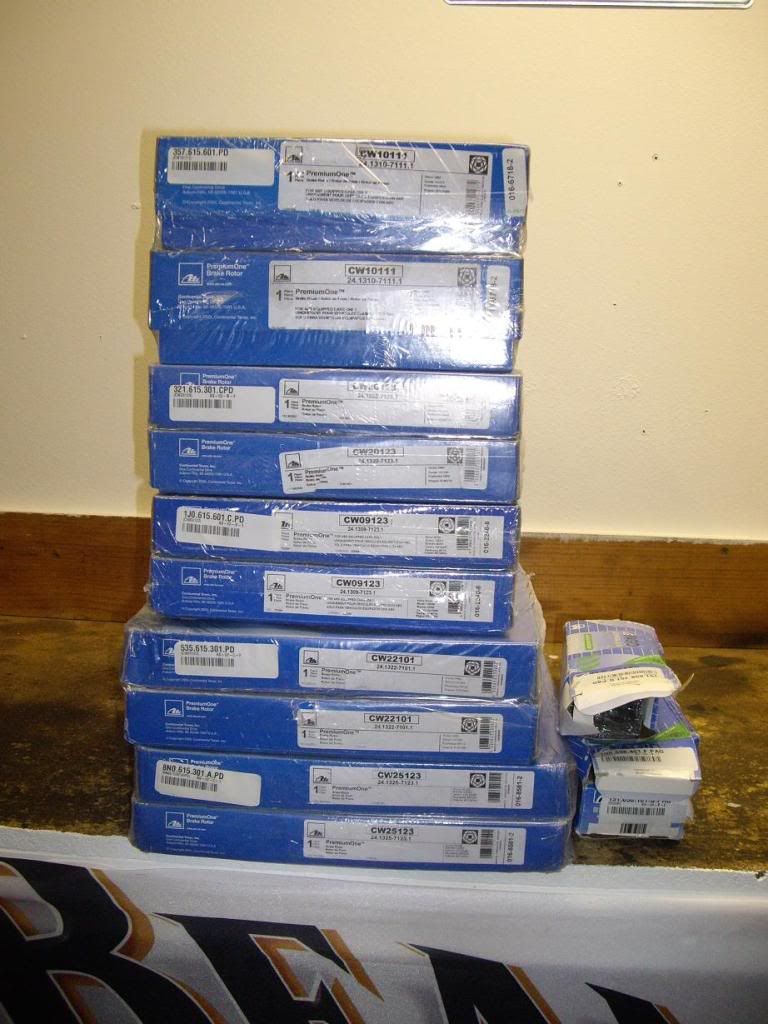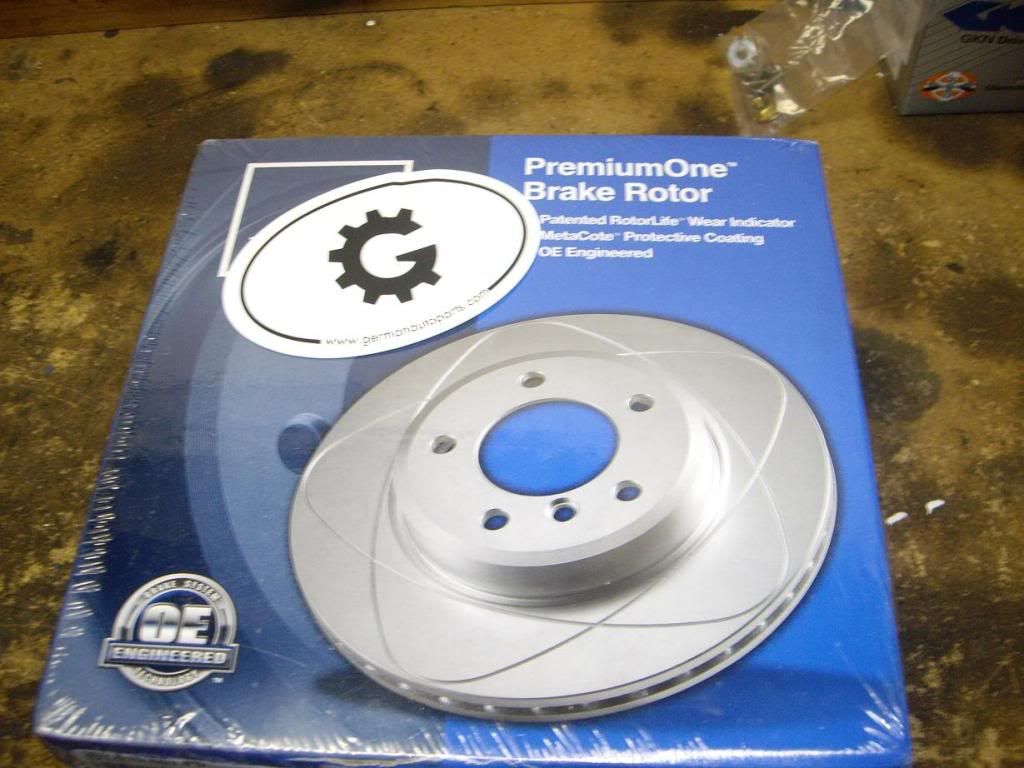 ---
motha

-

August 14th, 2011 at 09:51 PM

Before Engine bay shots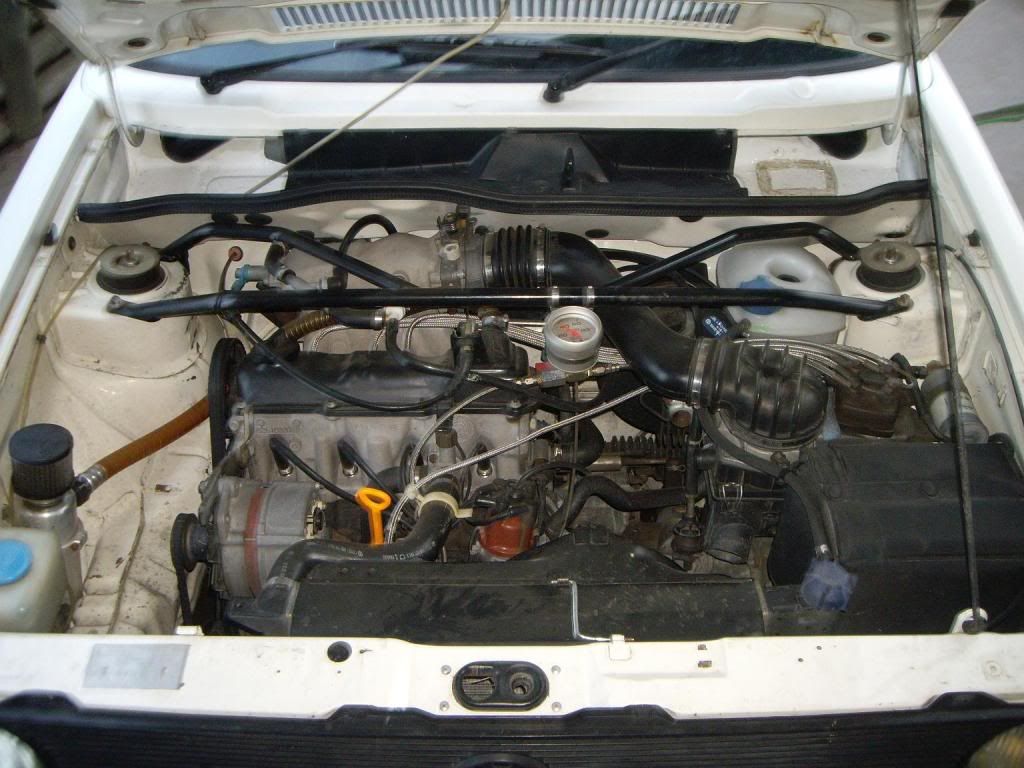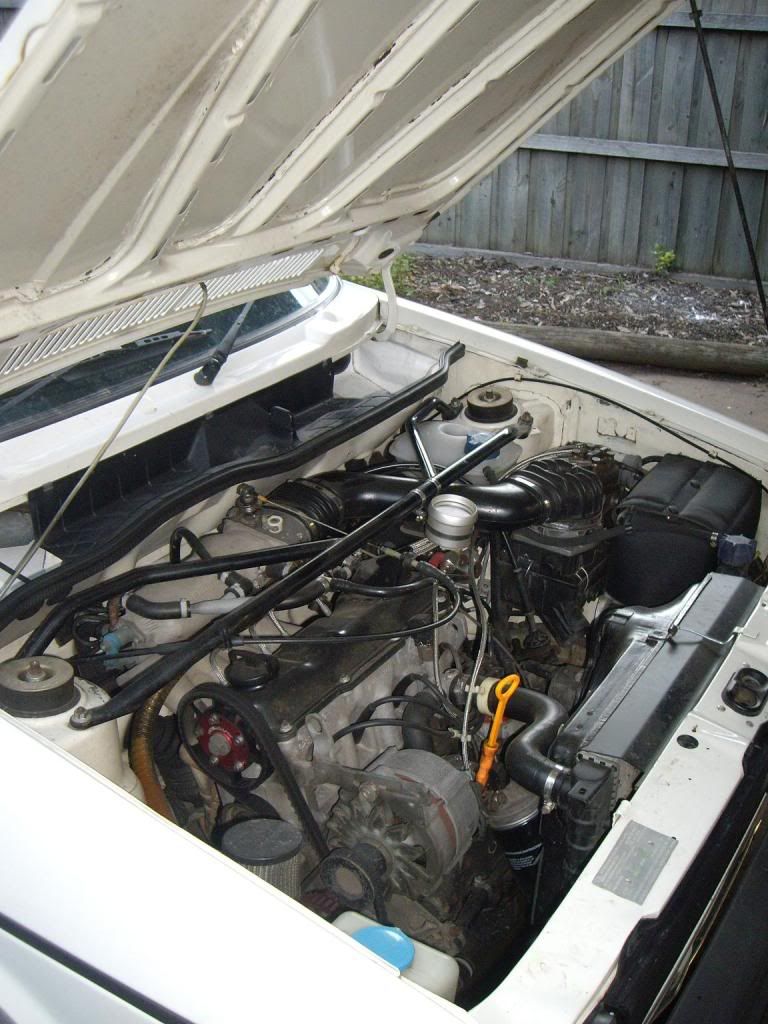 Didn't take too long to strip it all down & start mocking everything up & then came across some trouble! All this kit is for a LHD car! DOH!

There will be a few mod's here & there to get everything to fit O.K.!

But after scrounging through some various nut's, bolt & studs & even having to make different bolt's with the help of Dom, I finally got there

Fitted up the ATP 3" wastegate V-Band adapter in the process

I painted all the cast exhaust manifold, turbo housing in VHT High temp Matt Black . Awesome stuff & the rest of the dump pipe will get the same treatment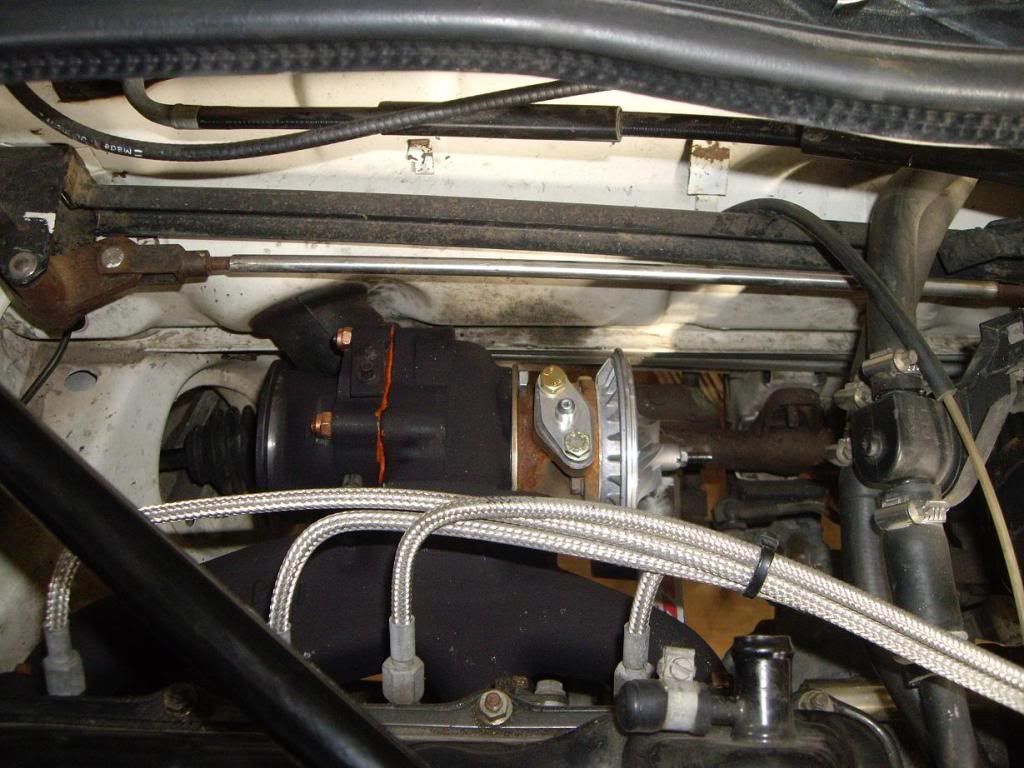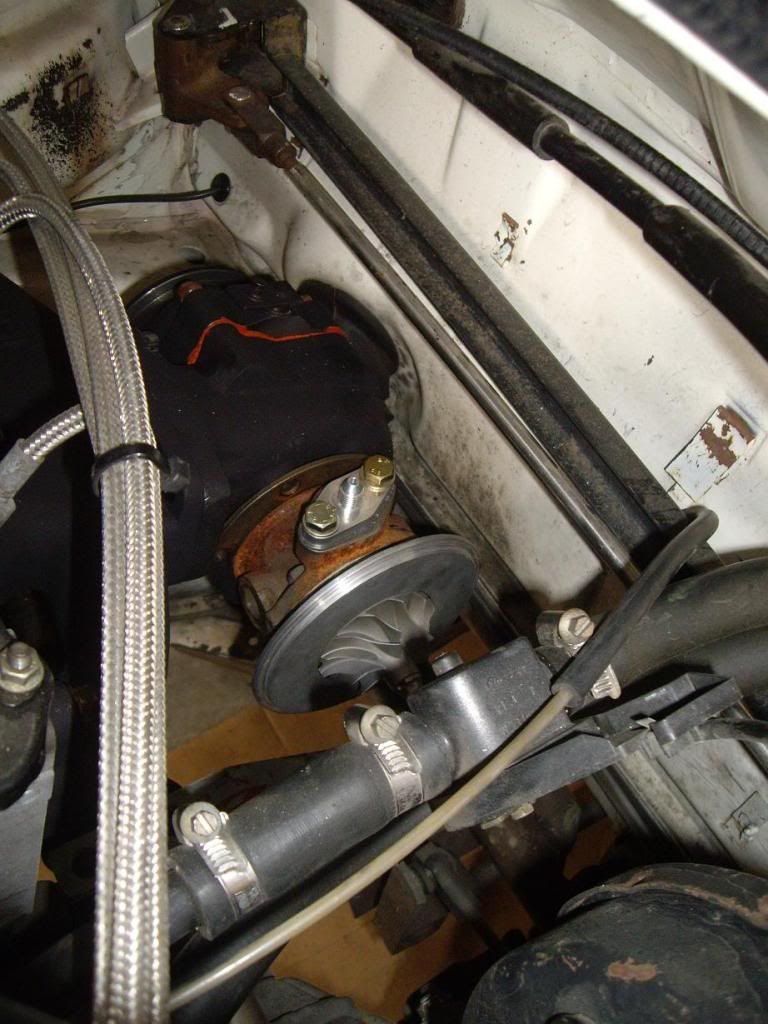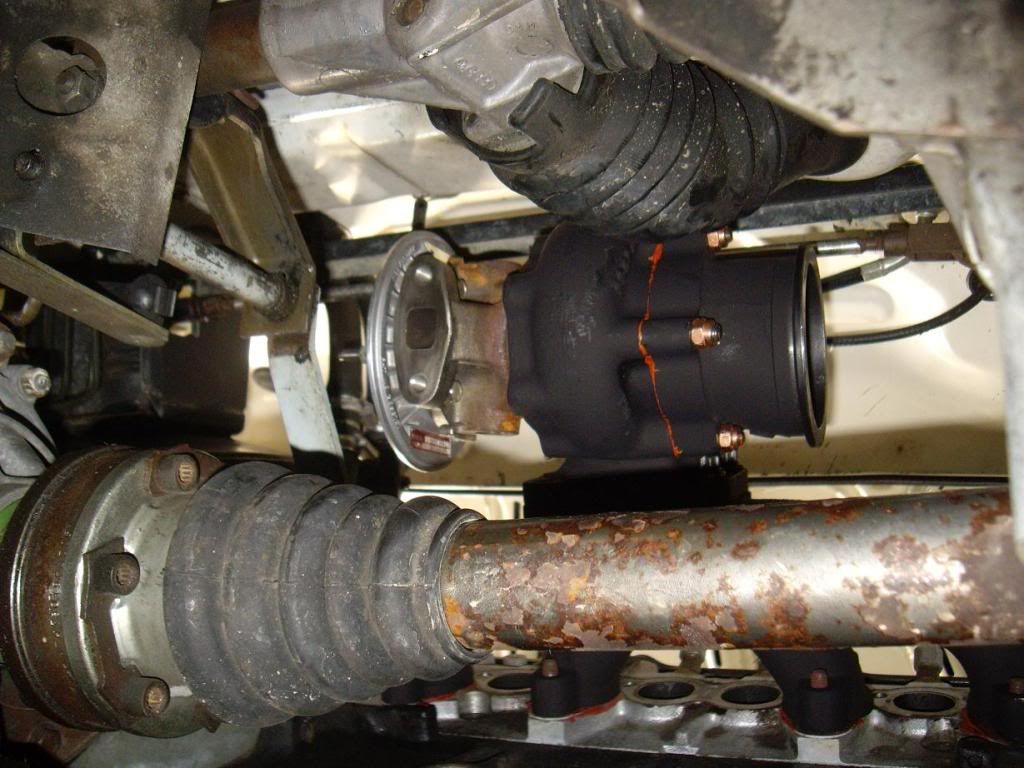 It's a bloody tight fit! It's less than 5mm off resting on the steering shaft boot! Ah well. The old extractor's rested on it anyway!




Assembly mocked up on the bench with a few more part's fitted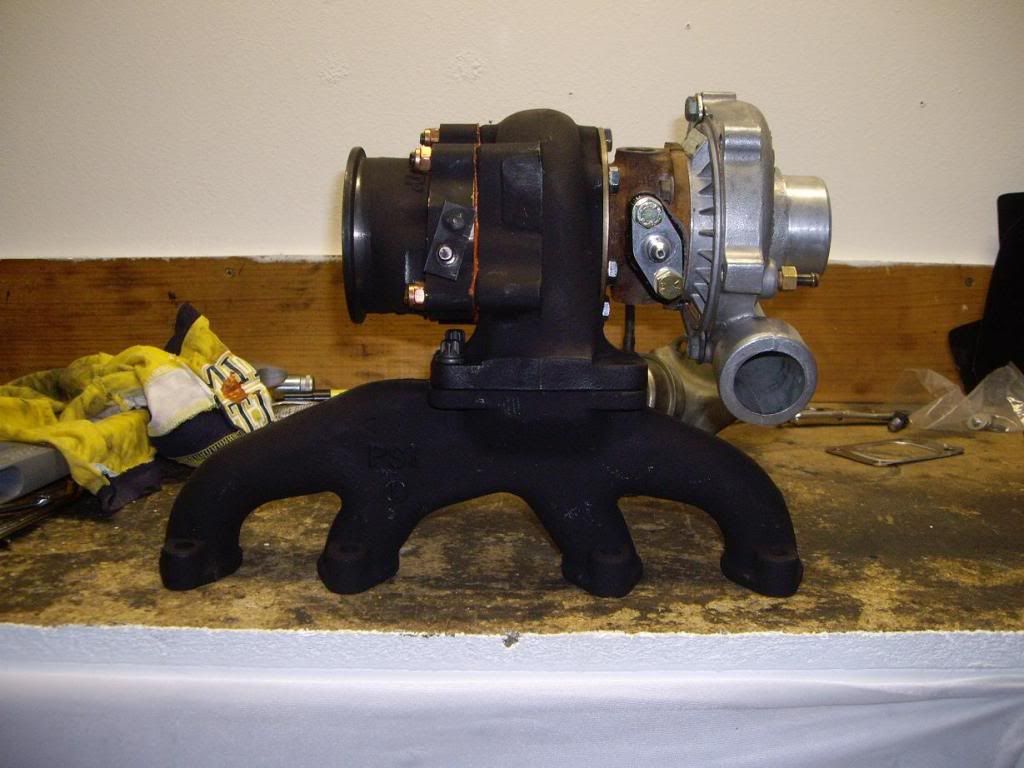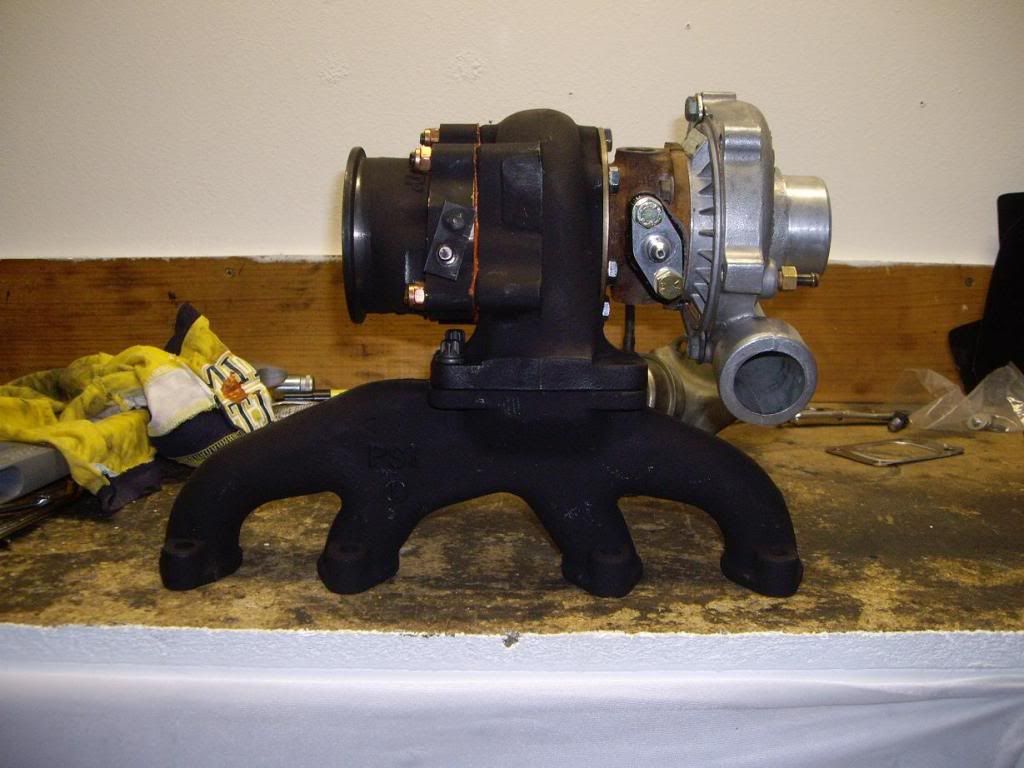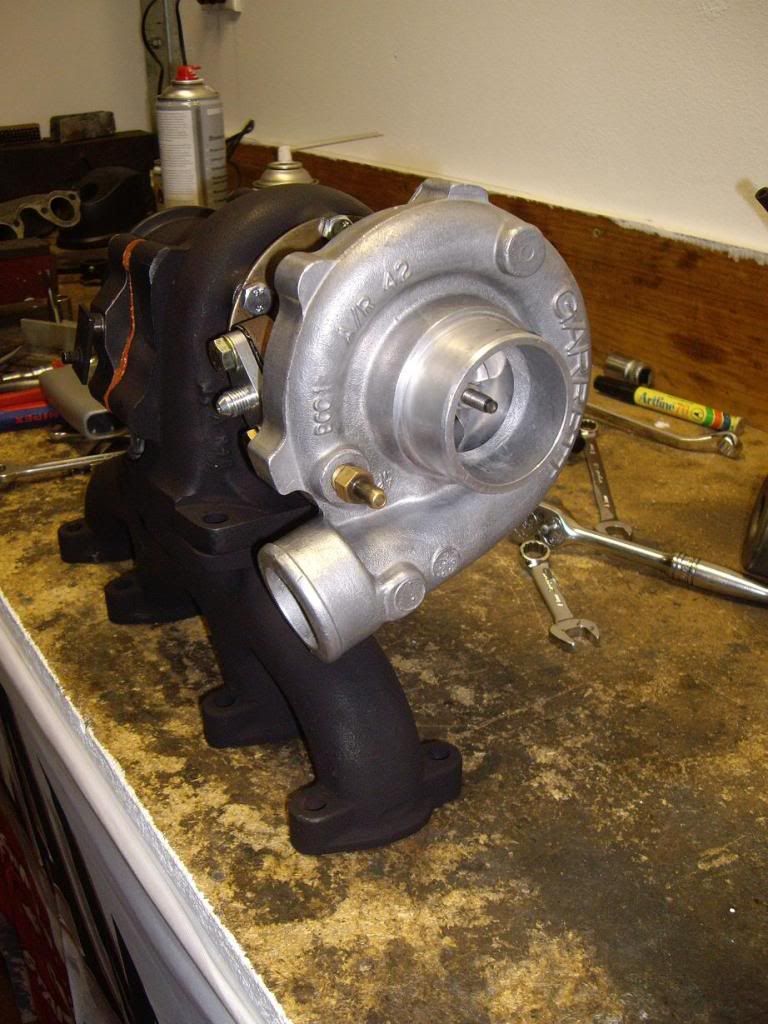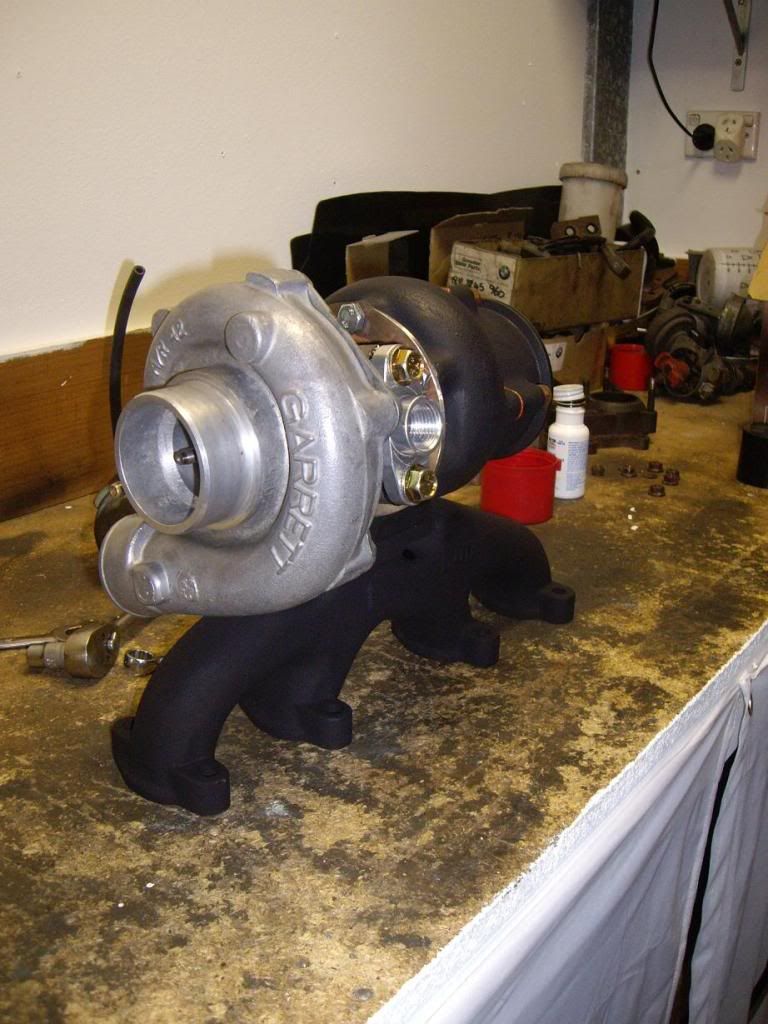 Mocking up a new Wastegate actuator.

I can see why company's such as Callaway etc all ran external WG. There is bugger all room down there for them. But I've come this far not to turn around, so I'll stick at it & make it work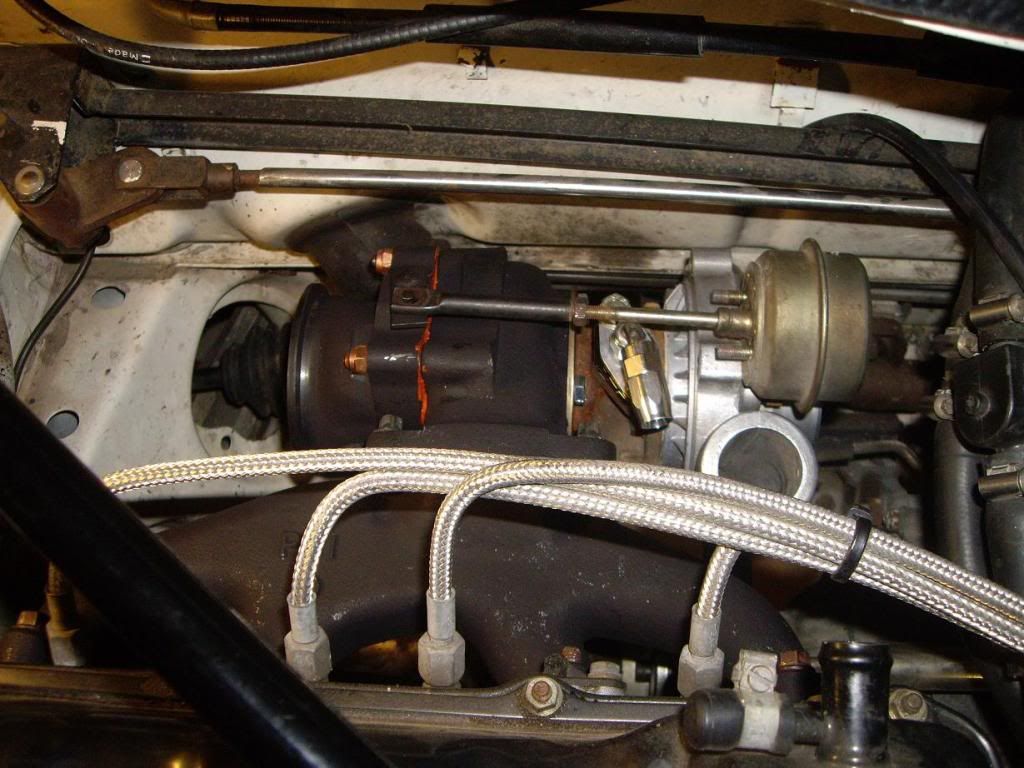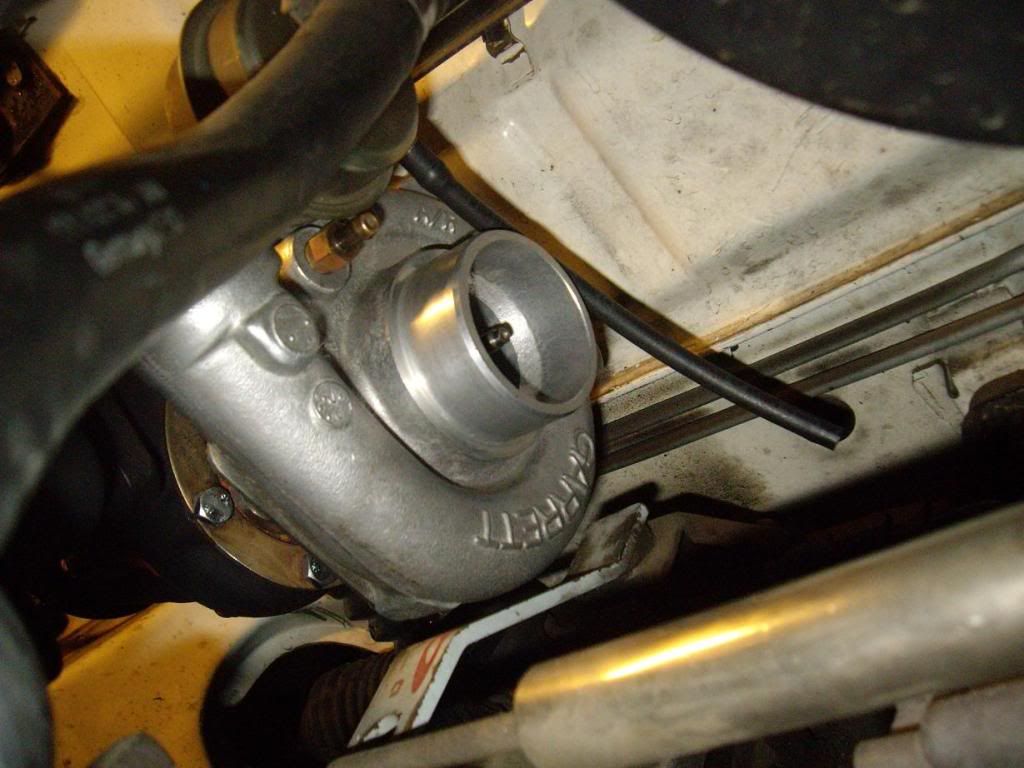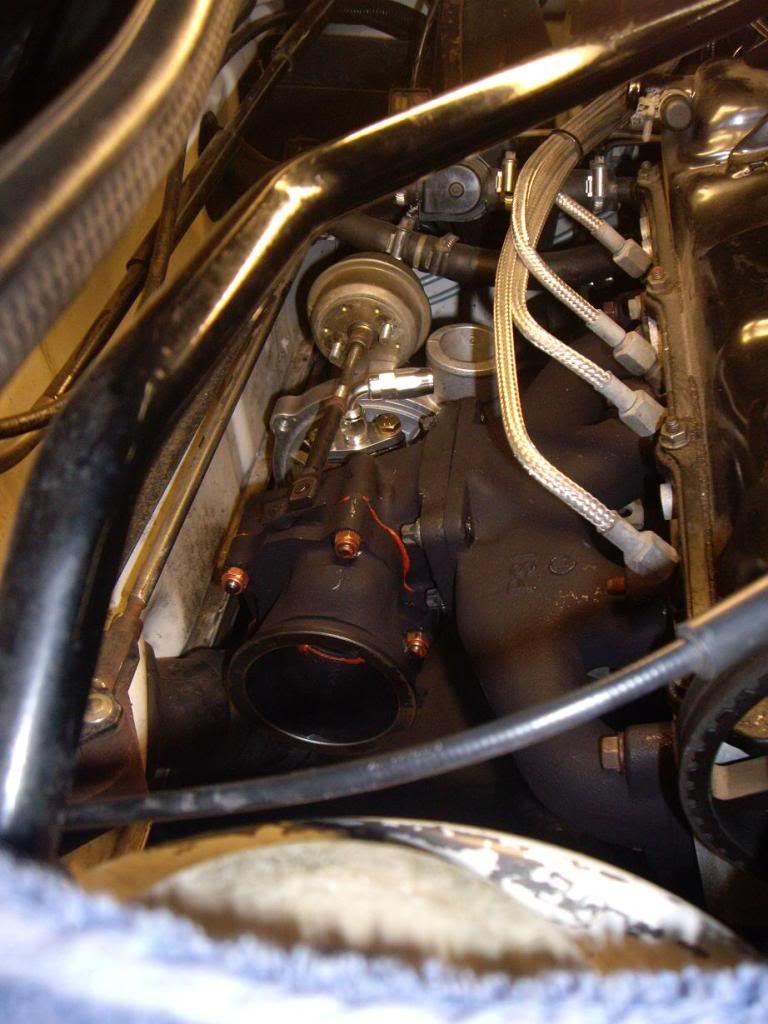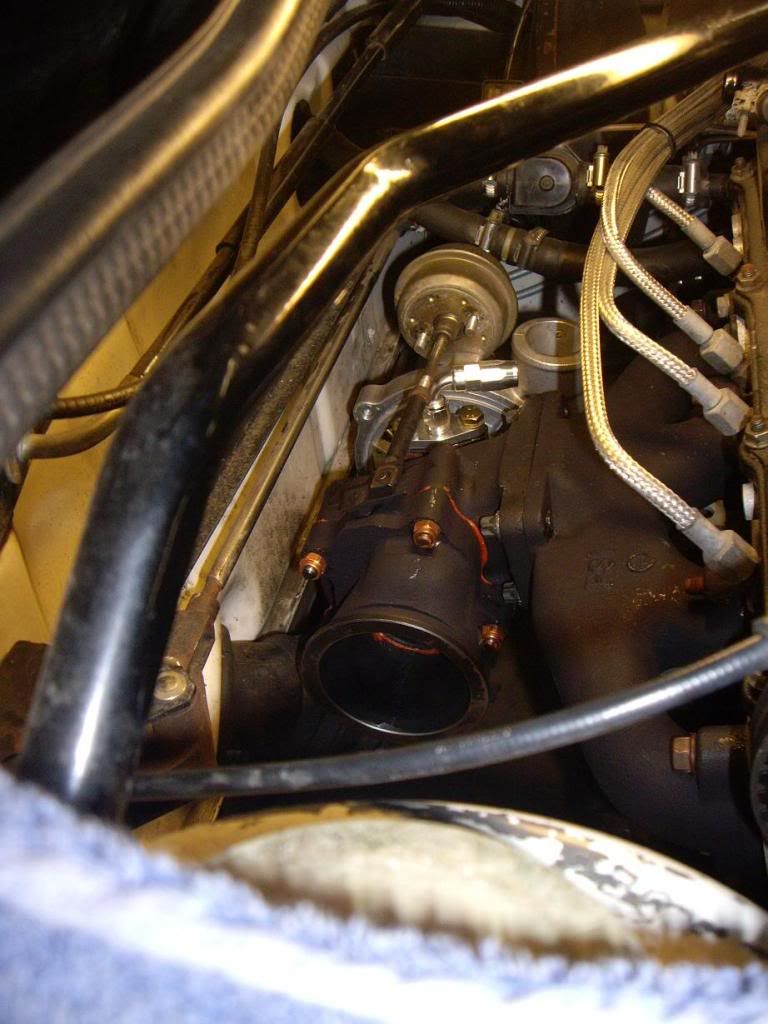 Then the die grinder had to be broken out again due to clearance issues with the G60 intake!

This took quiet some time & alot of fitting & refitting to get it right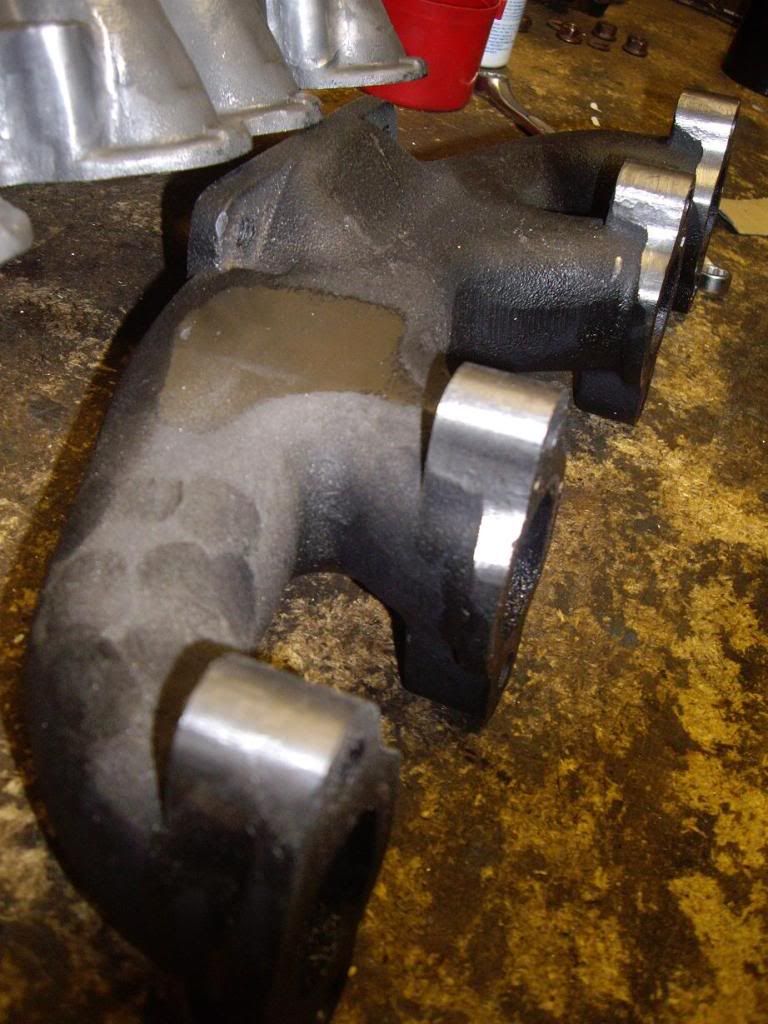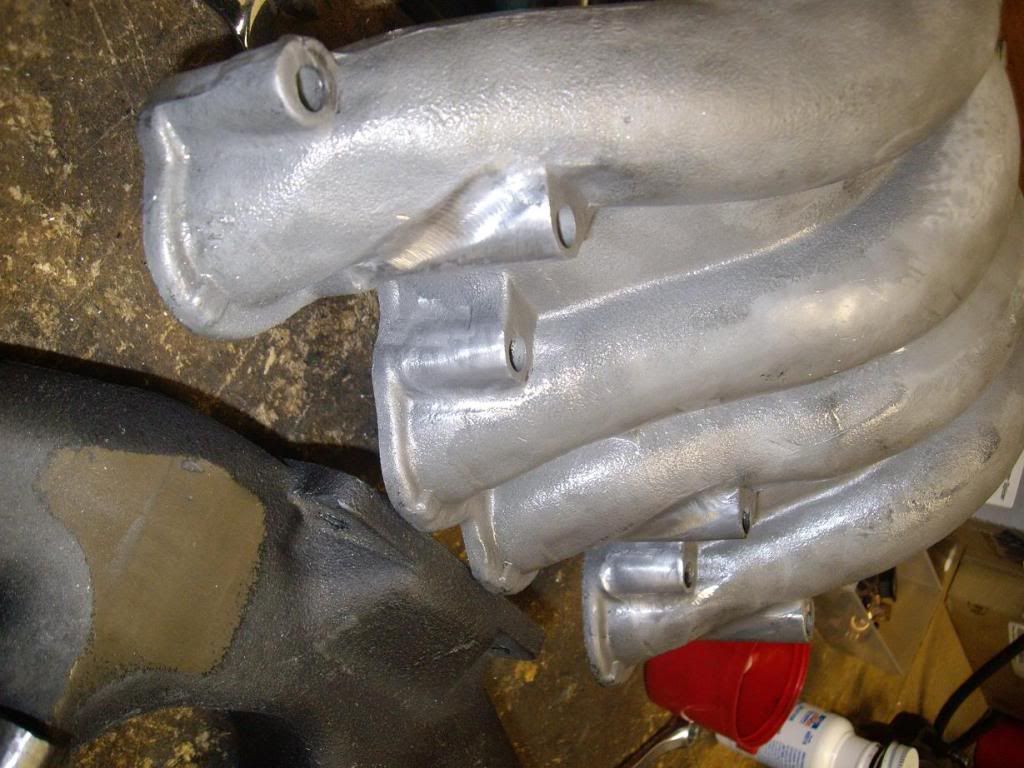 With some of the stuff off getting finished welded & a few other part's I'm waiting on, I decided to tackle some other part's incl. modifying the dizzy.

Early "twin port" vac canister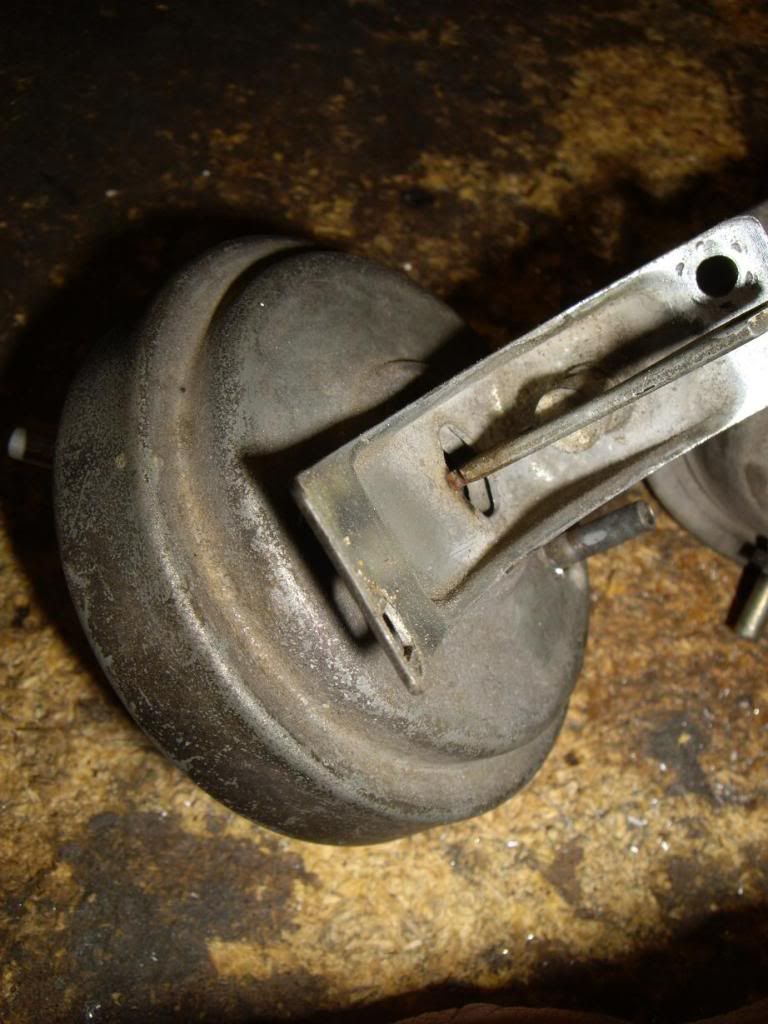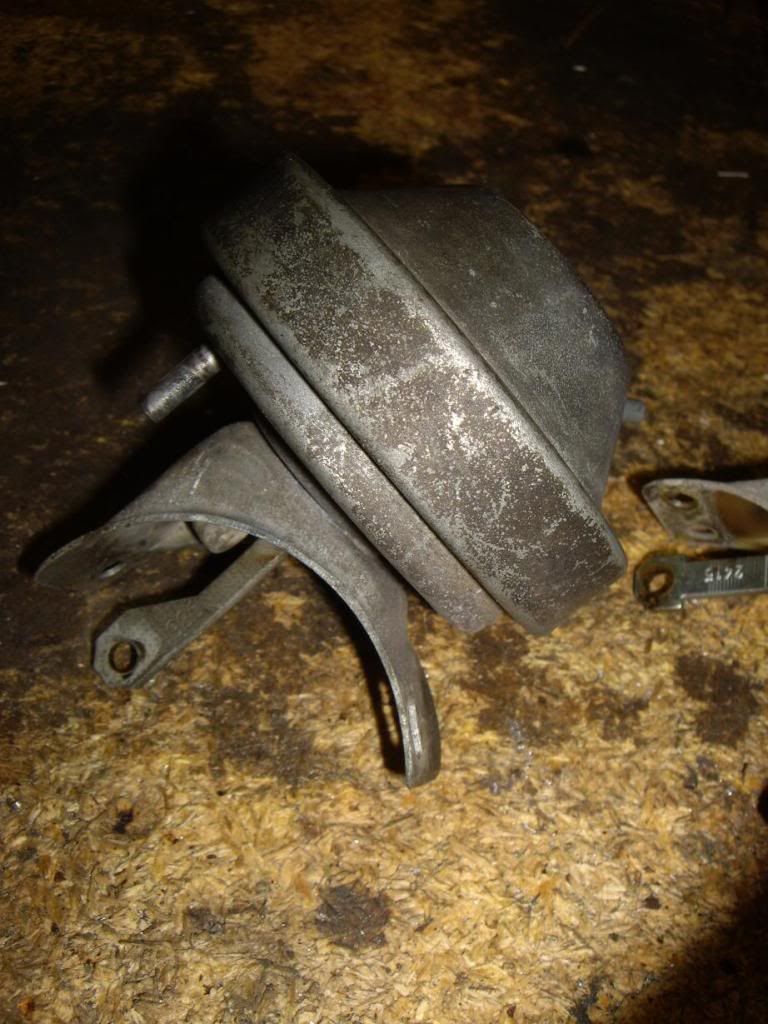 Stock GTI vac advance canister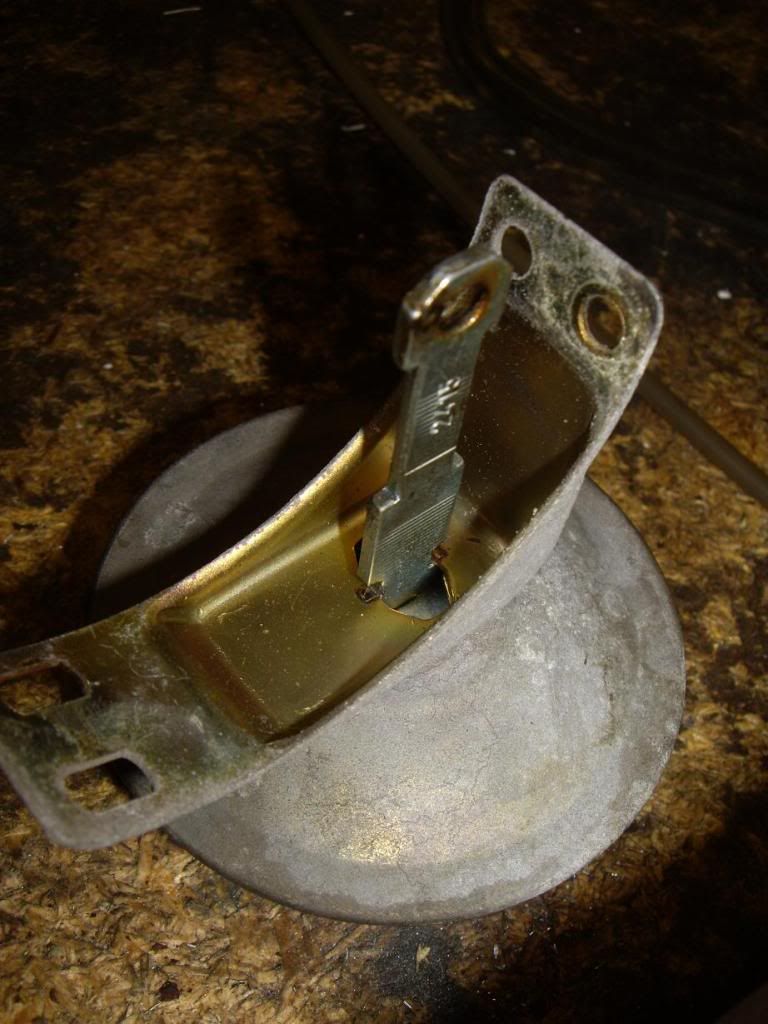 To enable more boost retard, I drilled out the vac pot stop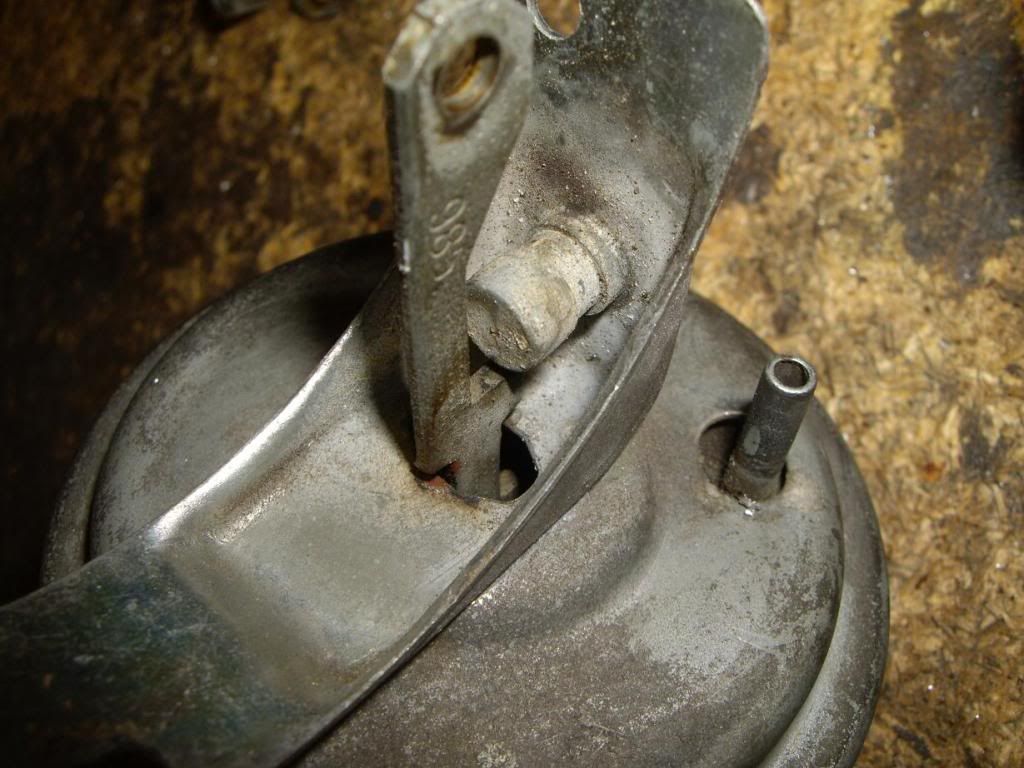 All mounted up after drilling some new mounting holes




I also fitted a set of MK4 GTI 20vt spark plugs too. This should finish off the ignition system with only a couple of minor timing adjustments during tuning

I also decided to have another play around with the Audi Warm Up reg after some long thinking sessions.

The more I played around with it, the more I learned about it & decided to apply the boost pressure to the other chamber of the warm up (not the barbed fitting side) & put it to the test. I wound down the compressore to 10psi & put it to the test. It worked spot on & I played around with different pressure setting's & compared them to some old porsche K-Jet turbo spec's & were right on the money.

I no longer need the one-way valve my friend made for me.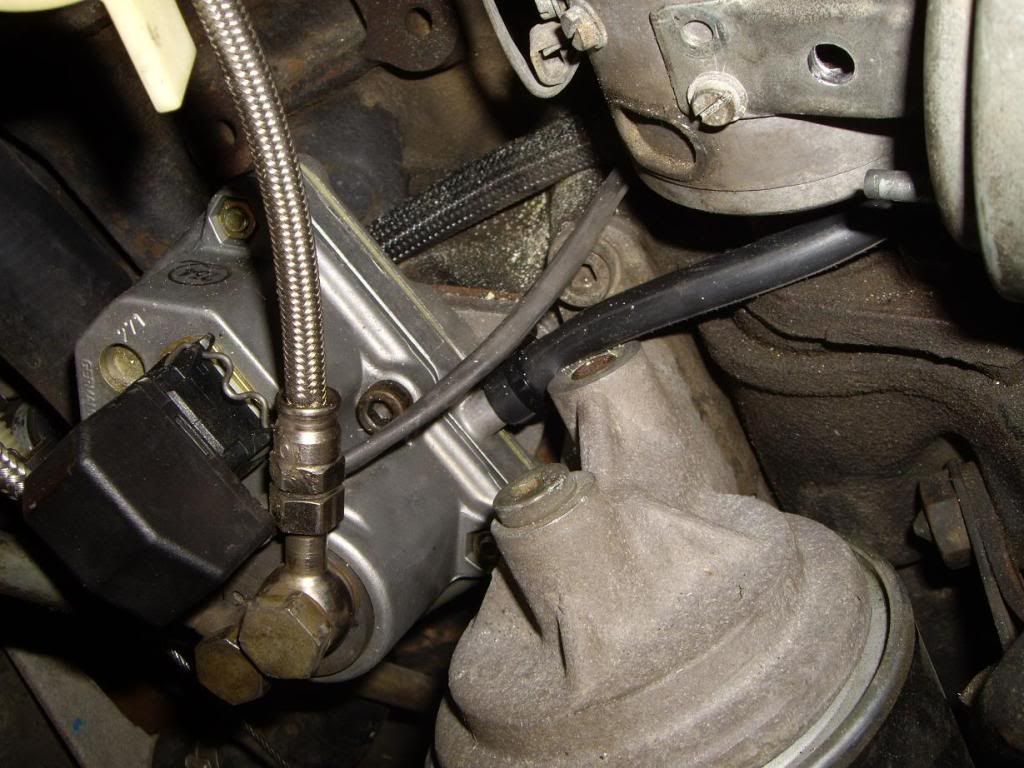 During my thinking stage, I also wanted to try & add more fuel enrichment for higher boost level's, but didn't want to go down the programmable extra injector(s), as this basically defeats the purpose of building a K-Jet turbo. If you've got one or two extra injectors that can be programmed the way you want to supply the fuel, you might as well go to a full standalone ECU like Microtech, Autronic etc.

So I've had a flat plat of alloy welded to the face of the intake plenum & have drilled & tapped holes for an extra 2 cold start valves run off a adjustable hobbs switch.
Because the G60 intake doesn't have a spot for it, I can put them where I want. The stock GTI spot isn't efficient enough to mix up the right mixture anyway, as you've got say 10psi blowing right as the face of the valve, which will just blow the fuel right up against the No1 plenum wall & force it all into cyl. 1.
So I've placed one of them between cyl 1 & 2, & the other between cyl 3 & 4. Hopefully this with mix it up nice & supply an even amount of fuel to all cyl's.

Even if this setup runs rich as buggery on boost. It's better than running lean! Running rich can also drown out the piston melting pinging! We'll see how it goes. If it does run on the rich side under boost, I'll screw some more boost into it & see what happens.
My friend is also good with setting up water/meth injection kits as well, so theres another option too.
I plan on starting off tuning on Wastegate spring pressure which is roughly 7psi & work my way up.

In the event of it melting a piston, I've got some 20vt spare piston's & rods, I'll throw in along with a G60 metal head gasket, which should be more than enough for the little 8v

I'll put up some pic's when I get the intake back
---
motha

-

August 14th, 2011 at 09:53 PM

Various silicone hoses of different sizes & shapes. (What ever doesn't get used will get put away for the next turbo build) I't shard to judge what you might need when building these sort's of things without having most of the stuff already fitted.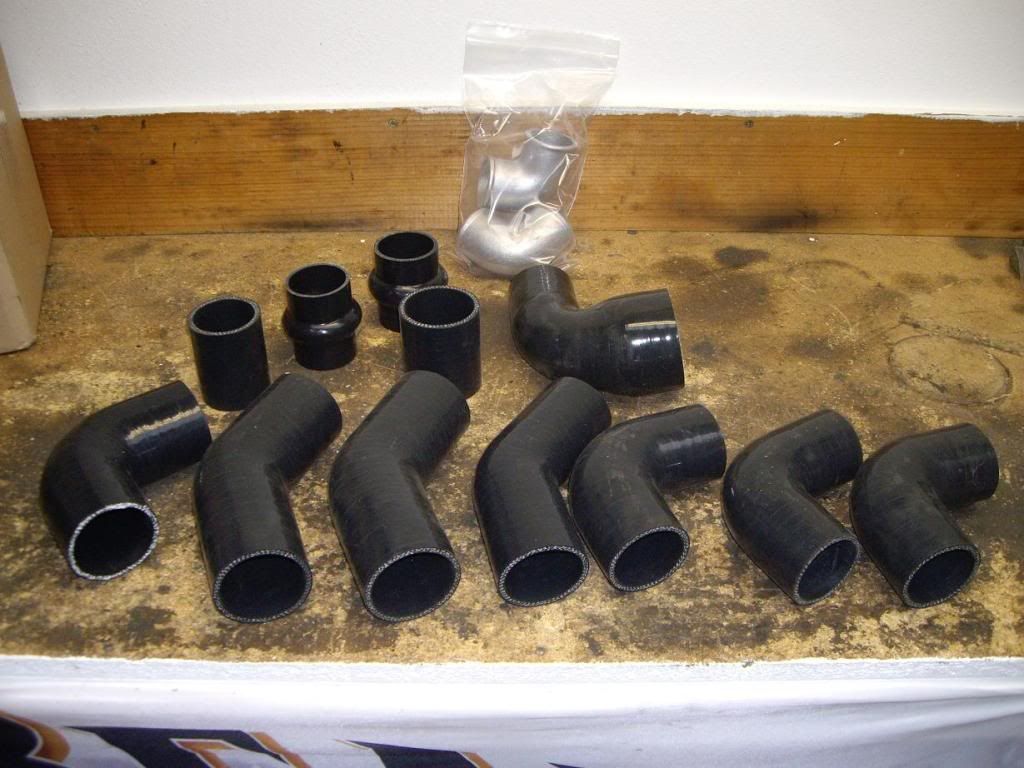 Various mild steel mandrel's & piping.




A couple of my friend's came down & built the dump pipe while I was at work & also installed the oxy. sensor bung. They done an awesome job too smoothing off the welds & making it flow nice & smooth. They'll also be helping with the intercooler piping.

I'll drive it to my friend's exhaust place like this & he'll rig up the rest of the exhaust. It will just be a 2.5" with a resonator & turbo rear muffler. Don't want it too loud as I travel 200km a day in it. So no drone for me!
In case your all wondering, this is my everyday car & travel 700+km a week in it, not a weekend warrior.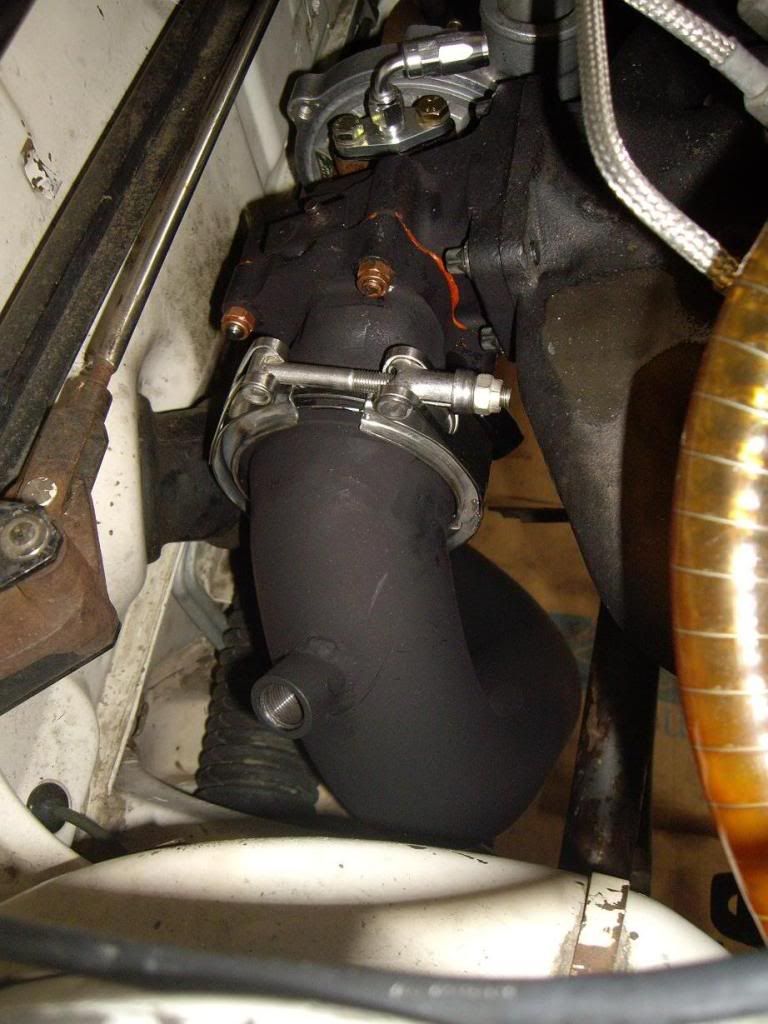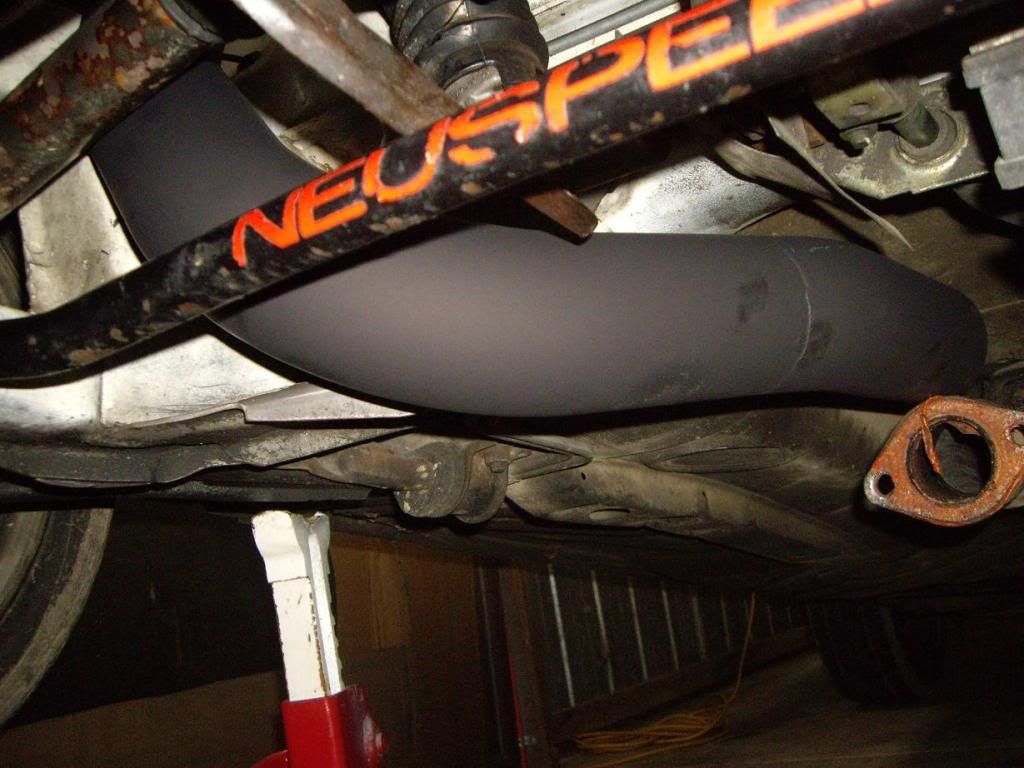 Hobb's switch & Mk4 GTI 20vt (AGU engine code) spark plugs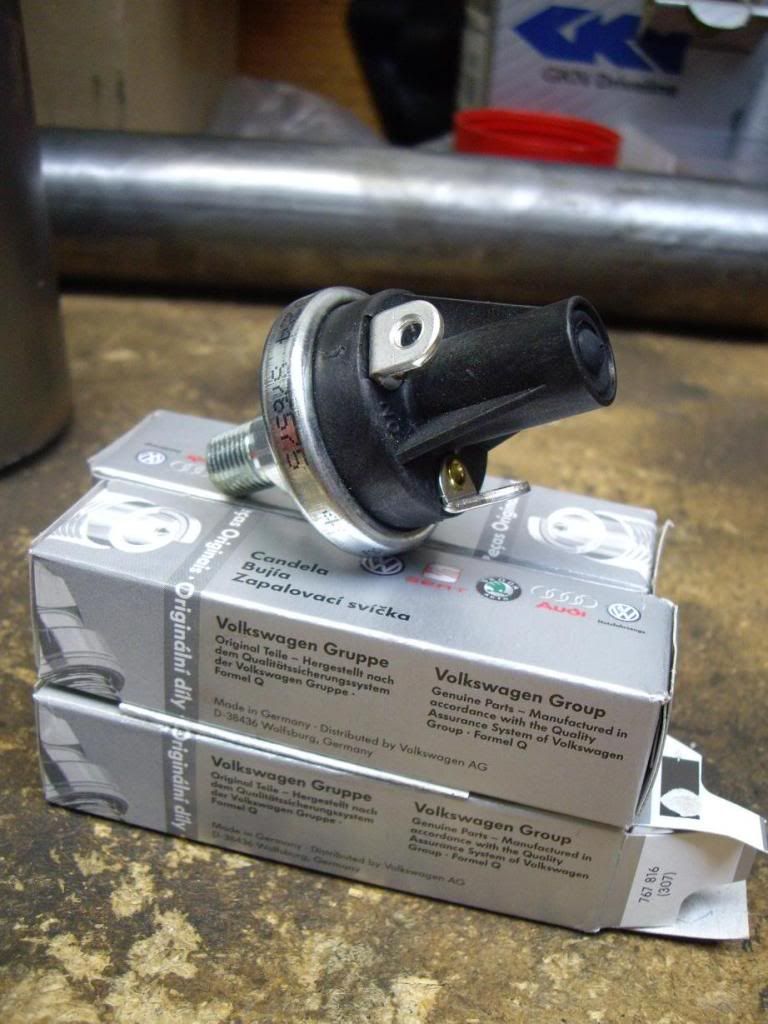 A good friend of mine also gave me this.

A factory 1977 Mk1 GLS Radio.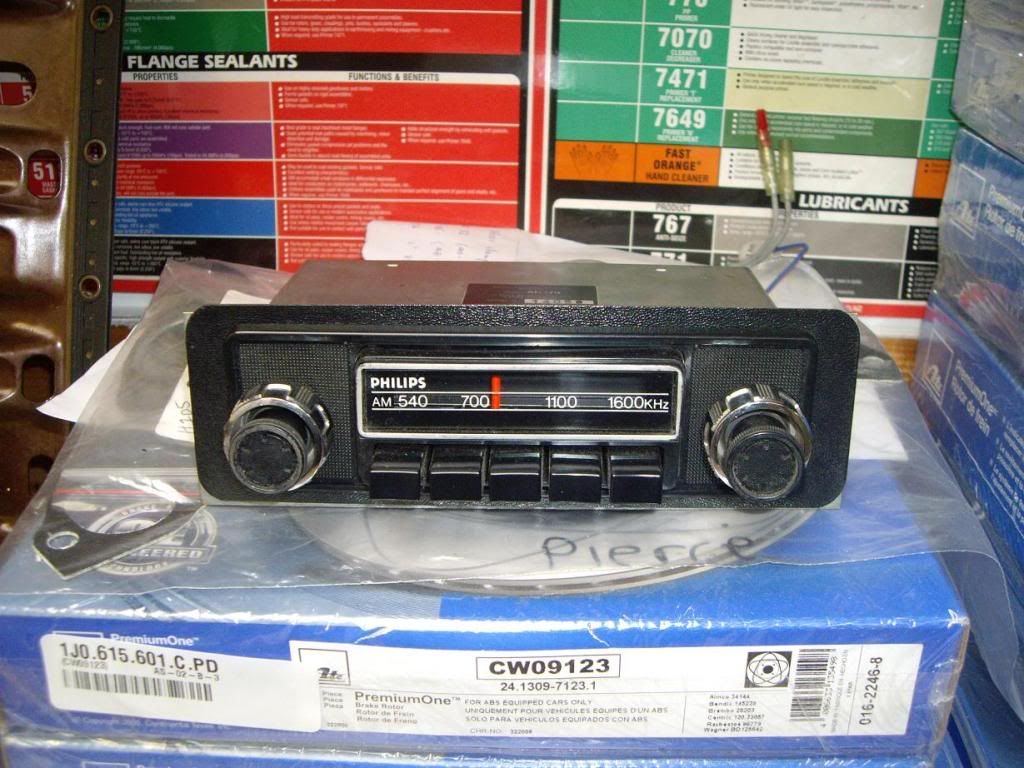 Well, I finally got my intake manifold & intercooler back!

These were the last piece's in the puzzle from stopping my progress.

Now on with some more work

My friends tackled the dump pipe, so it was my turn to do the rest of the pipe work. Good fun!

Intake with it's modded twin aux. injector (cold start valves) plate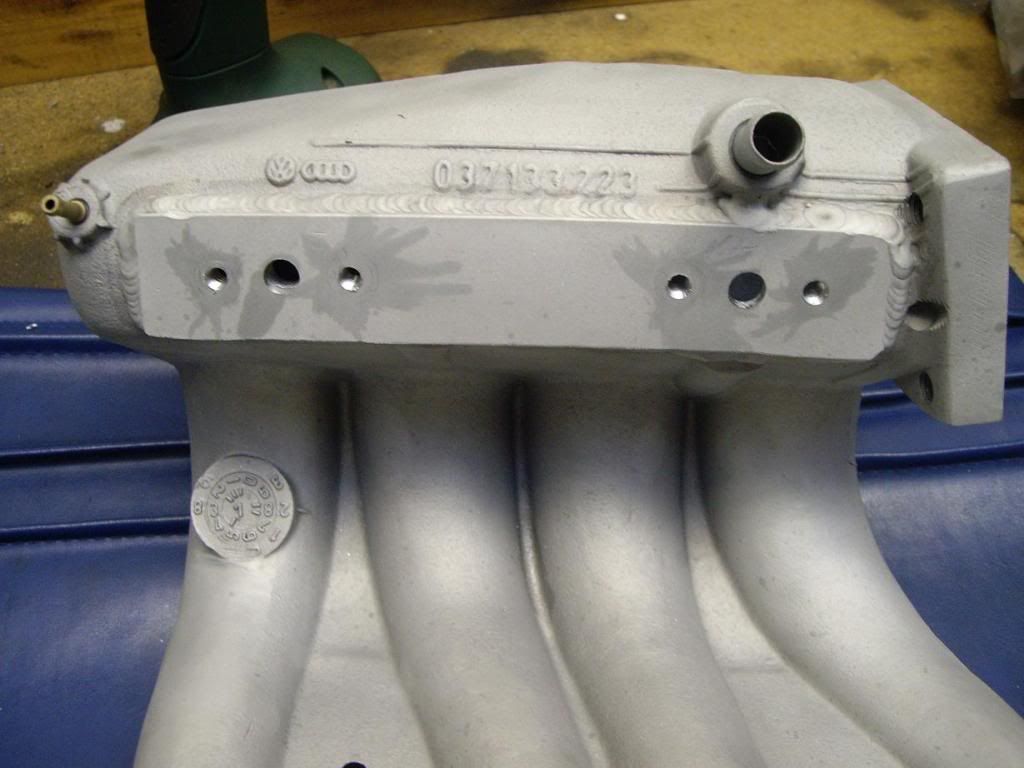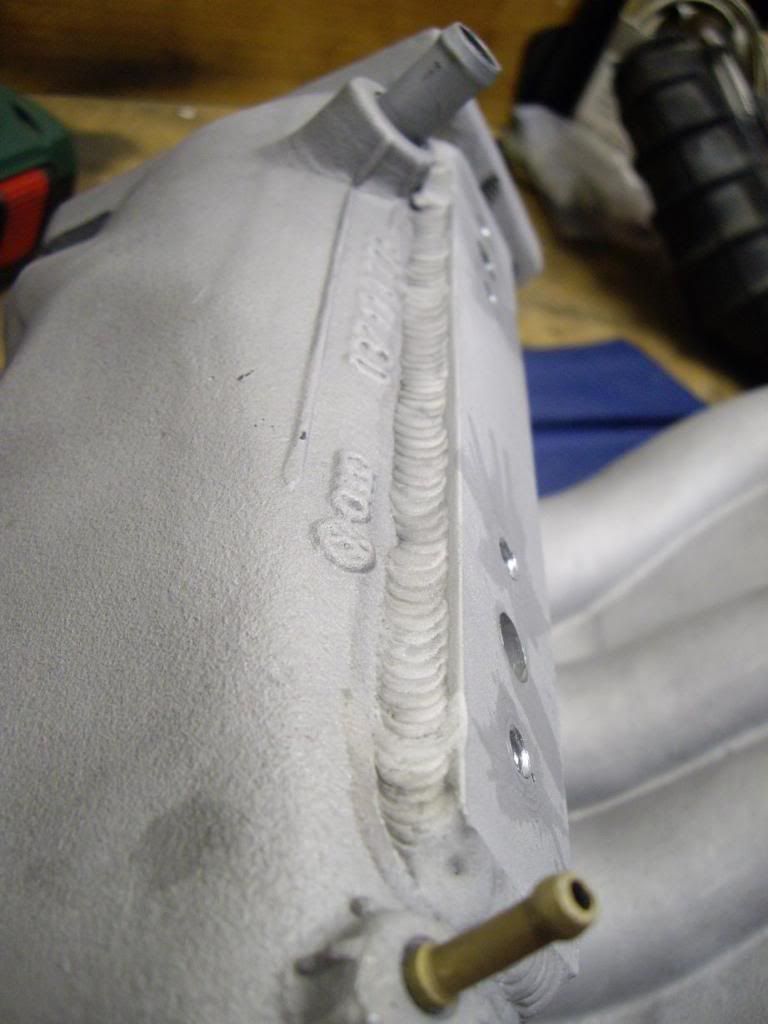 Hopefully it should work ok. If not, the weber throttle body has another mounting for a 3rd cold start valve.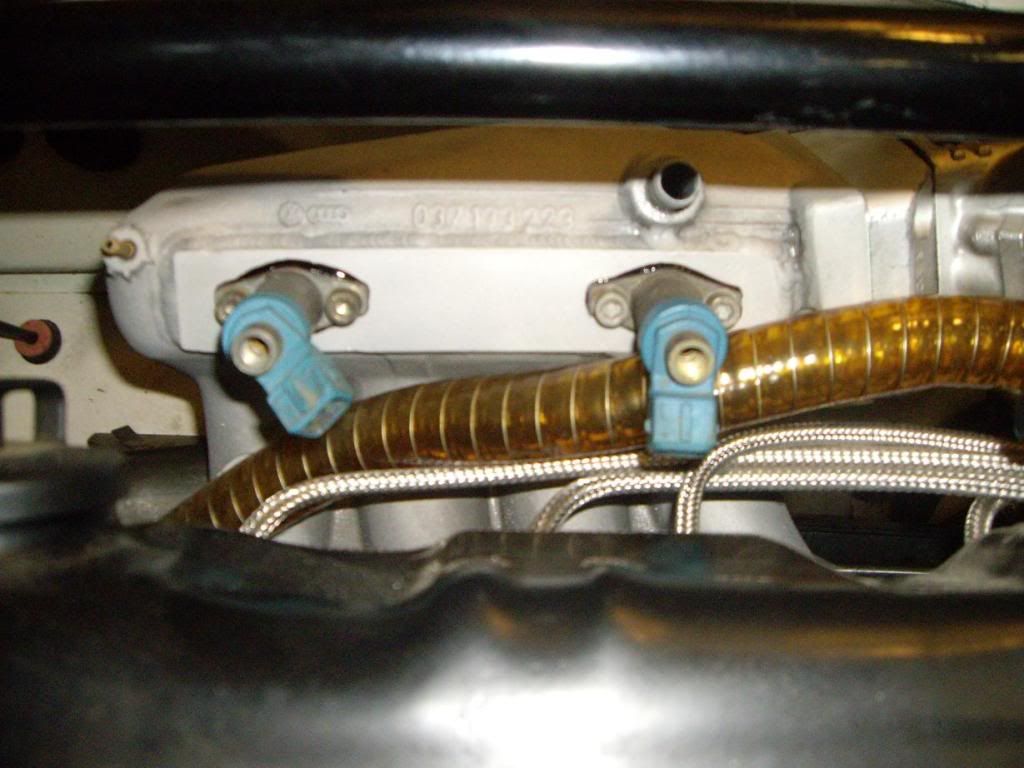 Intercooler with all it's mounting brackets on




Mounted up the intercooler & then installed the radiator to start mocking up all the piping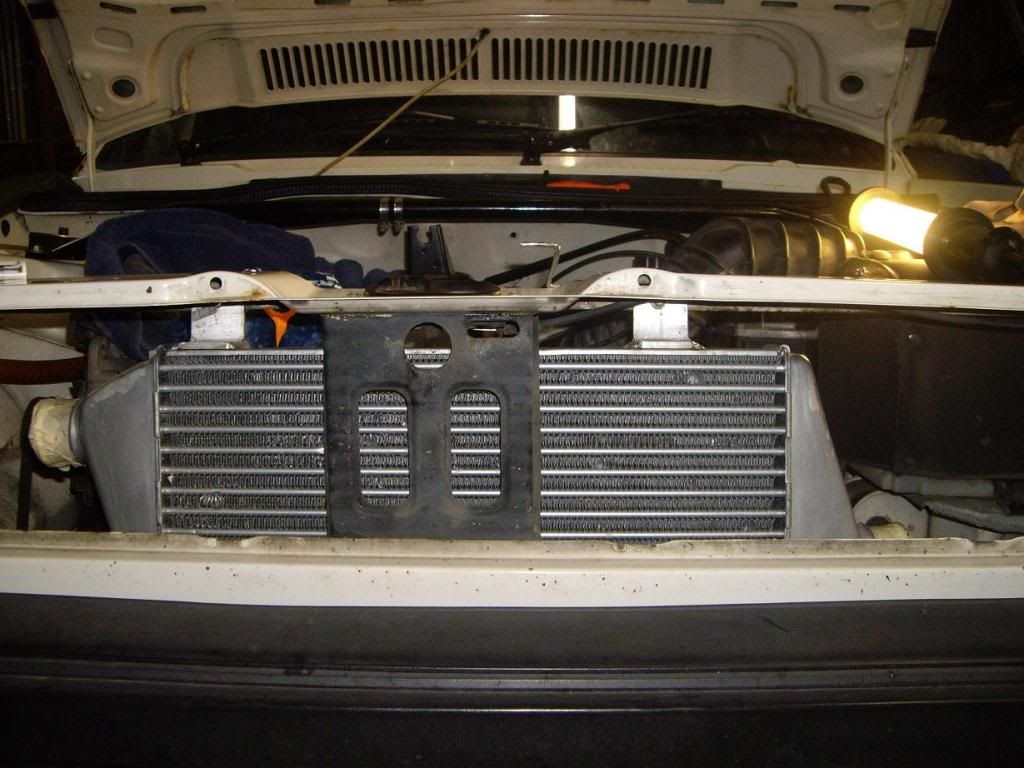 There is still alittle bit of room between the intercooler & radiator. They aren't hard up against each other.

I also mounted it using scrivet's (pop rivet nut's) Work awesome!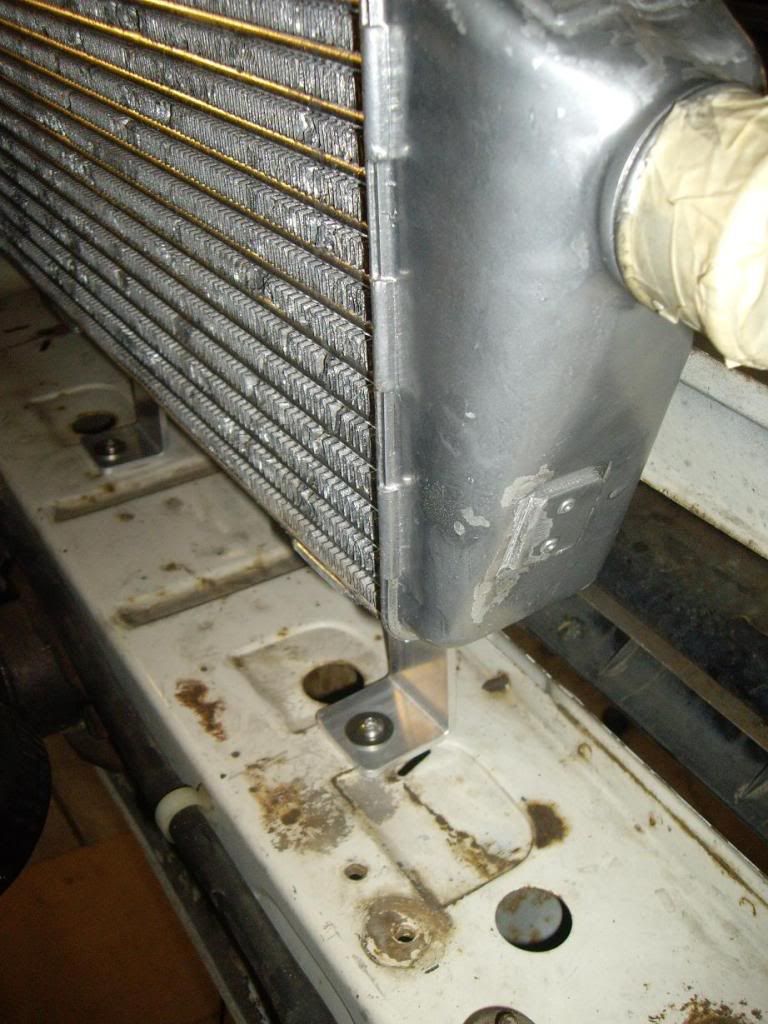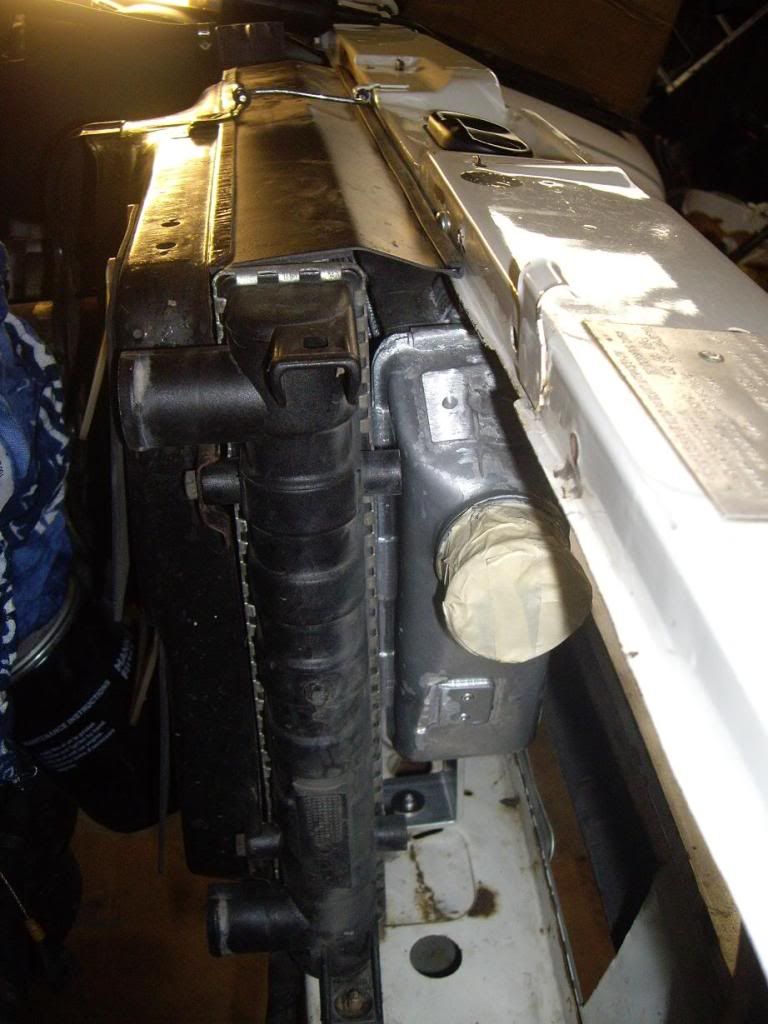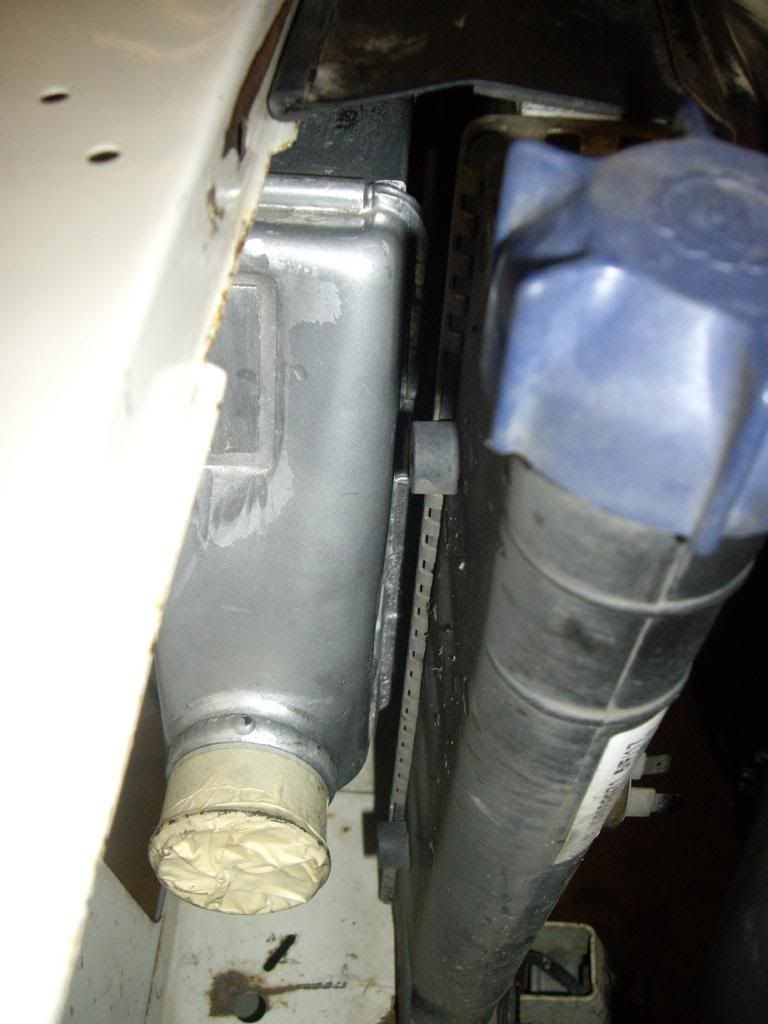 ---
motha

-

August 14th, 2011 at 09:54 PM

Various silicone hose joiner slugs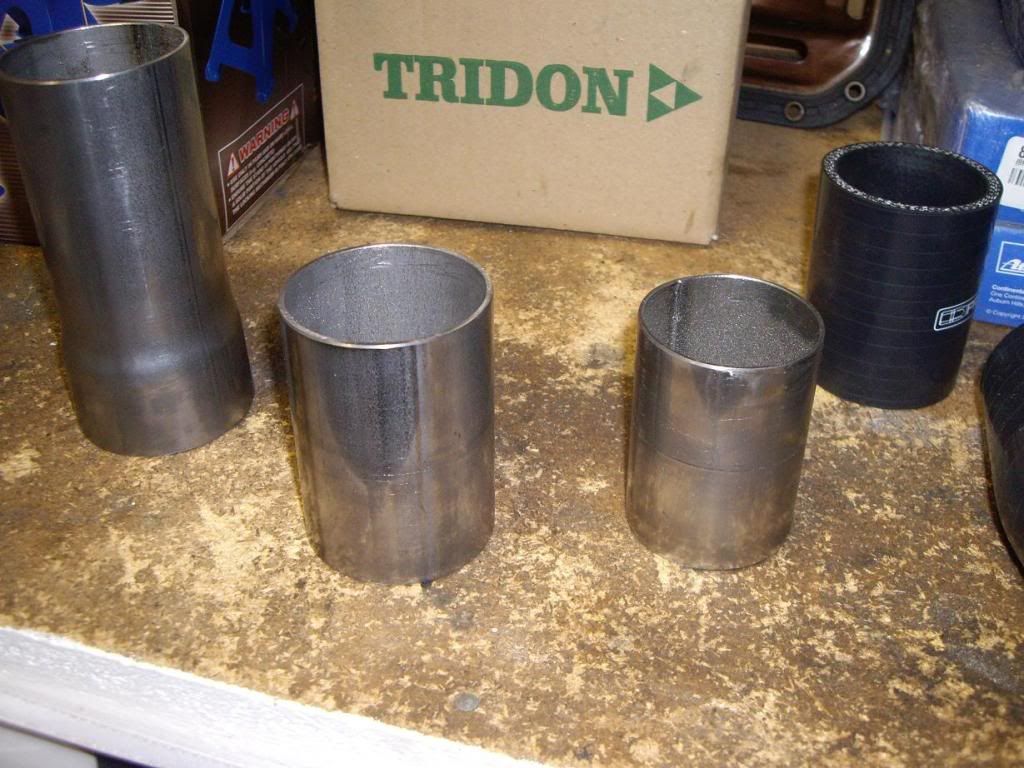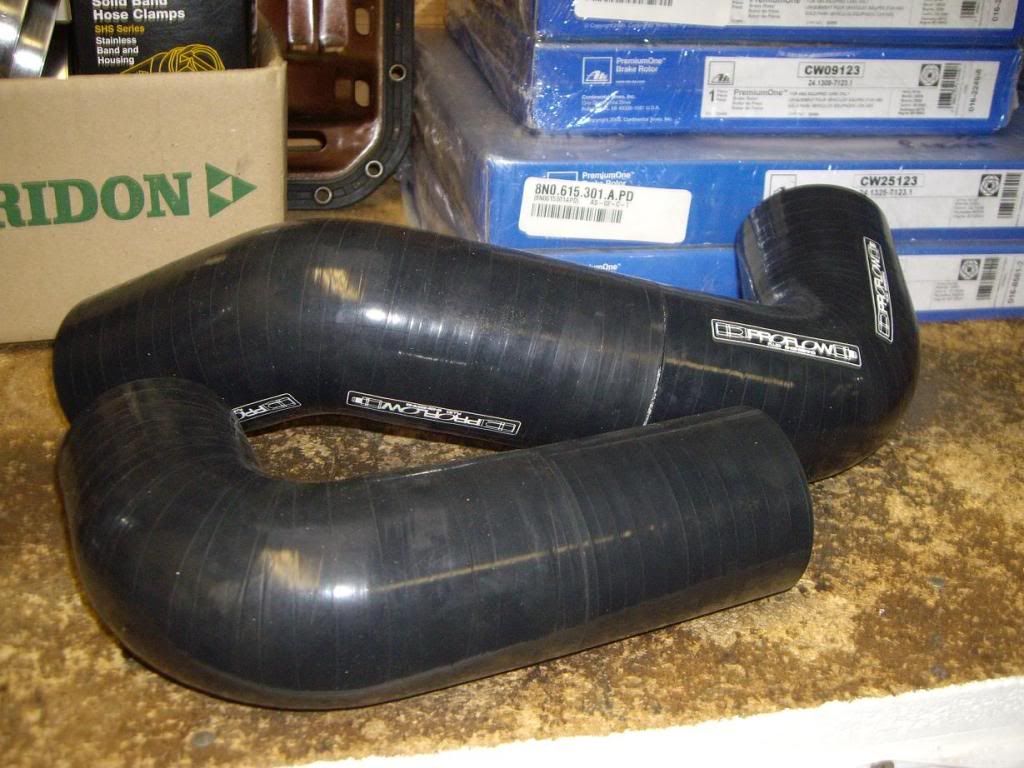 Had to get the turbo intake pipe stretched to fit snugly in the volvo intake boot.




Turbo intake pipe all done & mocked up. I'll get some more pics of this when it's back out of the car along with all the pipes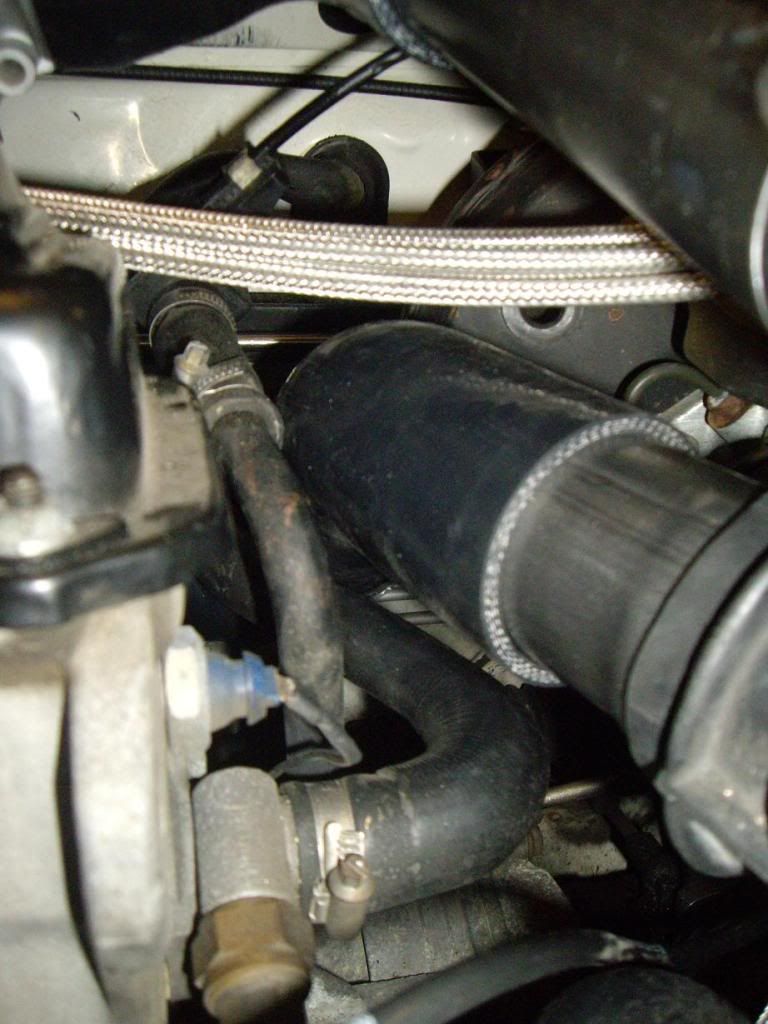 Then started mocking up the intercooler to throttle body piping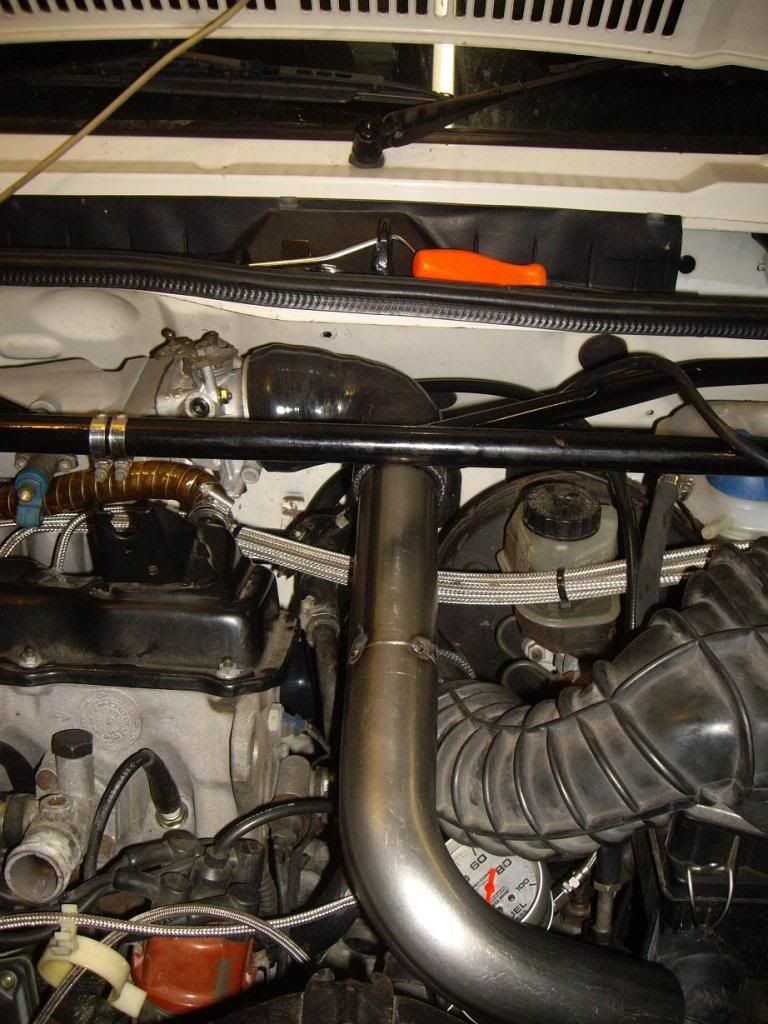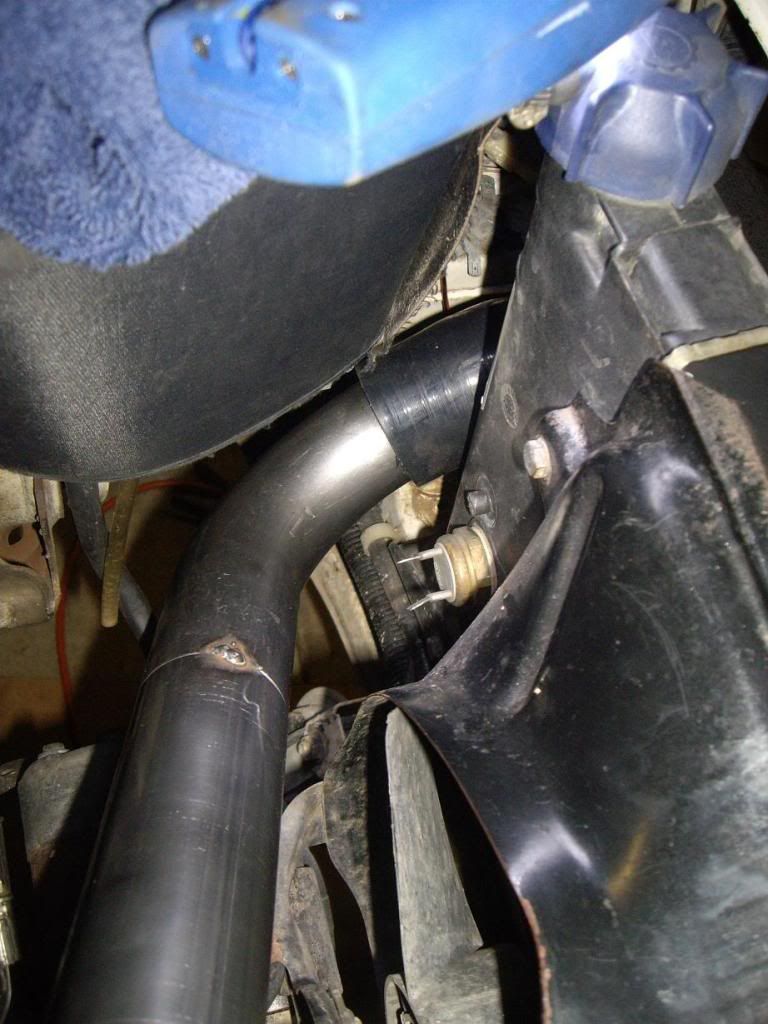 Finished pipe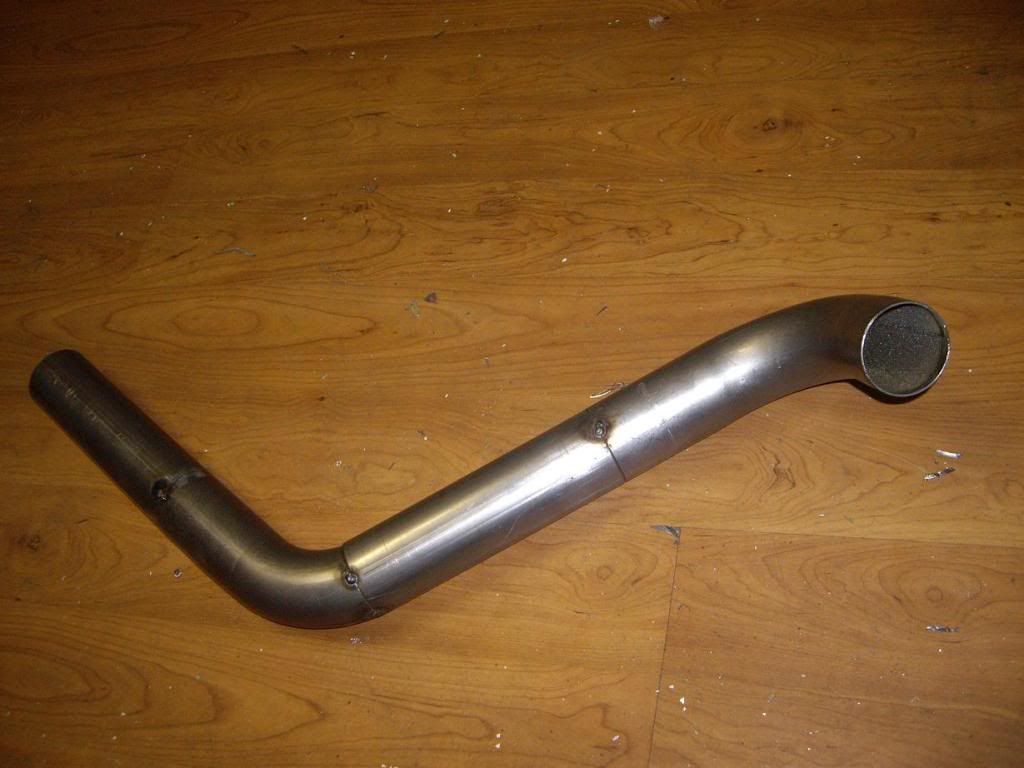 Then mocked up the Tial BOV mounting position & then the Hobb's switch as well




Then started in the turbo outlet piping. Sorry but I forgot to get a pic of this out of the car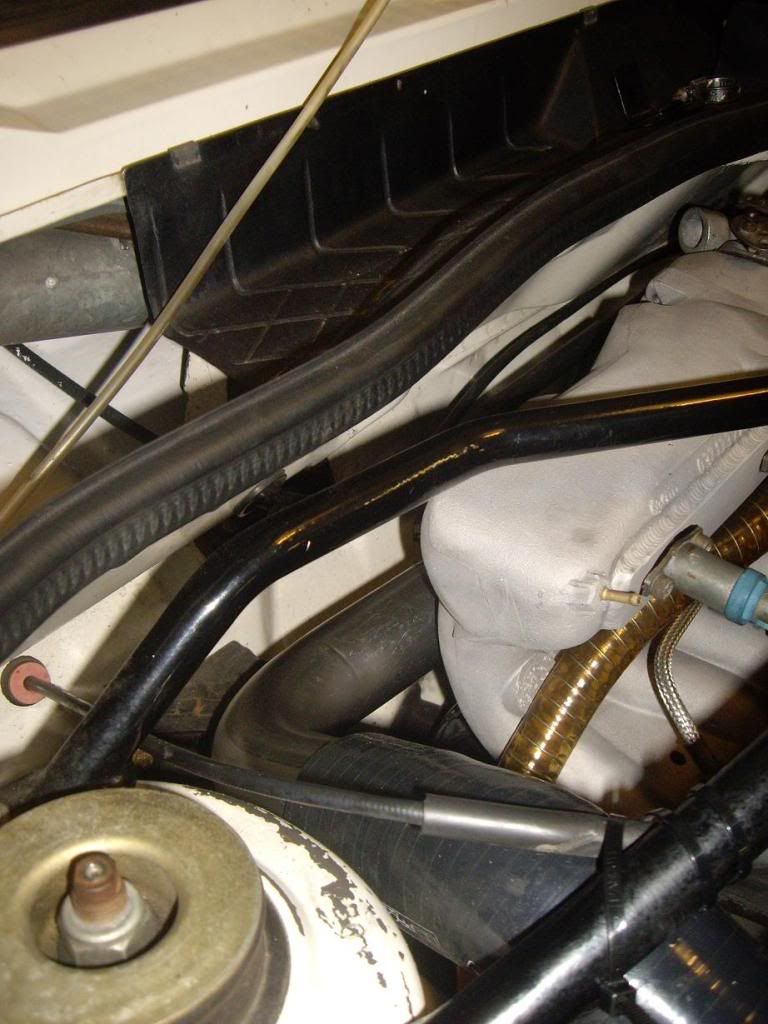 Working out intercooler piping position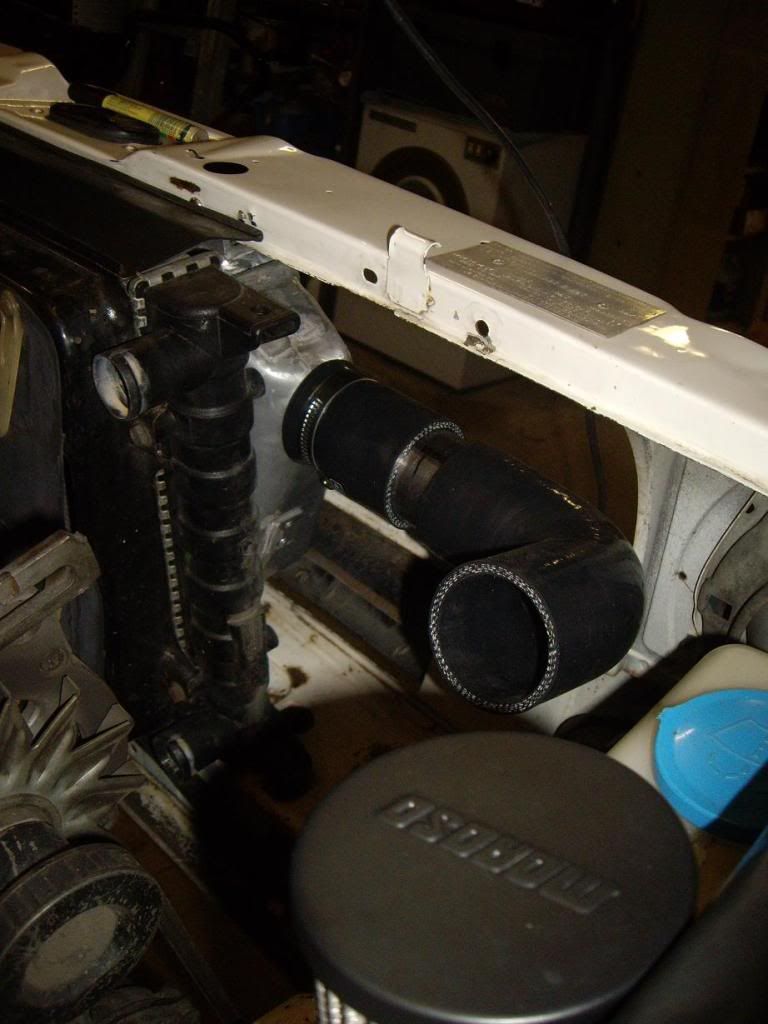 I wanted both pipes to run parallel with each other & make it a clean fitment.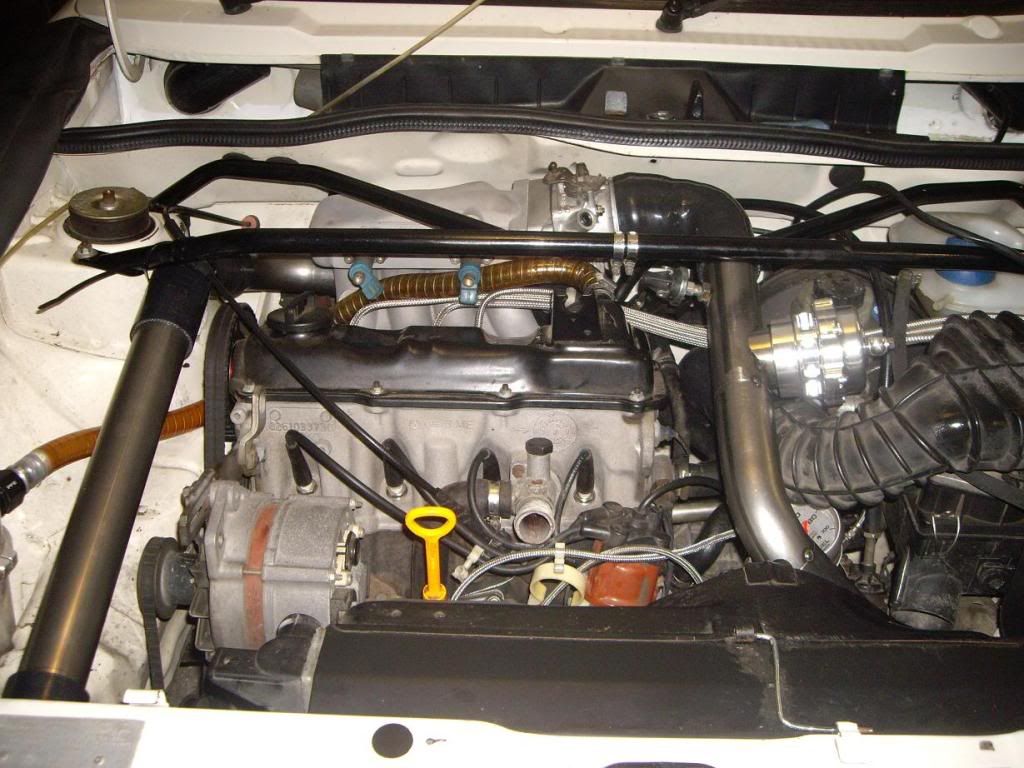 Everything appears to clear everything, but only a test drive & time will tell. Hopefully I'll be fine with engine movement

Made up the oil return line & oil supply line For interest sake the supply is dash -4 & return is dash -10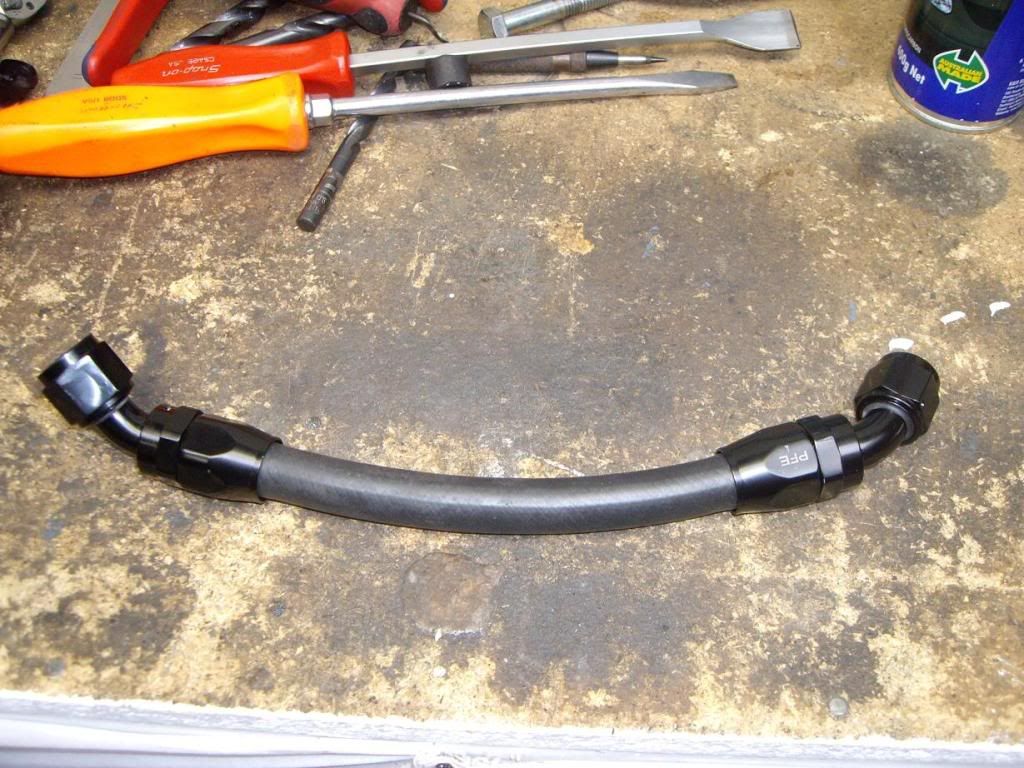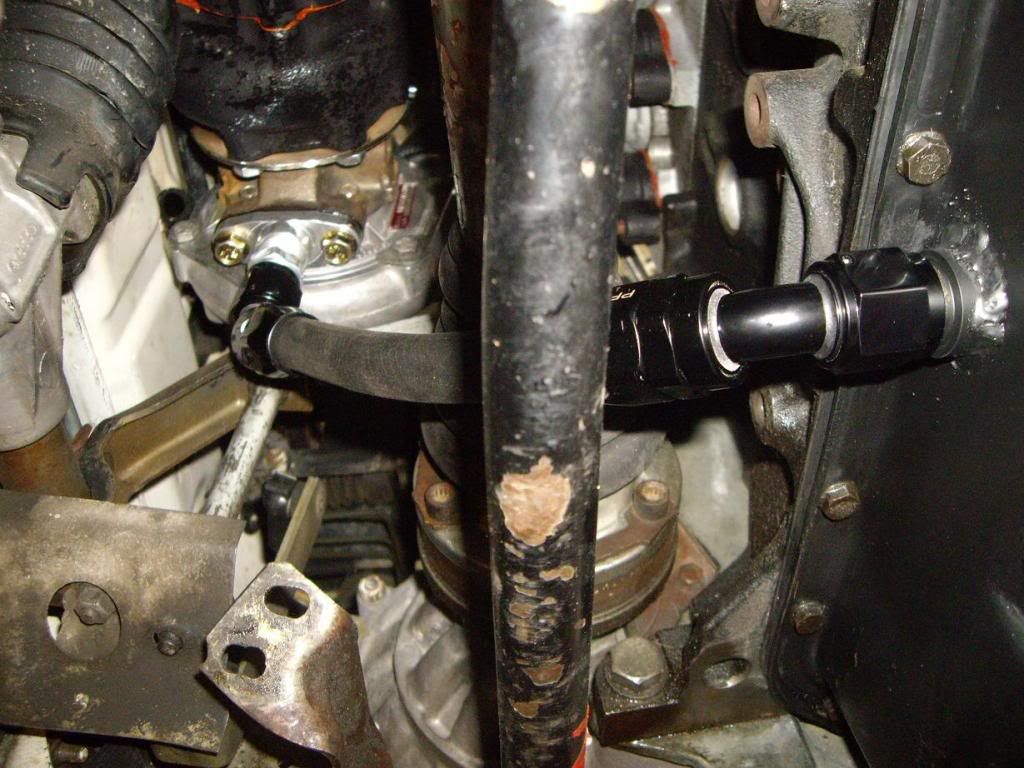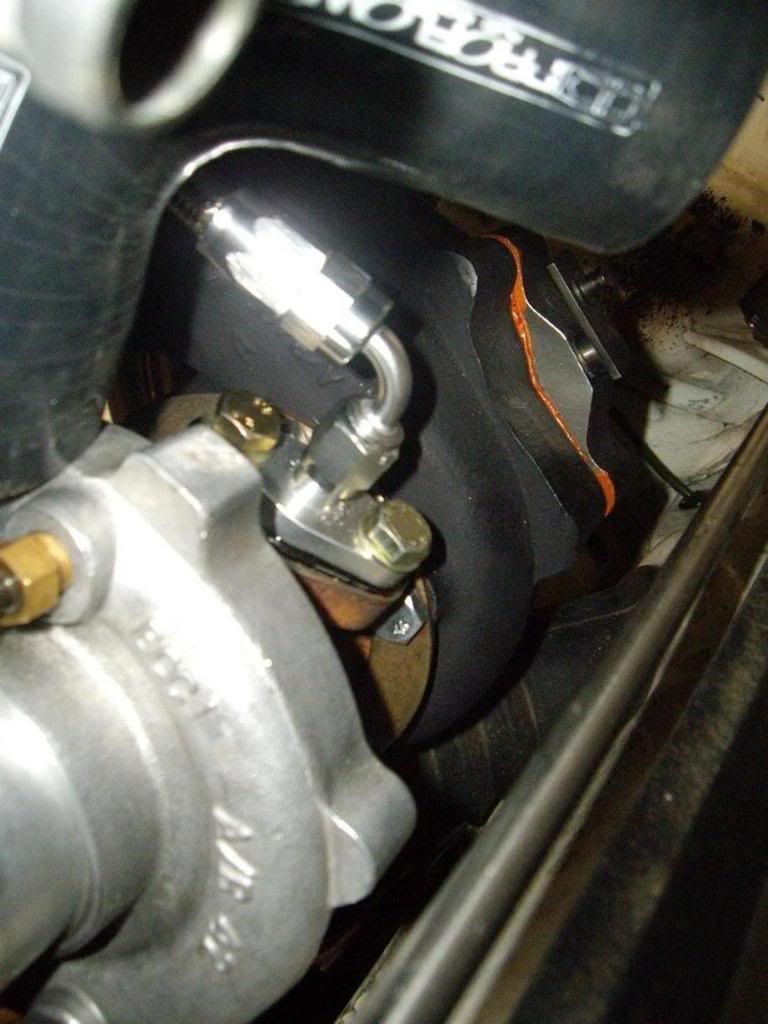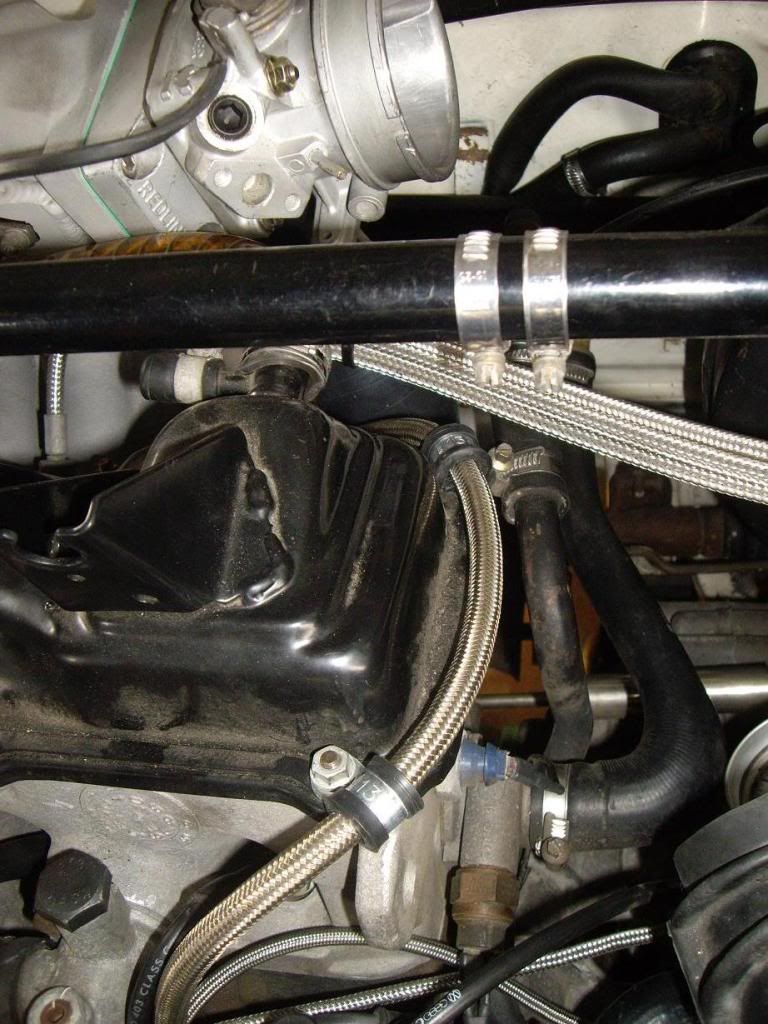 I also got time to modify the wastegate mounting bracket, due to how the turbo housing's are clocked, the original bracket jammed the wastegate pot against the intake manifold. I also had to mod the swing/push rod end too.

So out came some scrap metal, the hacksaw, linisher & welder.

My welds are slowly getting better.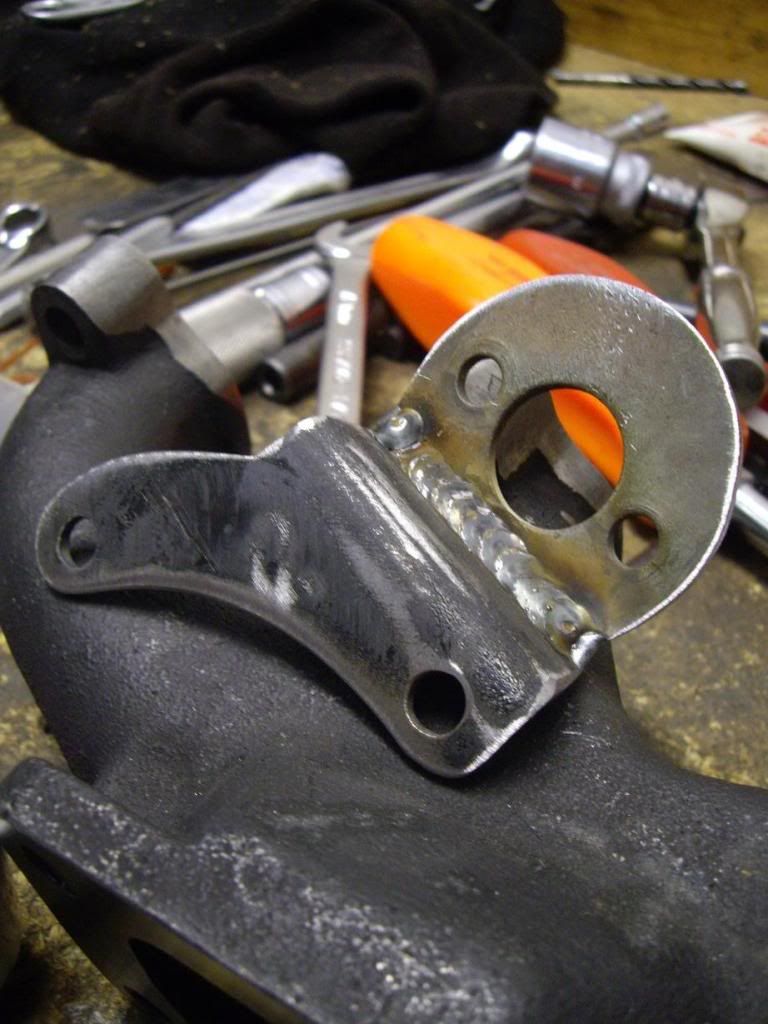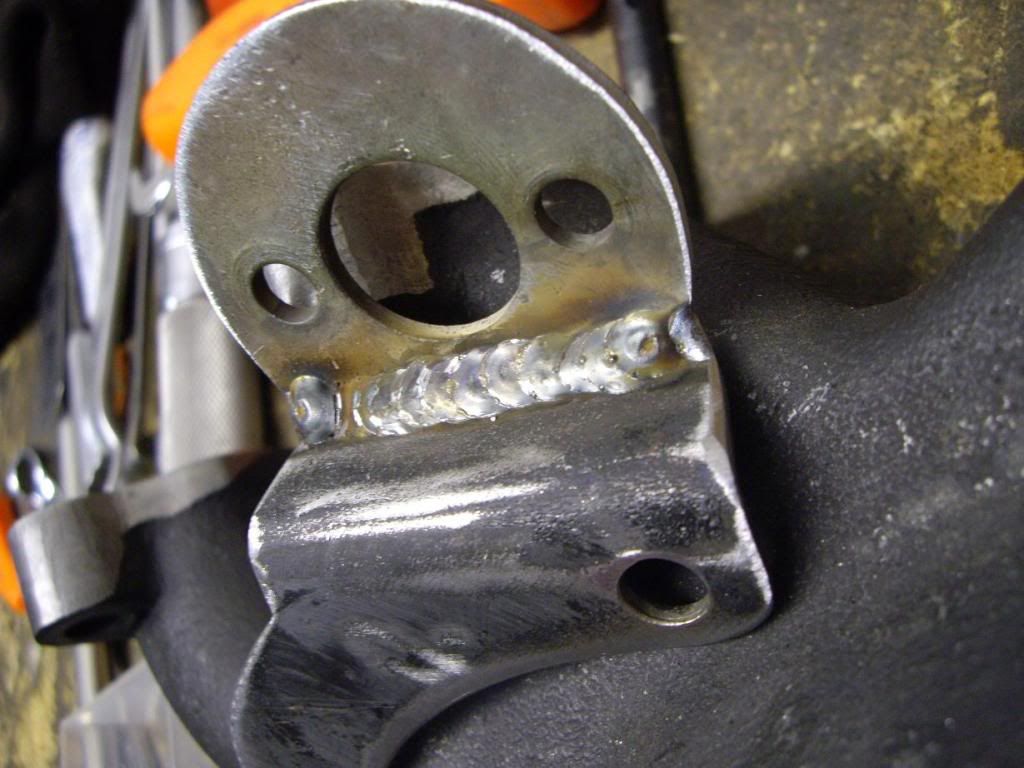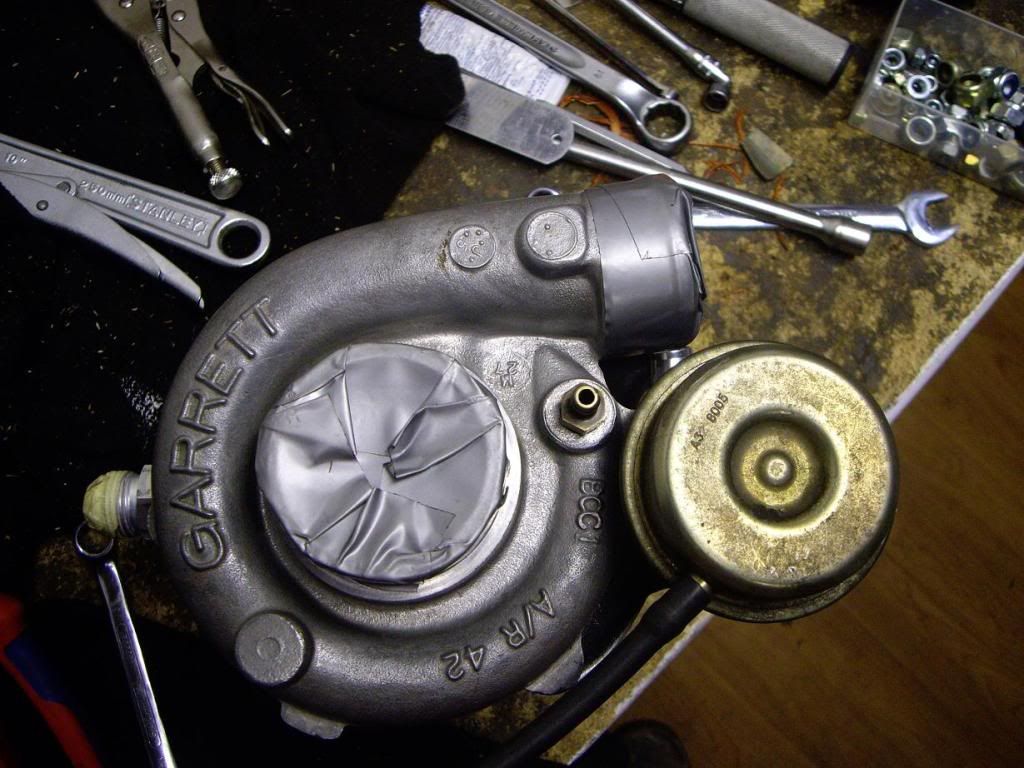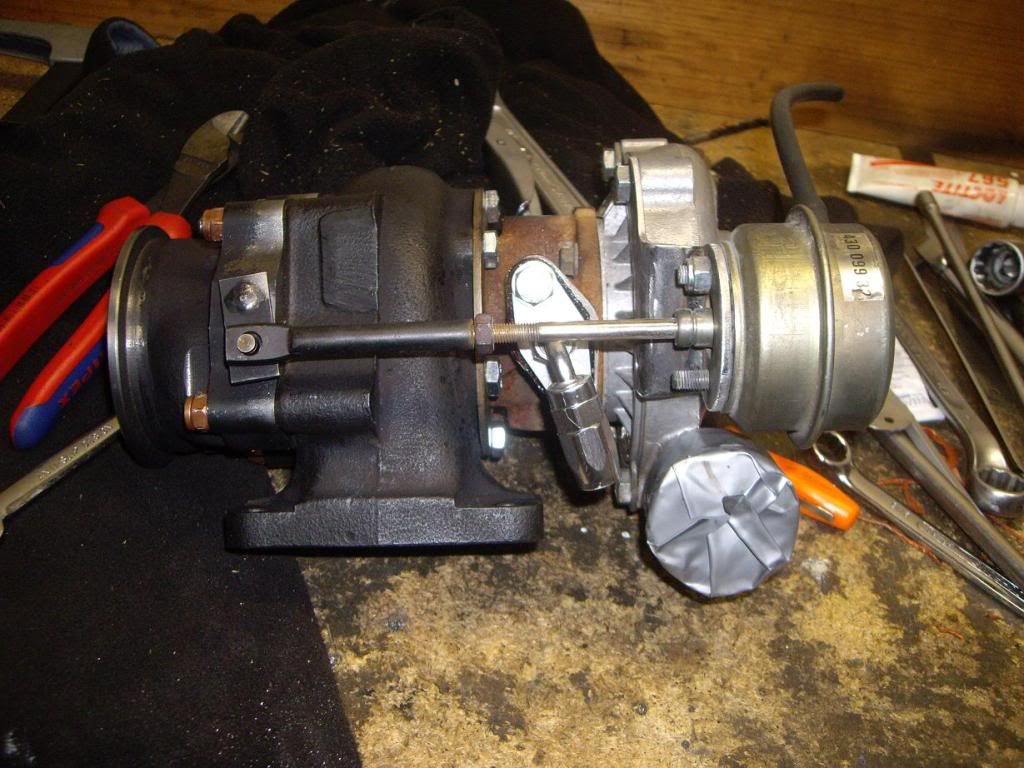 ---
motha

-

August 14th, 2011 at 09:56 PM

Decided to set up a makeshift booth in the shed as it was crap weather all day again & line it with old massive blanket's & got the patio heater going! Crap I know, but it all didn't turn out half bad.

Managed to etch & spray all component's & then fit everything up.

Just waiting on an oil supply fitting & then onto the wiring which shouldn't take all that long & then brake booster pipe, exhaust & aux. injector fuel line

On with the pics. Very pleased with the final product. Almost look's factory apart from the Tial BOV.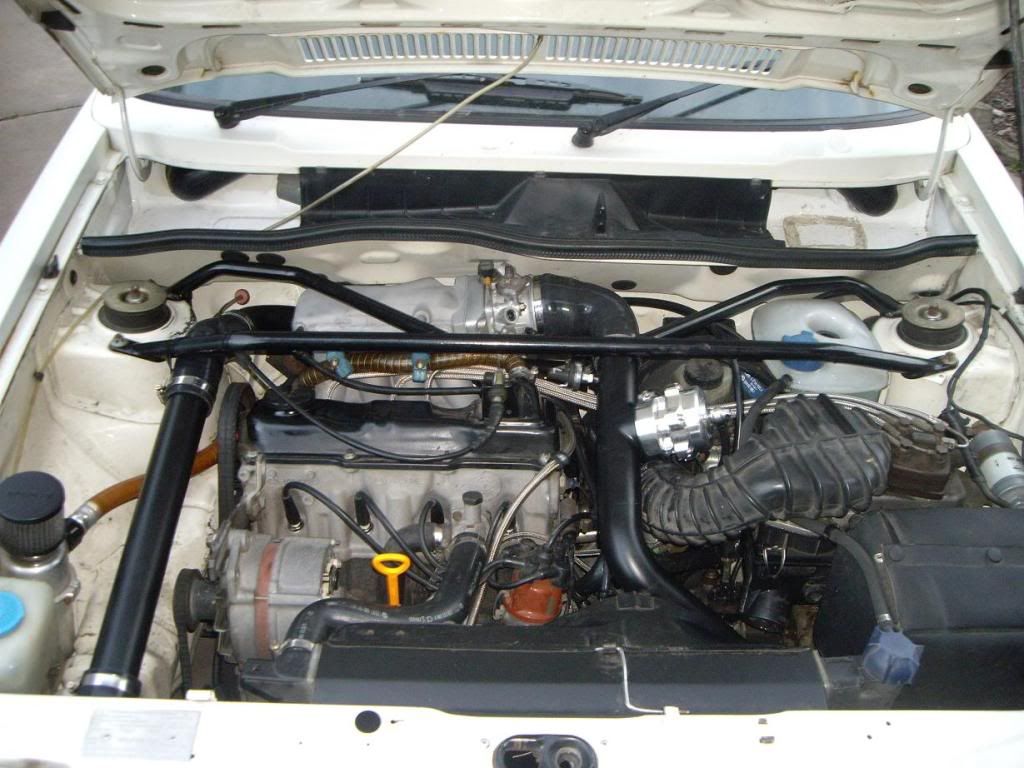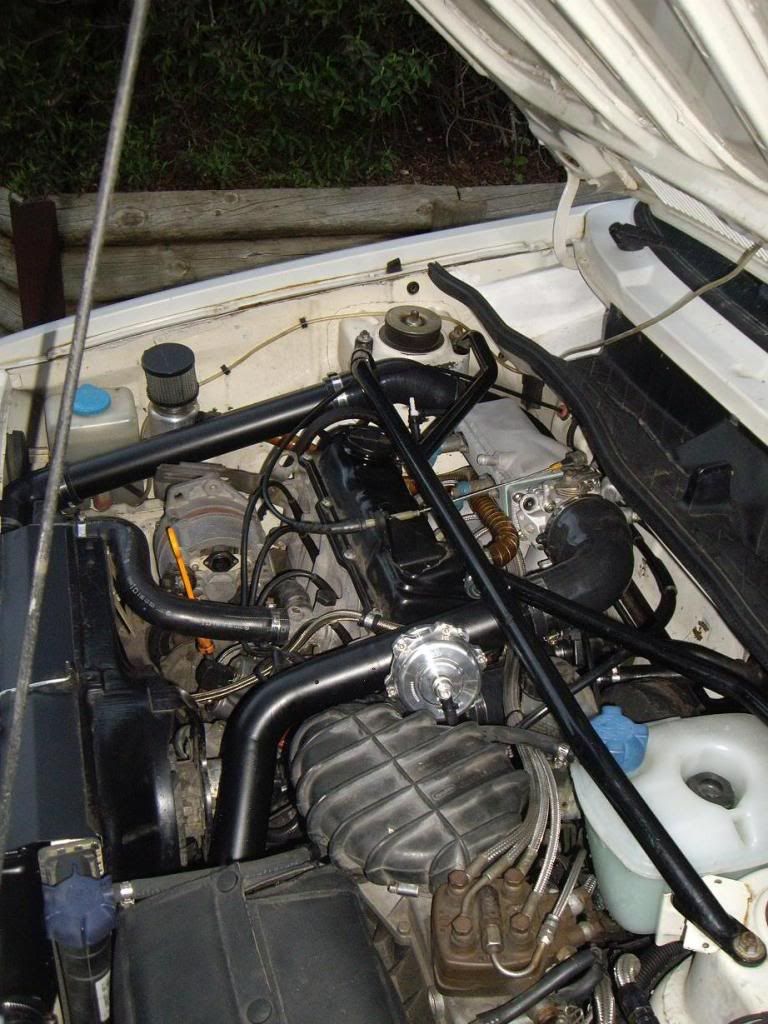 Before & after shot's.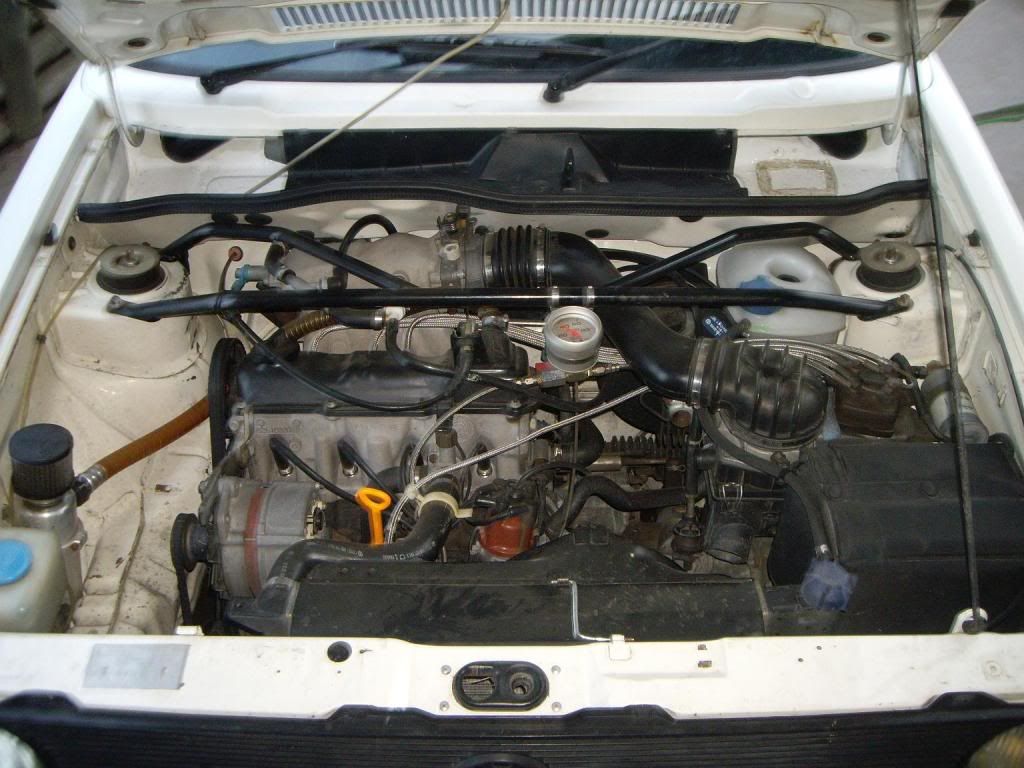 Engine look's alittle cleaner now with less aux. air valve supply hoses & the Warm up reg hoses tucked away too.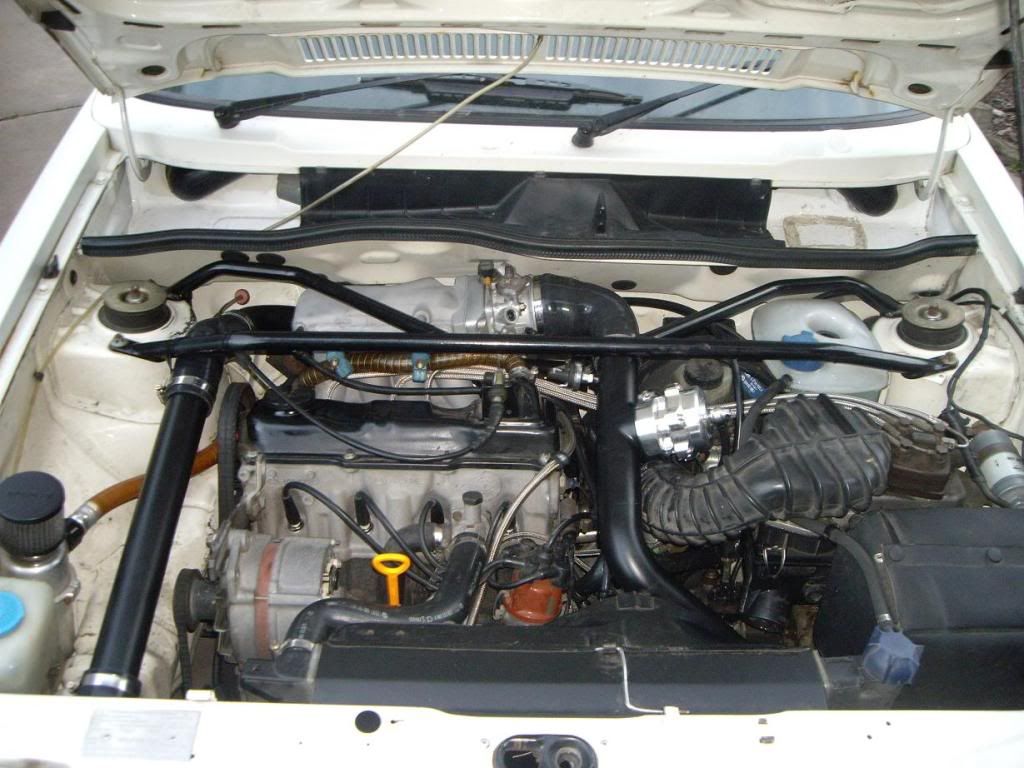 Got a chance when I got home to wire up the A/F meter, calibrate it & fit the boost gauge. These will only be fitted temporarily for tuning. Once I'm happy with it all, it will all get removed & back to stock interior.

Anyway I can safely say it runs!

Cranked over on the 2nd revolution & fired into life. Although alittle noisey & once all the gasket goo & exhaust paint had settled, it idled perfectly as before at 1000rpm.

I'll get a chance tomorrow arvo to drive it & see how it all goes.
---
motha

-

August 14th, 2011 at 09:57 PM

Well with the car still without an exhaust, test driving has been kept to a minimum.

I did get a chance to drive it though & initially boost was kept as 5psi. The turbo isn't even working!

The A/F ratio is spot on at idle & cruise. approx 14.6-14.9:1, but under boost it richen's upto low 10's:1! That's without the Extra injectors even hooked up!

But after a few goes & alittle bit of playing around, I wound it up to 10-12psi & the surge starts to come in. Its still running rich as under boost, so there is sill some playing around to do yet with adjustment's etc.

I'll get more tuning in, once the exhaust is fitted which should be tomorrow.

But it's slowly getting there.

No leak's, no fires & everything is smooth.

Well fella's, the full exhaust is now on which is a 2.5" full mandrel system with a resonator & high flow rear muffler.

The car is now nice & quiet to drive, idles nice & after a few runs, I'm seeing better increases.

I've since increased the ignition timing & set boost at approx 10-12psi & now it's taking off!

This would eat my old NA setup for breakfast!

At the moment I'm getting closer & closer to the tune. It's just timing & boost. Fuel is spot on!

Some more pics for the sake of it

Innovate Motorsports Air/Fuel meter. Awesome bit of gear & should be on everyone's list for the home tuner!

Happily idling away at 14.5-.14.9:2




Fitted the LC-1 in the rain tray. The oxy. sensor lead isn't long enough to reach into the car




Callaway boost guage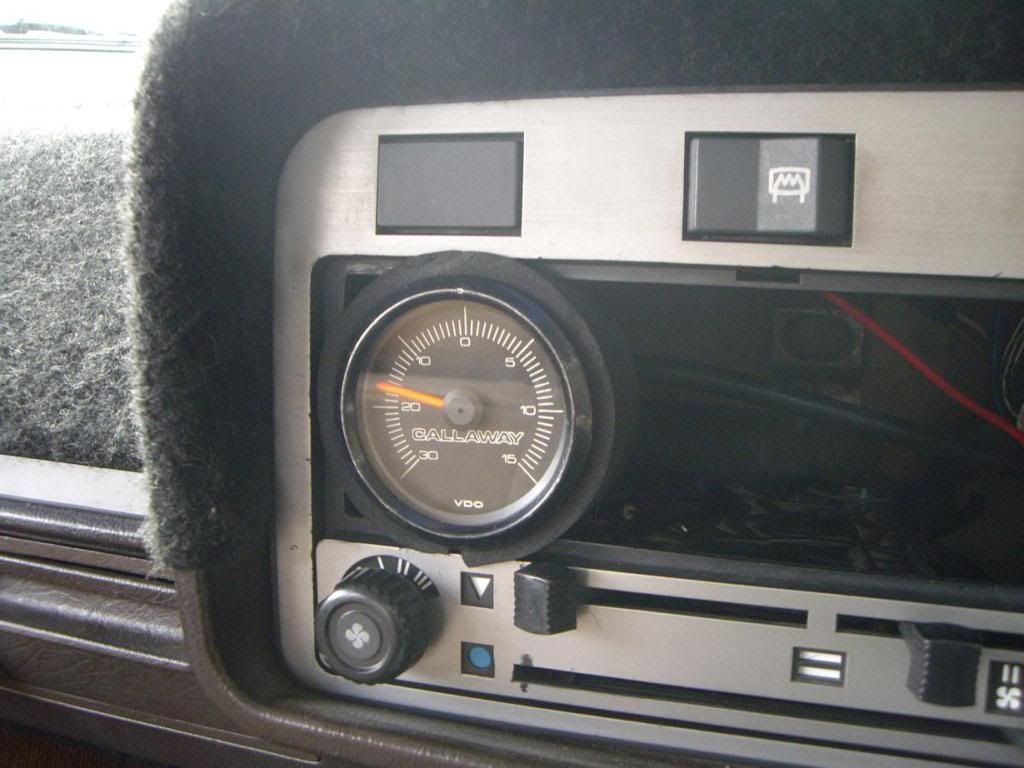 The matching pair of tuners tool's!




I'm still slowly honing in on the tune, but I'm now running out of fuel up top in the higher gear's/load, so the car is booked in next Fri. to have the aux. injector hosing made.

I took a friend for a spin on the light setting & he reckons it's alittle bit faster than a lightly modded WRX. Not sure on that though. It's scrabbling for traction in the first 2 gears, but it's still slow to me!
---
motha

-

August 14th, 2011 at 09:59 PM

Got some more work done this arvo & also getting to the end of the part's list.

The faster I get this done, the sooner I can move onto other projects.

Fitted up my new ATE Powerdisc's & Pagid brake pads front & rear

I also decided to give the underneath a pressure wash, due to the weekend away bush bashing a few weeks ago.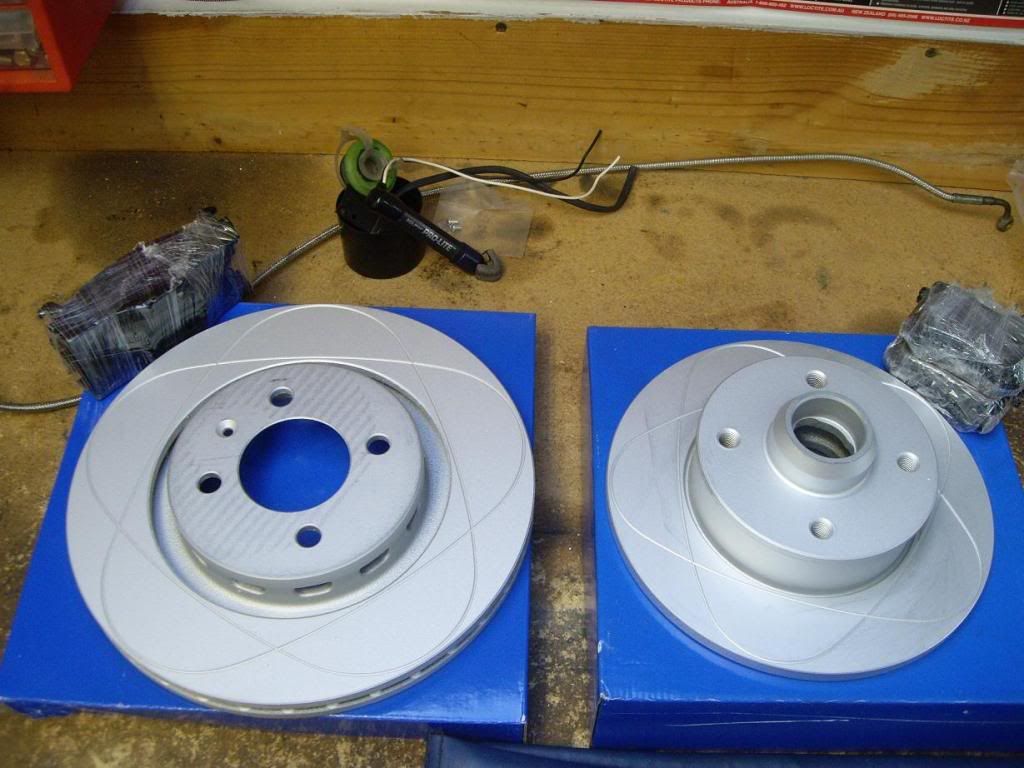 Fronts are Corrado 280mm discs & stock Mk1 GTI style pads.




Rears are just standard size Mk2 16V rear disc's & pads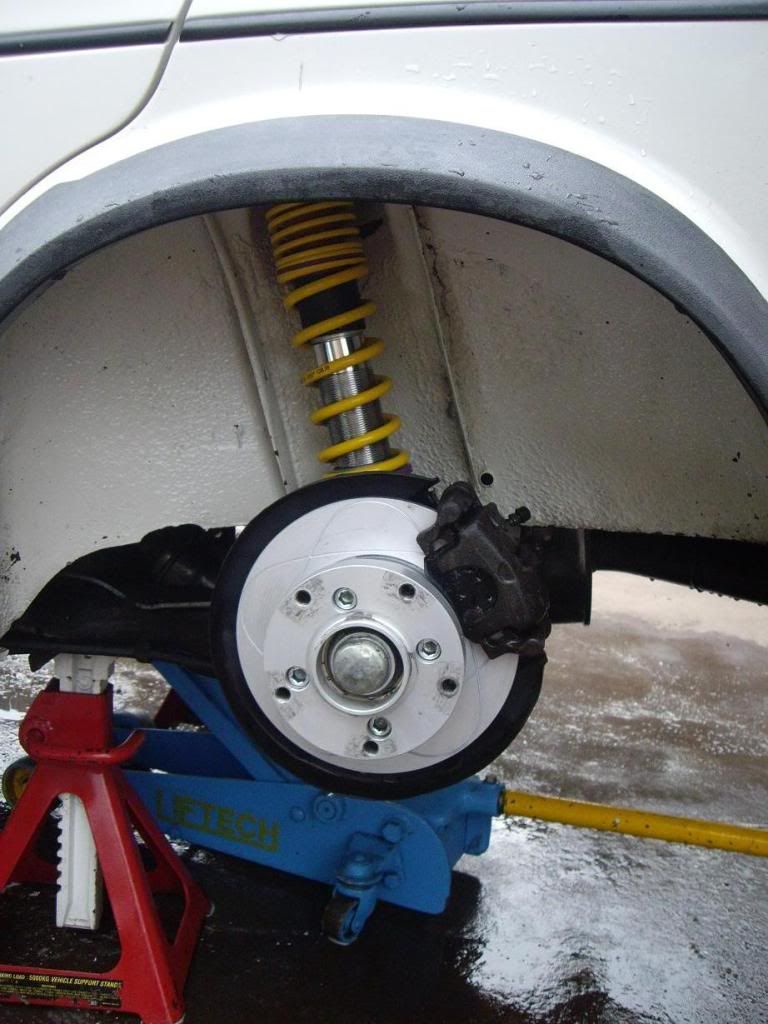 Well I finally broke something today.

My old ABD short throw shifter. The top relay lever broke clean off the shaft!

Stopped,opened the bonnet & manually selected 2nd gear on the gearbox & drove back to a mates house for some repairs too.

Other than that, its been smooth sailing. the car is performing without fault. Mixture's are good, fuel economy is the same as before if not better.

I've removed the tuning gear out of it, till I get my next upgrade which will be a MSD 6BTM. Boost retard ignition

The aux. injector fuel hose will be going on the Fri & I'll have some wiring to do as well.

Well not much has been going on apart from driving the car everyday & no problem's have arose since getting it going.

I managed to get in some time to get the Aux. injector fuel hose made & then wire it all up today. I also tested the system to see if it would all work

System all up & running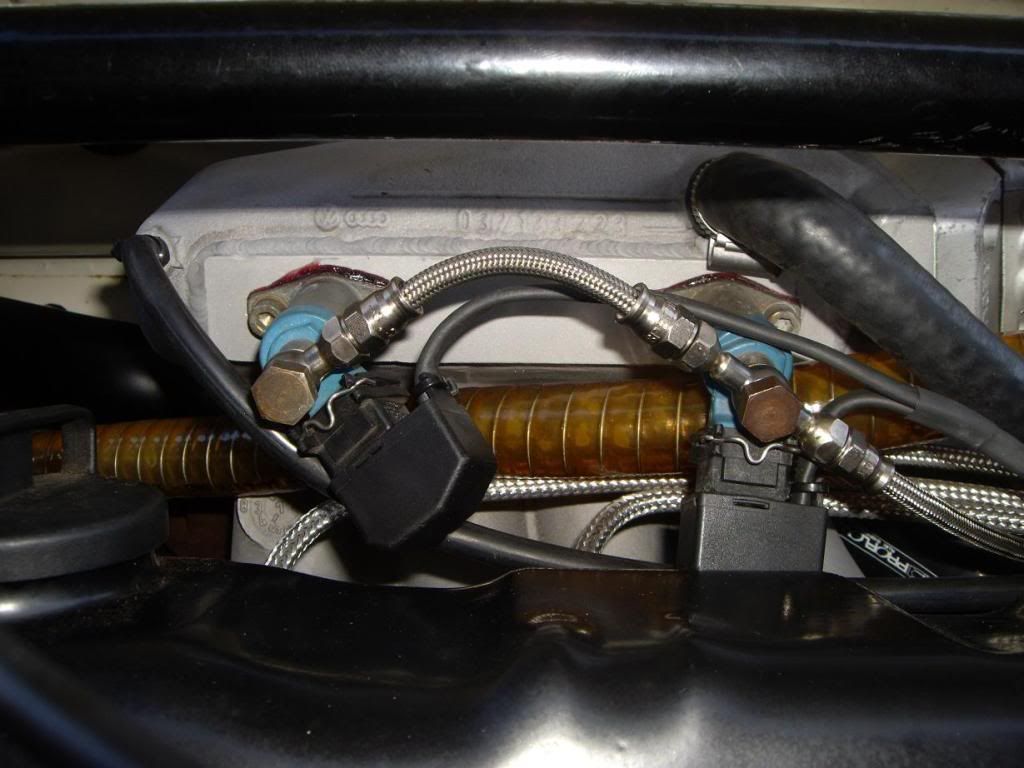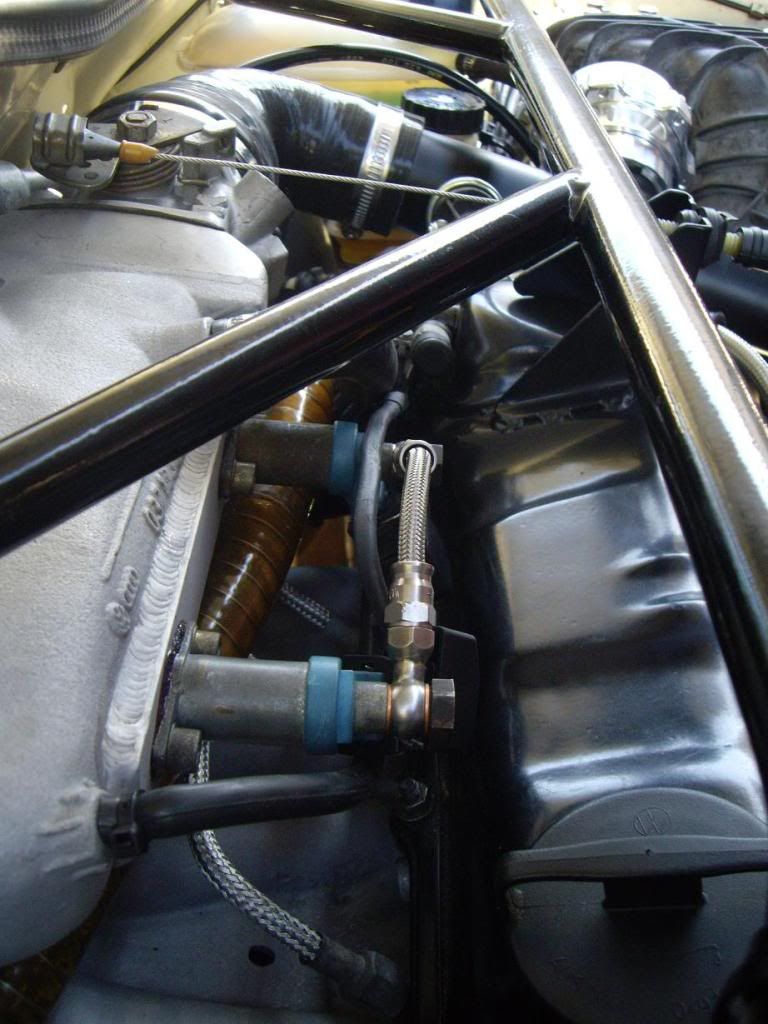 The cold start valve outlet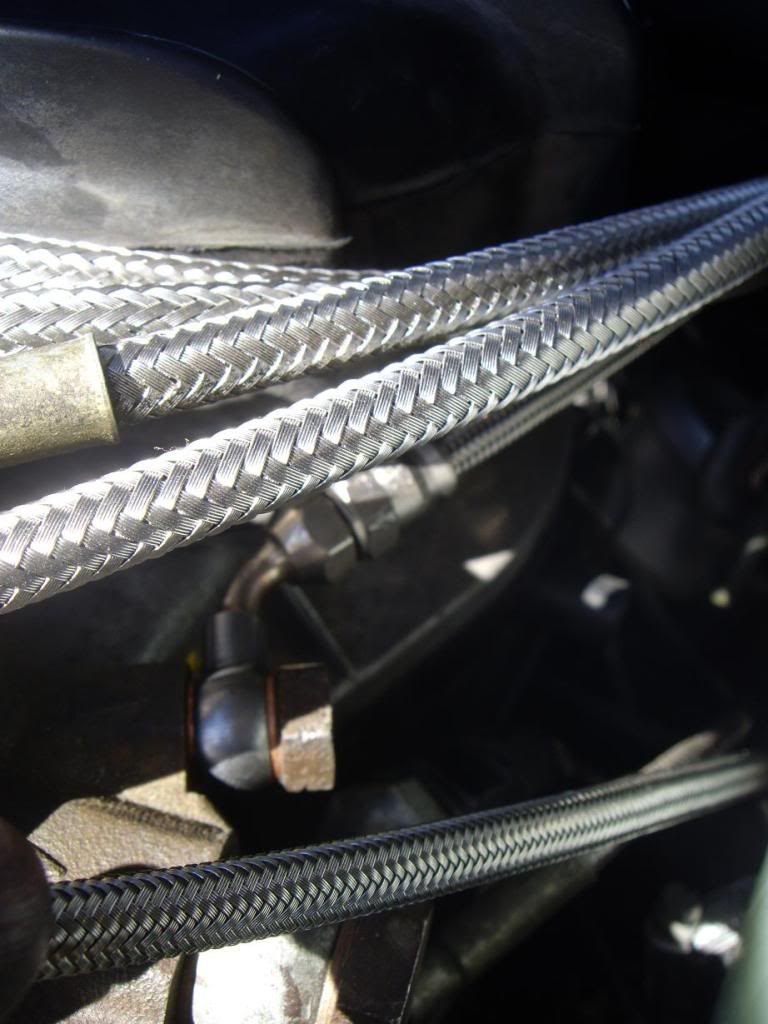 With the Hobbs switch bridged out




I'm yet to hook up the A/F meter & see what's going on. I'll do that once the MSD 6BTM has been fitted & then see how it all goes.
---
motha

-

August 14th, 2011 at 10:00 PM

I also received another xmas present today. I ordered it Mon. night AUST time & it arrived THURS. morning form the States! Hell yeah!

All my Ignition component's arrived today incl. MSD 6BTM & RPM limiter pills, Blaster 2 Coil & bracket, Ignition Leads & separator's.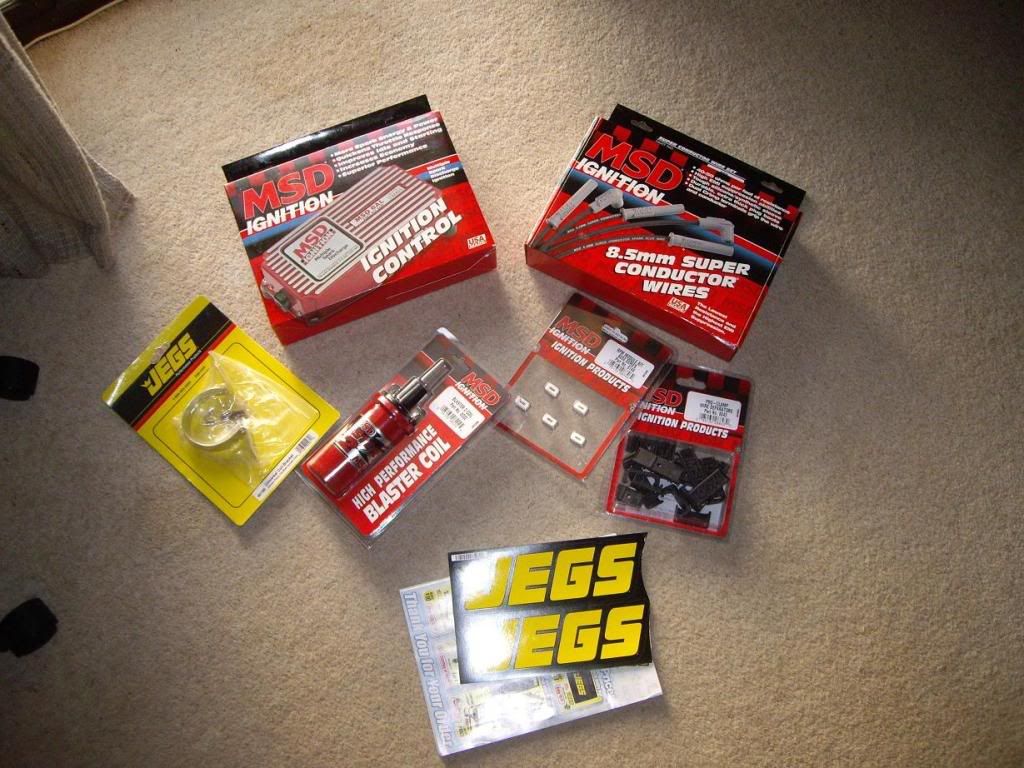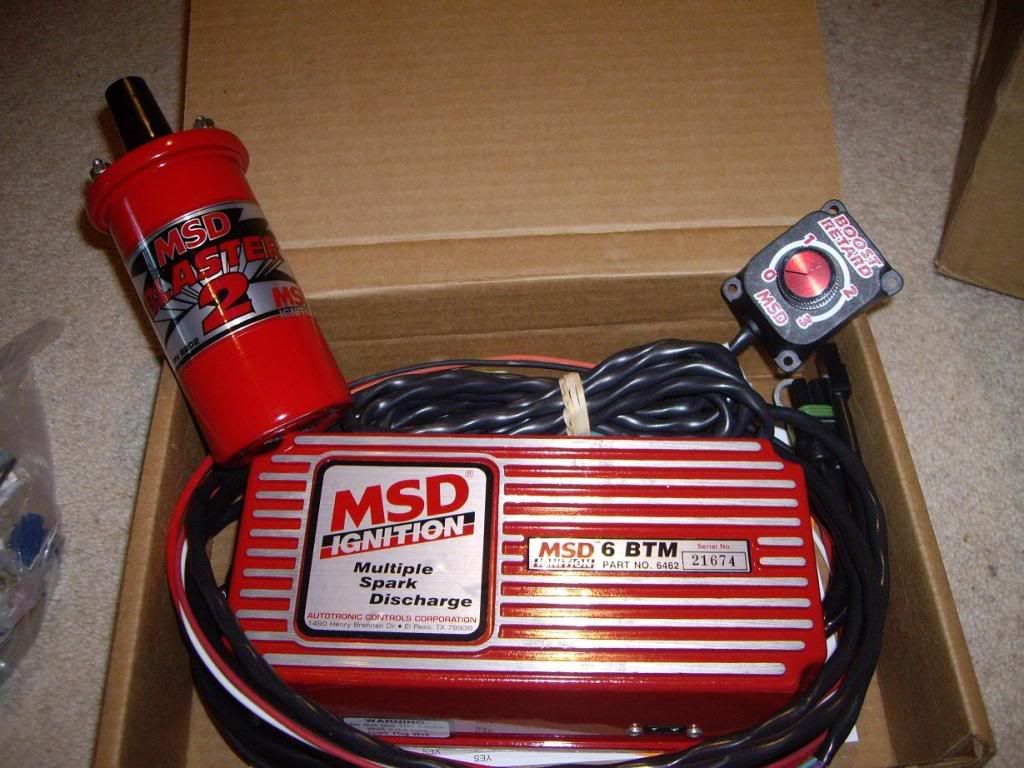 This weekend should be fun.

Once this is all fitted, I'll refit the boost & A/F meter & hopefully start to turn the wick up on this 300+K old stock GX engine! hahahah


I got the MSD & coil mounted & ran the wiring & started on the ignition lead's

Not much!

MSD box mounted up in the rain tray against the fire wall. I also fitted a 6600rpm limiter pill. I think I will change this back to a 6200 or 6400 pill.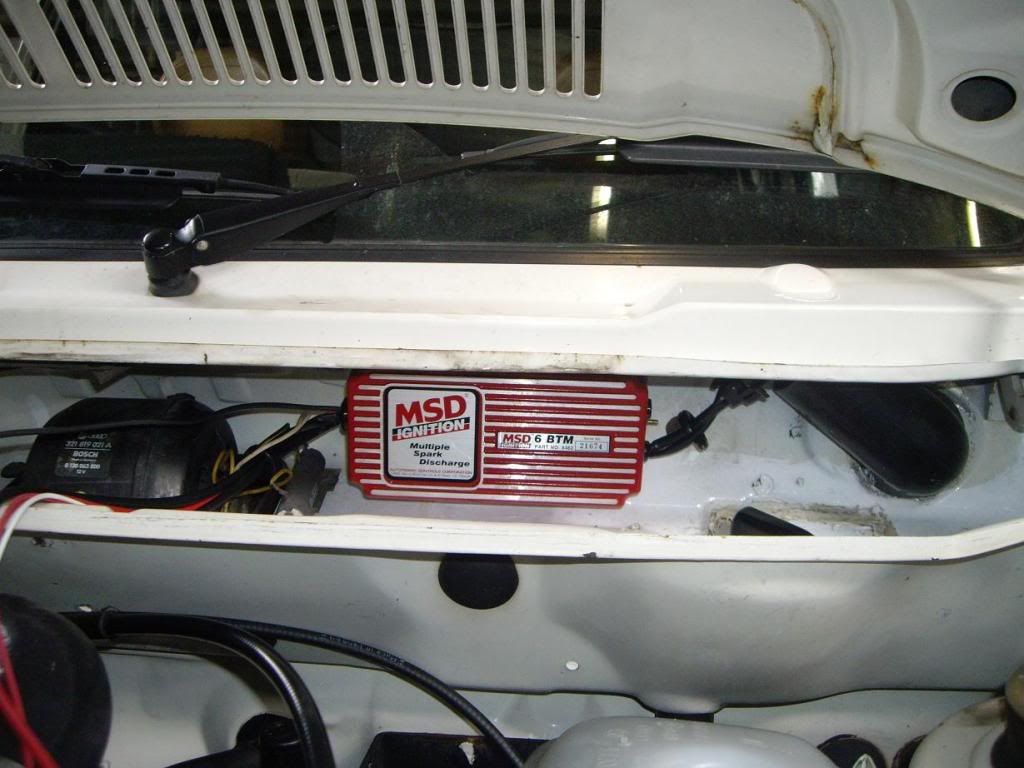 MSD Blaster 2 coil mounted under the Expansion tank.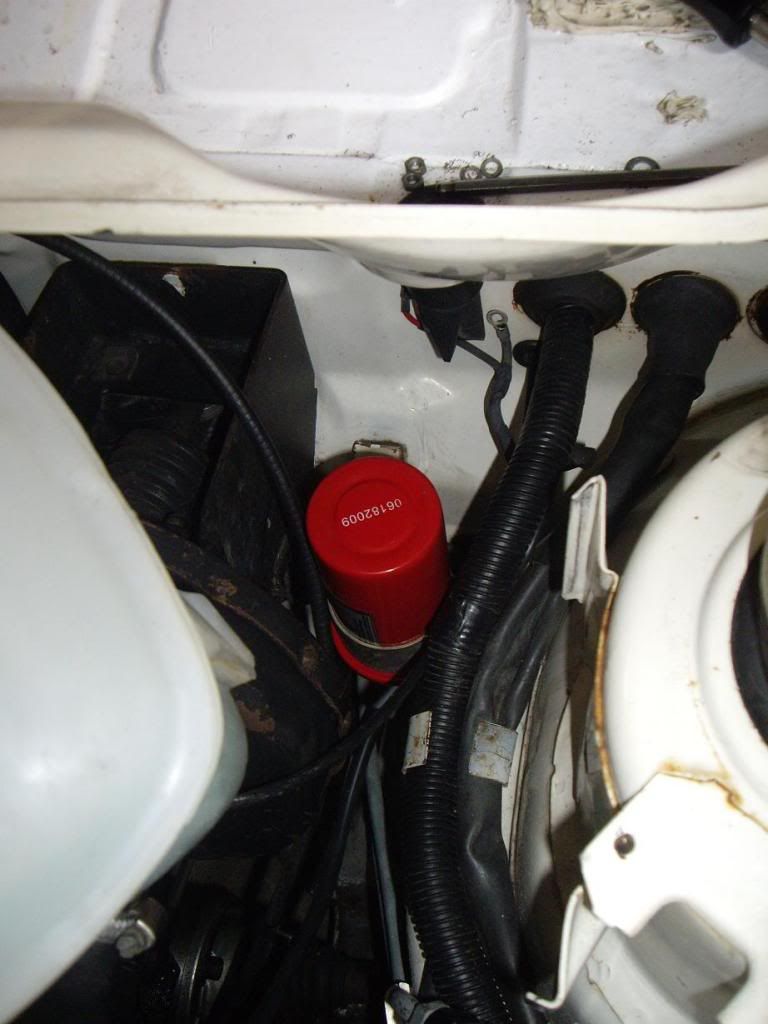 Onto today. Very slow & one very "very" bad hangover!!!!!

I finished off all the wiring, made the ignition lead's & got everything tidied up.

Bit of a mess under here, but aren't all Mk1's like this?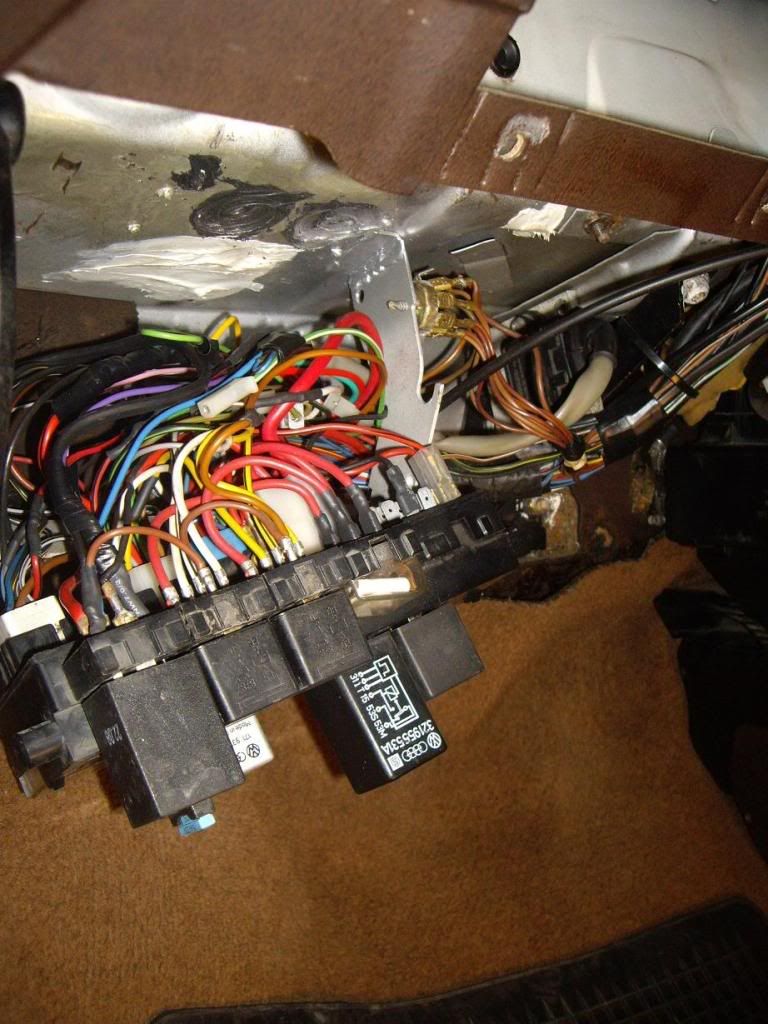 When I built this Mk1 I mounted alot of stuff out of view to clean up the engine bay. The only place to put it all is in the cabin under the dash!
Here is the TCI switch mounted up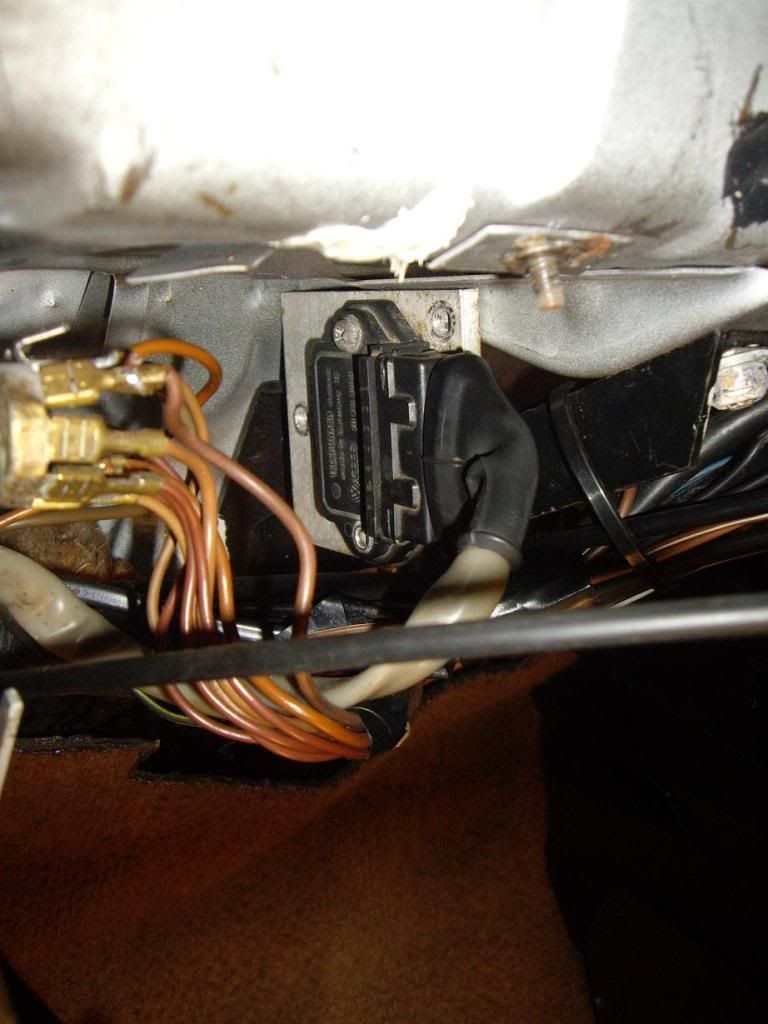 Mounted up the Boost retard controller.




With all the lead's made & fitted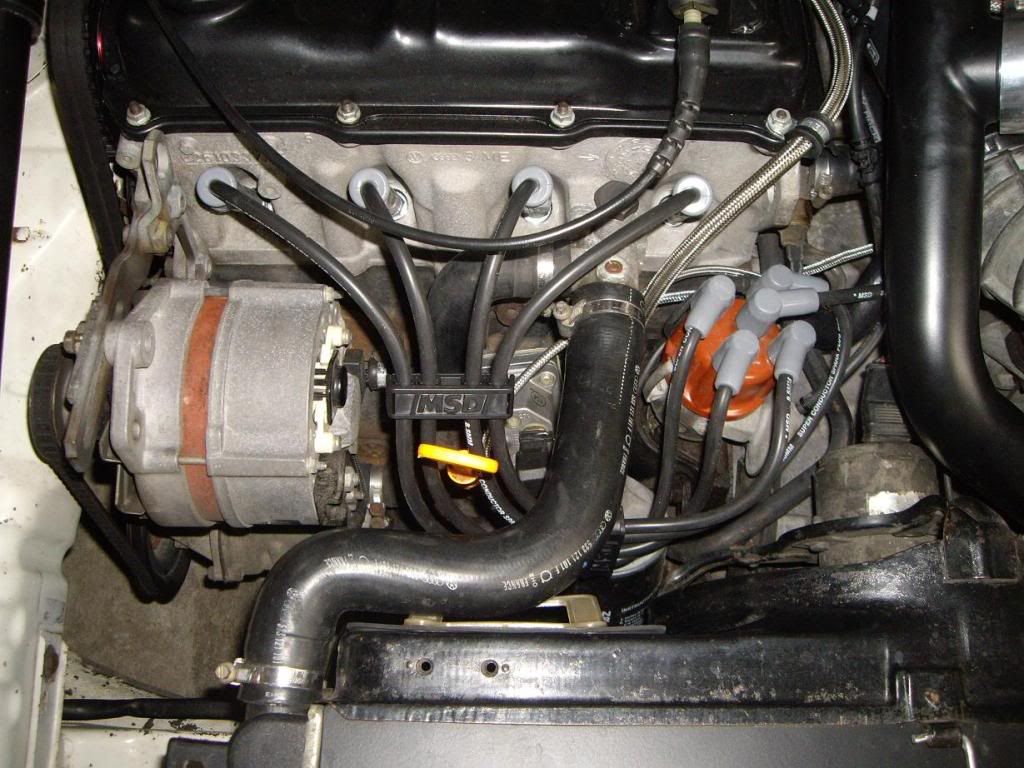 With everything refitted, the MSD is hidden away not too bad.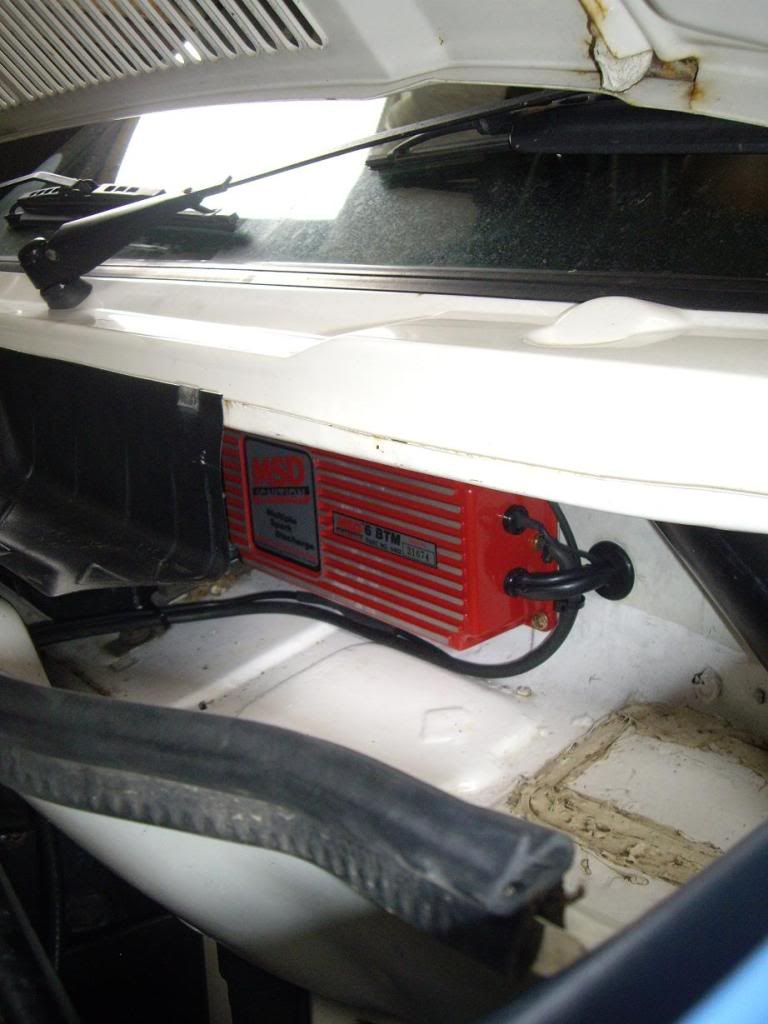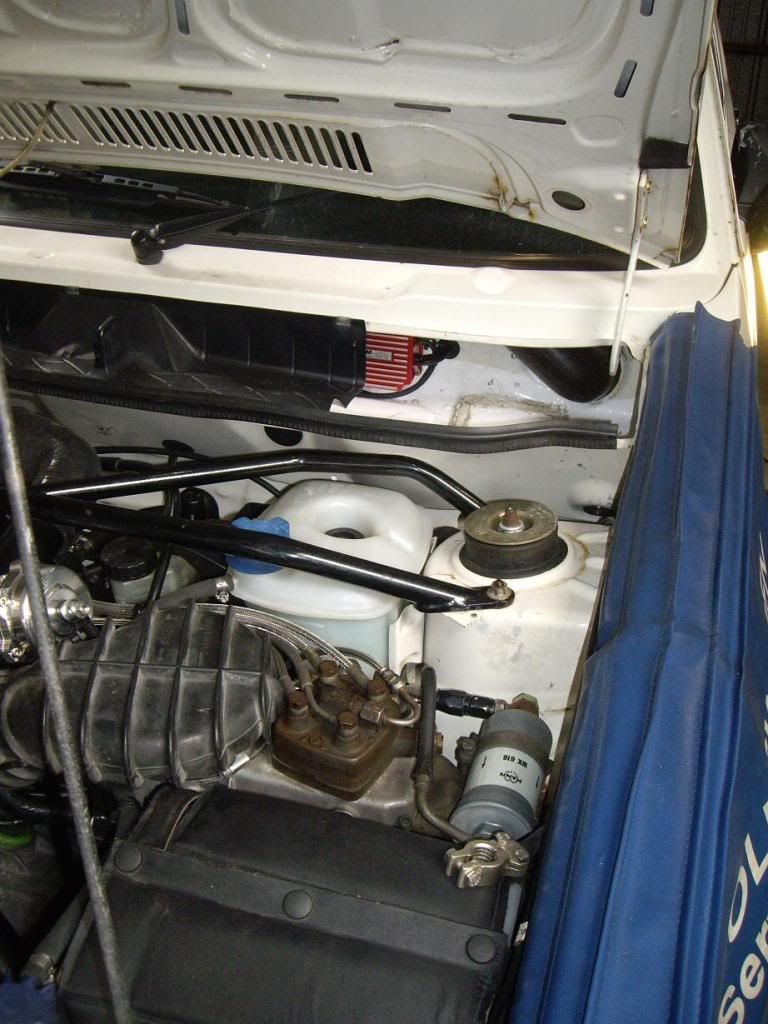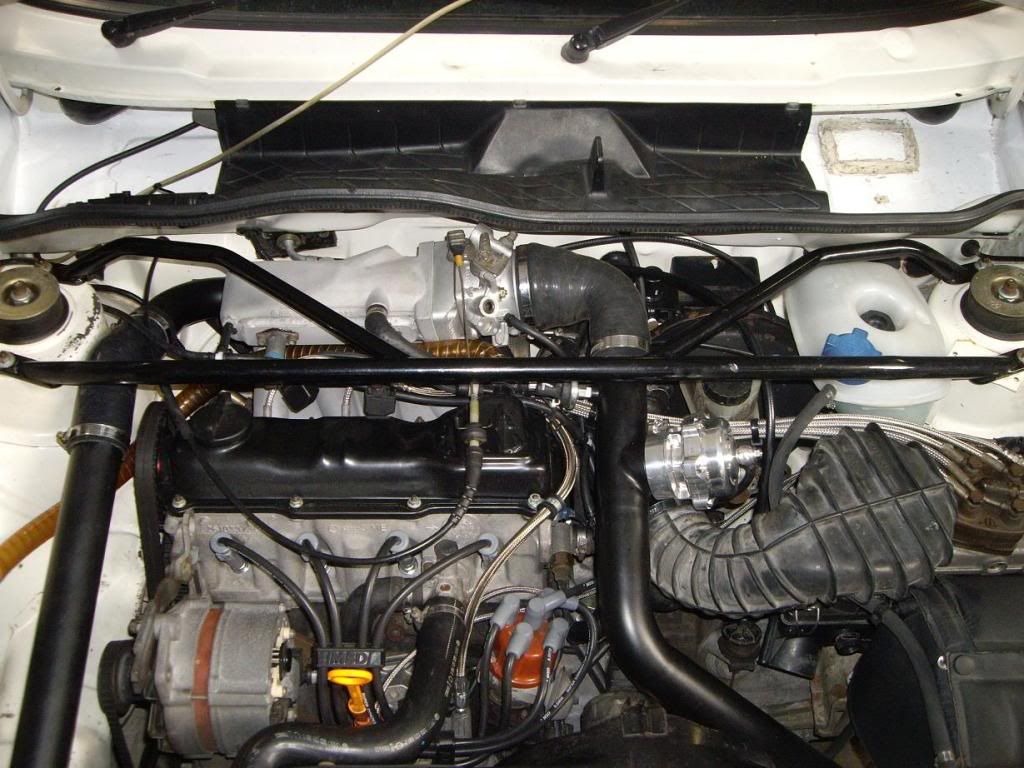 Anyway, I did get to drive it & have a quick play around with it tonight. I've now wound the boost upto 15psi & I can safely say the car is now fun to drive!

There is still some tuning/sorting out to do, as it now is just starting to lean out in the top end. I'll have more of a play around tomorrow. I think I'll start increasing the system pressure, to supply the aux. injectors with some more fuel & also retard the cam timing alittle bit. I can start to feel the engine nose off near the topend. I also had this problem when it was NA with the 270 Autotech fitted. I found 2-4 degrees retarded made a big difference to topend.

But just going off initial setting's, I can roll along at 60kph in 2nd & plant it & it will start to break traction. Whether it is turning the tyres or just trying to yank the steering wheel out of my hands & skipping the tyres, it's now very fun. It also try's & yanks the wheel in 3rd roll on from 80 too.
---
motha

-

August 14th, 2011 at 10:01 PM

Well I had alittle bit of a sleep in but managed to pry myself outside to have a play around with some System Pressures on the K-Jet.

Here is what the system pressure was before

72psi.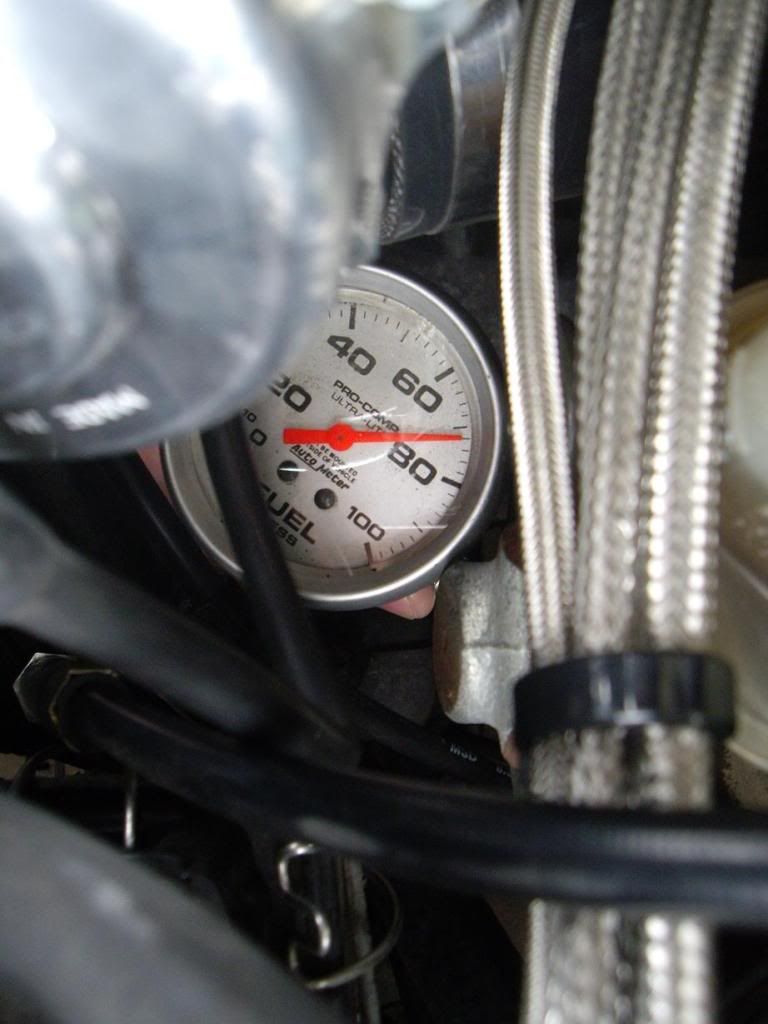 Here is where the system pressure regulator is located on the side of the fuel distributor. Above it are is the warm up regulator supply, then the fuel return & then the cold start valve fuel supply.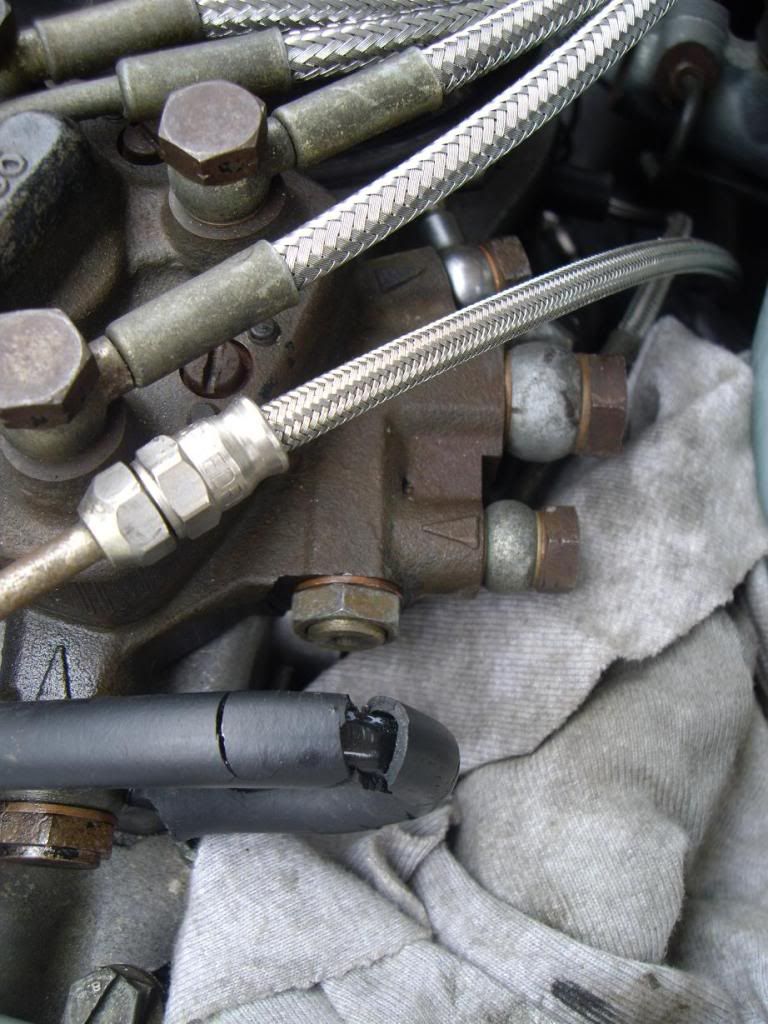 This is what I'm going to adjust to increase fuel flow onto all the injectors incl. the aux. injectors too.

Here is what the regulator looks like removed. This one is out of a spare fuel dizzy I've got here & what I raided the o-ring & pressure spring shim's out of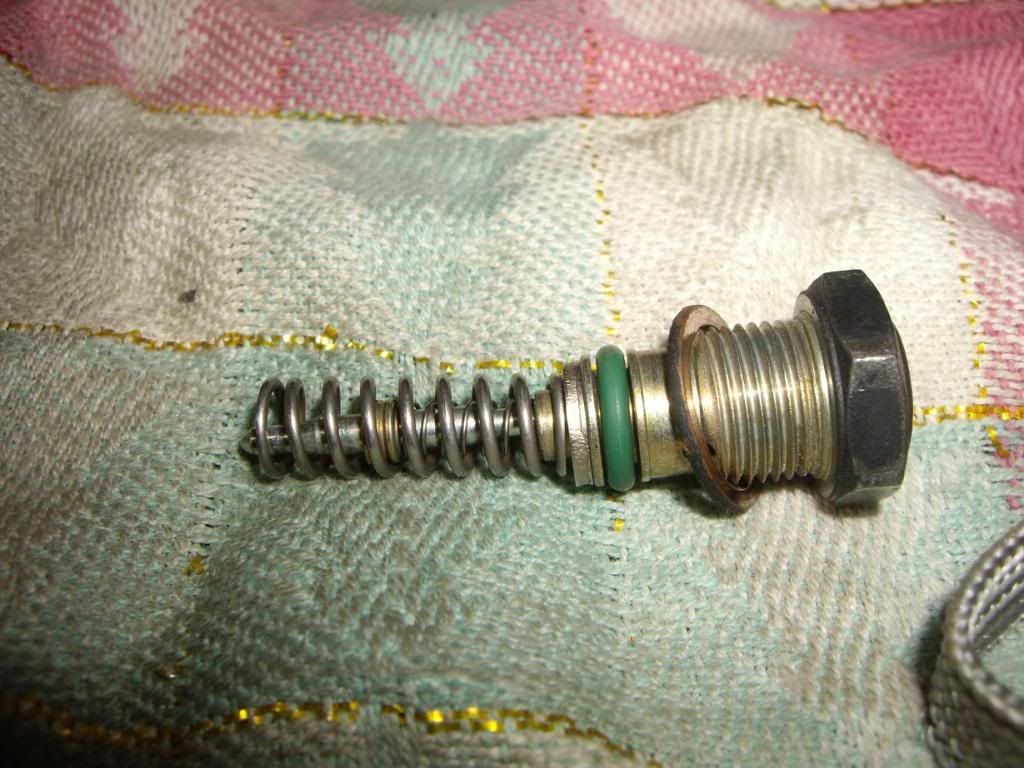 Here is the one out of my car :Note the two shims on the left of the o-ring.




Shims removed




Then measure what size the shims are to increase or decrease if need be the fuel pressure.

My stock shims were a 0.30mm & 0.50mm giving a total of 0.80mm.

The fat shim was 1.3mm, so I installed this along with my other shims giving a total of 2.1mm




Everything refitted & onto testing the fuel pressures.

Now 82psi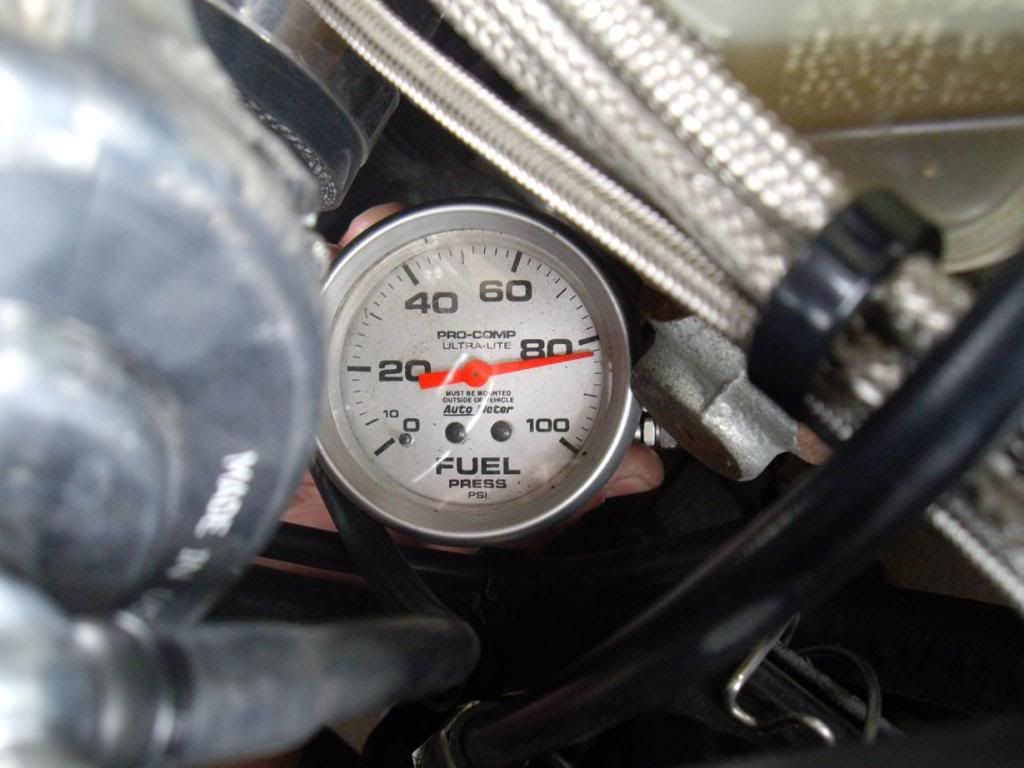 As far as how much improvement is made.

It no longer lean's out in the top end & keeps a stable mixture right through the rev range, although on initial boost build up & can shoot as far as 9.5:1 A/F, but quickly lean's back off to normal.

Mind you today was 26+°C & I didn't have any problem's with pinging etc.

Very happy with all this has turned out
---
motha

-

August 14th, 2011 at 10:01 PM

Only after 3 full days with the boost turned upto 15psi, the clutch is starting to let go.

Alittle ****ed, as it's only a new clutch that I fitted when the engine let go & its only done approx 20K & thats all highway use.. Its also a Heavy Duty job with the 16V pressure plate.

So at the moment, I've had to wind back boost pressure to wastegate spring tension. approx 6psi!

I also haven't been riding the clutch either. All the work its done so far has been roll on full throttle stuff. It must be making some good power! haha

I think I'll have to source a button clutch in the mean time till I get the auto done.

If I can't get the right clutch landed in time for DOVw, I'll just bang in a stocky 210mm clutch.

I'll also refit the diesel 4spd & probably lock the diff too, so I can drag it.
---
motha

-

August 14th, 2011 at 10:02 PM

I've been using the car everyday as my daily driver & it has done 5000K with the turbo setup & nothing out of the ordinary has happened (yet!). Getting better fuel economy than the NA setup too!
The engine is still breathing & filling up the catch can approx 3-4 weeks as it was doing when it was NA.
Its also not using any more oil than before either, which is a good sign.

There is some bottom end noise now, when cold though! I think the 15psi beating on the stock bottom end is taking its toll! haha

Other than that it has been fun so far & has already added a few fast cars to its "win" street drag resume.

At the moment I'm happy to leave the car as it is on 15psi & hopefully get it to a street meet after dovw, as calder park is reopening very soon.
Will bang on the semi slick's I've got here. Just hope the clutch holds out till then.
---
motha

-

August 14th, 2011 at 10:02 PM

Well I finally managed to get the car to the drags.

Fitted up the soft semi track/road tyres. Drove to the track 1.5hr's one way!

Lowered the front tyre pressures to 20psi.

Got in a burnout, staged, took off with about 4000rpm dialled in, boosted up, shook the tyres hard (a few friends in the crowd said it had bad axle tramp!) grabbed 2nd & broke the shift relay linkage only to have to roll down the strip in neutral! Not happy!

Had to trailer it home!

Waist of a night, but ah well. Hopefully next time
---
motha

-

August 14th, 2011 at 10:04 PM

The car has had a quick make over earlier this week & these pics were taken from the "Day of the VW" i

I basically made the car as visually stock as I could, except for the sunvisor, roof aerial (even though it doesn't have a radio!) lowered, & large exhaust tip!

Very sedate & the best sleeper! haha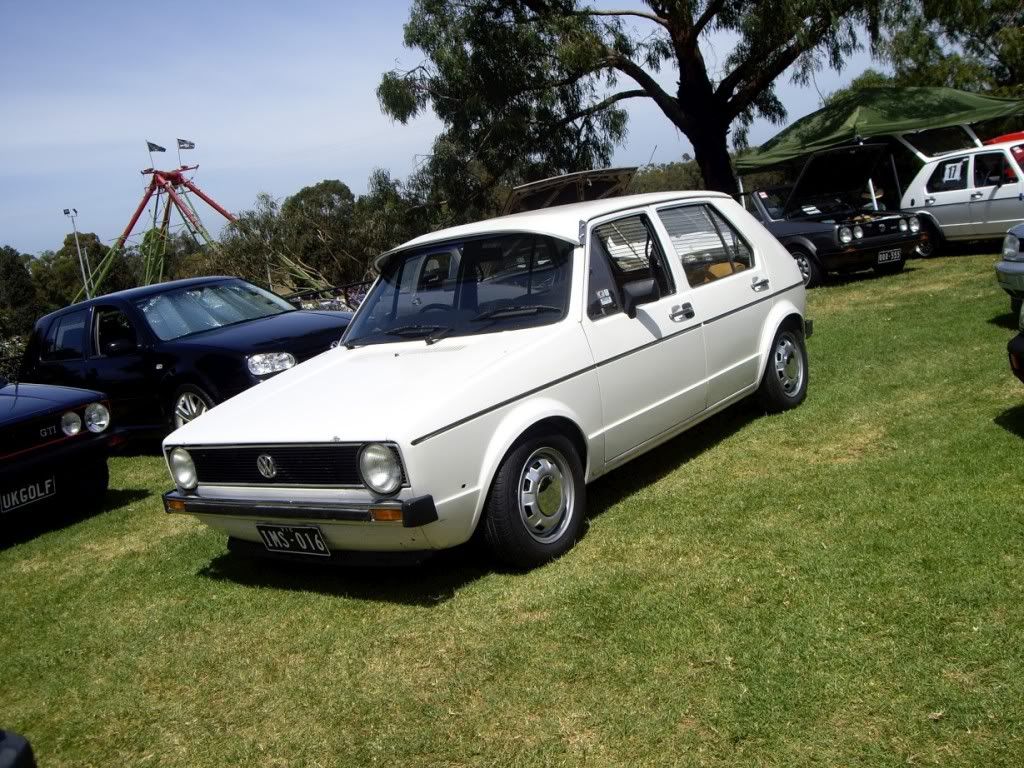 Also fitted a bench seat too! Not many people noticed it, but when they did, they loved it!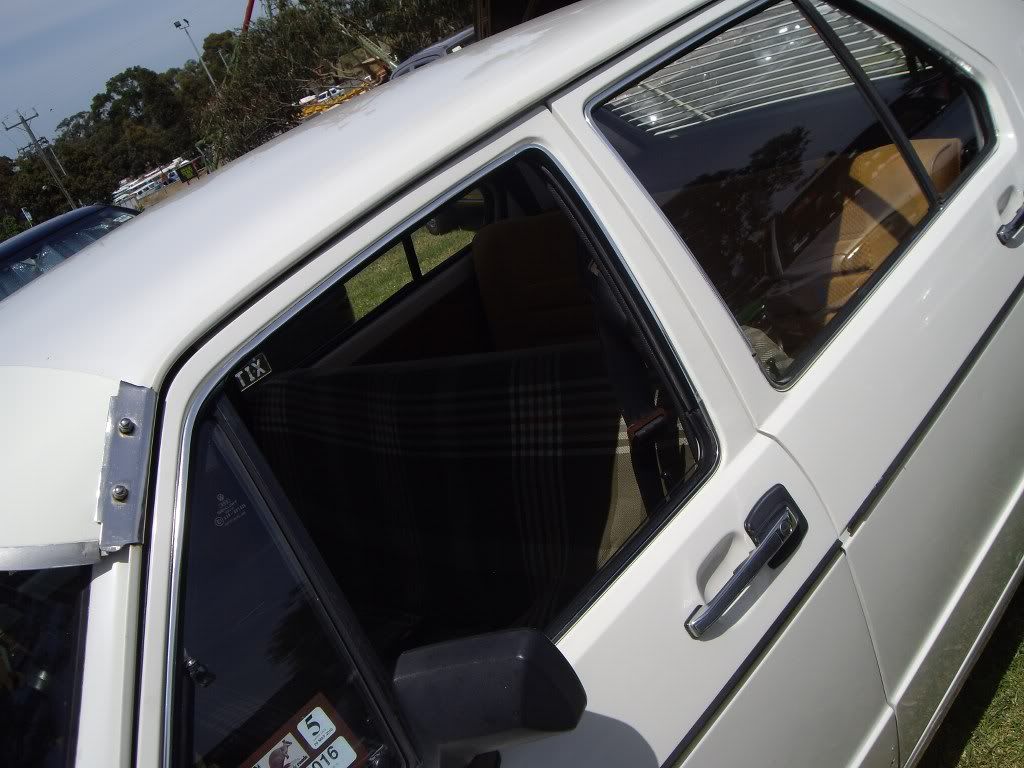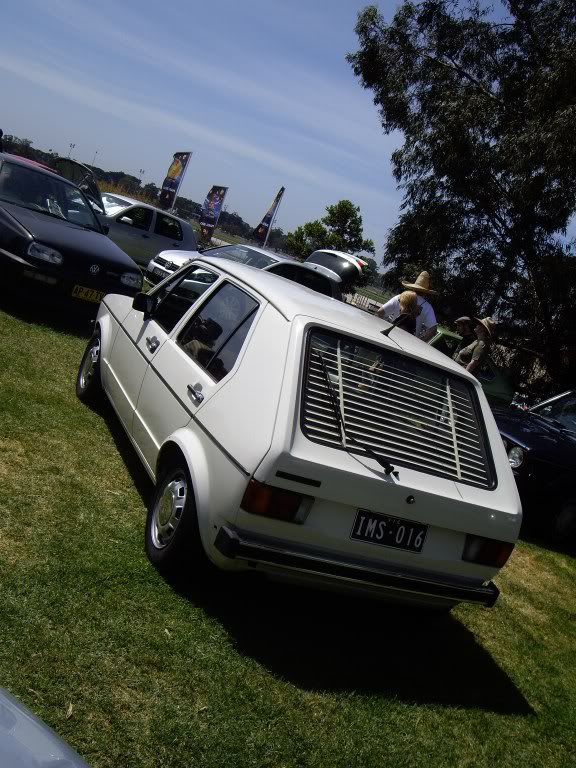 ---
motha

-

August 14th, 2011 at 10:05 PM

Cars been going really good, even in the boiling hot weather it will still cruise along at 100km/h without any problems. But it will ping when boosted in 3rd & up.


Solution = don't boost it when hot! Just cruise!


I've also covered 10K in it since fitting the turbo kit & its only broken 2 exhaust mounts which isn't too bad I reckon on a stock engine & has also wrecked the diff bearings & an outer C.V. joint too. They are still in the car though & are still going strong! haha I'll replace the gearbox & driveshafts soon enough

Engine still isn't using any water & only alittle bit of oil due to an oil leak ( & it's bloody noisey as when cold too!) & still pulls hard when you feel the need to motivate!

Oh, & the front tyres don't seem to be lasting very long either for some strange reason too!
---
motha

-

August 14th, 2011 at 10:05 PM

A quick update on this car.

I've done just over 10K with the turbo setup & all seem's to be going as normal.

The engine is still noisey on cold start up, but still isn't using water or oil. Only the oil it leaks.

The old engines must have been manufactuered with high quality material's I reckon to withstand this sort of abuse for this long. Especially as the engine was never designed to take positive pressure.

Still tuned on 15psi & still lights the tyres up when you feel the need! haha

It's definitely lasting a lot longer than I first expected & still surprises me everytime I stand on it (& the people around me too when the tyres start to turn at 60+km/h!)

Keep on keeping on!
---
motha

-

August 14th, 2011 at 10:06 PM

Well after months of trouble free motoring with the turbo setup, it finally played up & came crushing down. Big not in a big way!

It happened the day Preeny came down.

Must be murphy's law I reckon.

When you actually want to show someone how it goes, it fail's!


It just wouldn't boost & felt like a massive slug. It would spool up, but only felt like wastegate spring pressure, which is approx 6psi!

So after messing around with it & deciding I needed to really fix the oil leak's, I'd investigate the boosting problem too.

So off with the sump, front timing cover & dump pipe.

Replaced the front timing cover seal & gasket. Resealed the sump & windage tray & gave it a service too.



Then onto checking the turbo blades & wastegate. All good.

I checked all the boost control piping & found the boost regulator base had come loose & also pinched the wastegate control hose!



The base had loosened which cause the unit to twist around & drop boost pressure & also causing the following pic's




Split hose in two places! It actually looks like its been pinched with pliers, which is strange. As I'm the only one who has played around with it!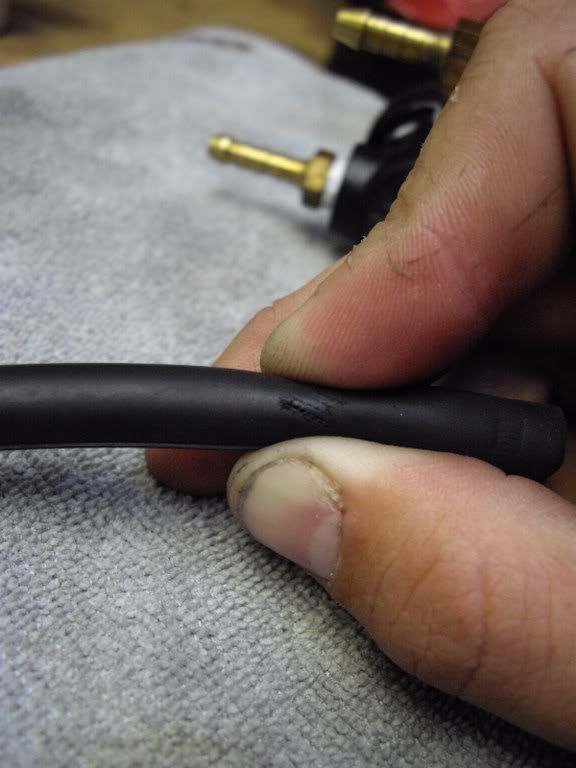 The culprits of my car turning back into a slug!




So after everything I'd fixed everything up, it was onto tuning again.

What a pain in the ****!

I re timed the ignition timing to how I'd set it ( which was wound up fairly high!), I had to reset the boost control, but it wouldn't play nice & I couldn't get it to consistently boost to 15psi no matter how I adjusted everything.

I did get it to spike to 20psi & christ did it go (turned the tyres hard in 3rd!), but it was very unsafe on the poor old stock donk.

So I'm still at the point of trying to find the old setup tune, which may take alittle bit longer than expected.



I also have left the shed in an absolute mess trying to get this thing back on the road.

Hopefully I'll have it sorted by the weekend. I also have to replace the gearbox selector shaft seal too & then give it a complete pressure clean to clean off the mess.
---
motha

-

August 14th, 2011 at 10:06 PM

Well after a good friend came down & drove this around alittle bit.

We sat down, had some drinks & threw some ideas around about the tune & how to improve & fine tune it. Cause after the boost regulator unscrewed & boost regulator hose split, it threw the tune way out & I just couldn't find the old tune again.

So I thought I'd give a few of the idea's a try & play around with them.

First off, I cleaned the K&N air filter which hadn't been cleaned since I built the car. So more or less 50+K!!!!! To say it was black & chocka block with dirt is an understatement. I've seen cleaner filters in vacuum cleaners!

Then replaced the fuel filter too.

Then onto refitting both the tuning equipment, being the Boost gauge & Air/Fuel Meter Gauge.

I started off repairing one of the cyl. head plastic fitting's that broke after a backfire yesterday which was basically the start of whole process of playing around with the tune.

I removed the Hobbs adjustable pressure switch for the Aux. injectors (cold start valves) & bench tested & then readjusted it from a 7psi cut in to 13psi cut in.

So when it hits the magical 13psi mark the extra injectors cut in & supply extra fuel on boost. Instead of dumping fuel in earlier at 7psi. Now it has a fair amount of extra air volume before dumping in extra fuel.

Then I readjusted the system pressure of the K-Jet system. I reshimmed up the system pressure regulator from 82psi to 94psi.

Then redjusted the ignition timing to approx 10BTDC.

Reset the Air/Fuel mixute at idle to approx. low 14's/high 13's:1 & seemed very happy.

The onto the R/test to reset the boost regulator. This took several start/stops to get it right. As when bench testing it, you don't get the same volume of air from the turbo as you would from 60 gallon air compressor tank.

After alot of R/testing & playing around, I ended up with it set at 20psi & adjusted the timing retard to approx 1.5 degrees per pound of boost.

With these few changes, the car has now come alive.

It certainly doesn't have the same amount of kick it did, but now it doesn't have any stutter or fuel dump at all. It will pull cleanly in all gears with a nice smooth surge & then when it hits 4K the surge gets greater!

So you can cruise along in 4th@100km/h, plant it & without any stuttering, it can (let your imagination take over).

Now it doesn't wheel spin like it did & makes bugger all boost in 1st due to not building up enough engine load, but in 2nd it will boost & turn the tyres, hook up & away you go, 3rd & 4th come about very fast!

If you in 3rd at 60, it will also squeal the tyres on hot mix & pull nice & smoothly past the legal speed limit.


So overall. Even though the car isn't as fast as it was or turn the tyres as violently as it did , its feels only a fraction slower & it's a much nicer & heaps easier car to drive. Which is also pretty bloody fast.
---
motha

-

August 14th, 2011 at 10:07 PM

The car has now done 20K on the turbo setup & all has been going well until last Fri. night when the gearbox decided to start making some unusual noises which were more prominent in 2nd gear. (this is the powerskid gear, so it copes all of the abuse I dish out to it!)

I thought. Bugger it & I'll keep driving it. Whats the worst that can happen? right?

So I've been bumming around in it for the last couple of days & with a last minute decision to head upto the VW Jamboree, I was off with gearbox noise in tow.

By the time I finally got to the park, the car was making a loud enough racket that I could hear it over the engine especially in 2nd gear! Even with light taking off & babying it ,it was noisy as hell. You could even just have it idling away in neutral & it was noisy.

So after the show, we heading back to Waterboys house for a catch up & once again we were off. Well by the time I got into Melb. people were actually taking notice at how loud the noise had become in traffic! haha

But I pushed on (more like babied on!) for the 2 hour drive & finally made it into my driveway where on arrival it went [B]""BANG"" [/B]

It locked up in 1st gear & had no drive what so ever. The noise in neutral & idle is unbelievable! Just full of bearing & crunching noises! Lucky it didn't punch any holes in the casing either. But by the sounds of it, I reckon its junk!







So I'll bang in the ever trusty diesel 4spd which I always rely on in need which has never let me down.



that is until I push god knows how much power though it! Only time will tell.

I'd post up a vid of it idling away, but I have no idea how to upload vids off the camera & they are bloody massive files too!
---
motha

-

August 14th, 2011 at 10:07 PM

It broke a clutch cable last Wed. in peak hour Melb Westgate traffic & I had to nurse it over to St Kilda for a important meeting & then had to get over to Essendon through the city to replace it!
I could only manage just a tiny amount of clutch for takeoff only & had to go clutchless the rest of the trips. The pedal sank to the floor as usual!
When I removed & inspected it was fried to the max & only was holding together by 2 strands!

I reckon I've replaced more clutch cables & components in Mk1s than I have replaced brake pads, discs & also any light globe in a mk1! They are bloody terrible! But that's the joys of running a heavy duty clutch!

I'll definitely keep this in mind, but I reckon the TDI boxes may put alittle too much load on very tired old engine under long periods of boost.
I'm not really into crazy long ratios or top speed.


You can only do 100, but its more about how fast you can get there, or turn the tyres trying! haha.




I might just try the stock old 4 spd for the time being, as I'd really like to hopefully get some sort of movement on the custom auto build up
---
motha

-

August 14th, 2011 at 10:08 PM

Well I finally got enough motivation to get out into the shed & carry out what I thought would be a straight gearbox swap.

Not too be.

Once I removed the gearbox, I found bits & pieces of metal fragments inside the bellhousing & scratch marks all around the flywheel!

So off with the clutch & with a light I also found not only did I destroy the gearbox, I also destroyed the clutch drive plate!!!!!!

On with the pics

Think of your clutch plate drives your gearbox input shaft & from friction material drive section (outer section) is drives through a set of dampening springs & onto a metal star shaped item which then drives the input shaft.

Well I smashed up the metal star drive plate & nearly stripped out the dampening springs out of the housing too!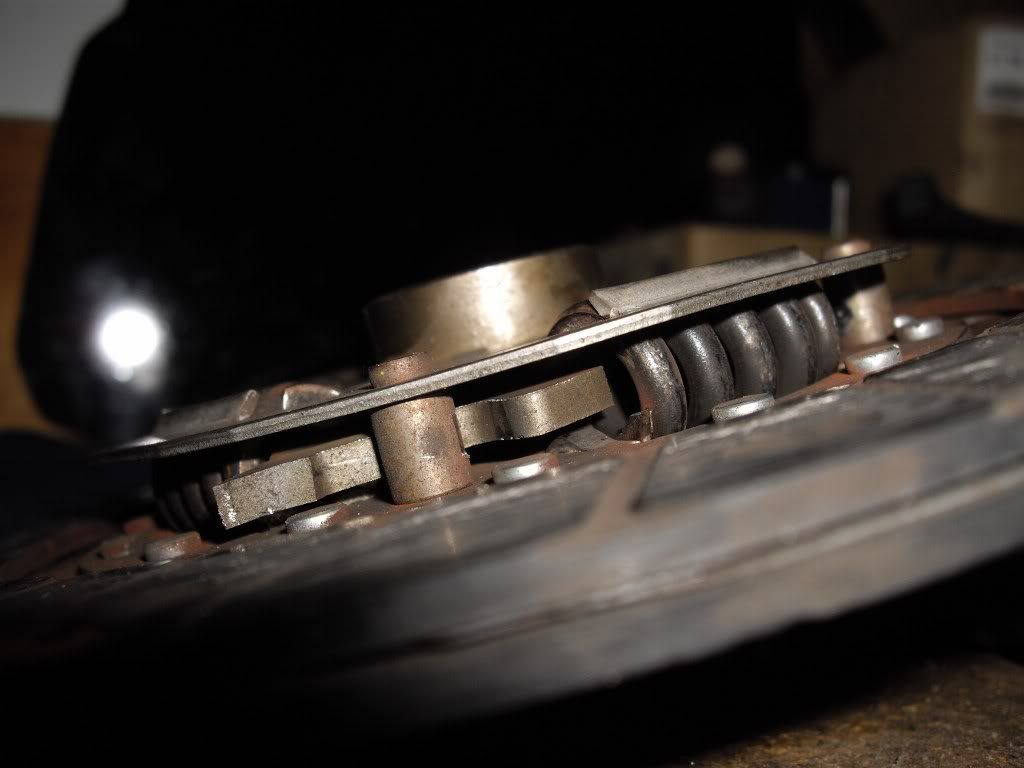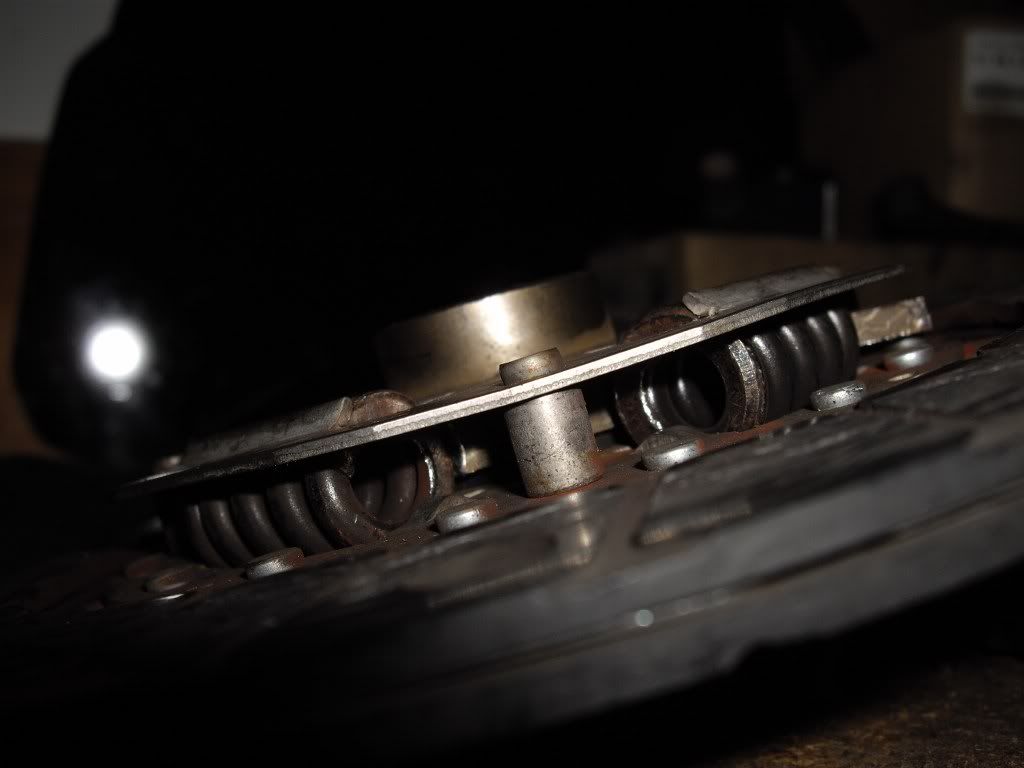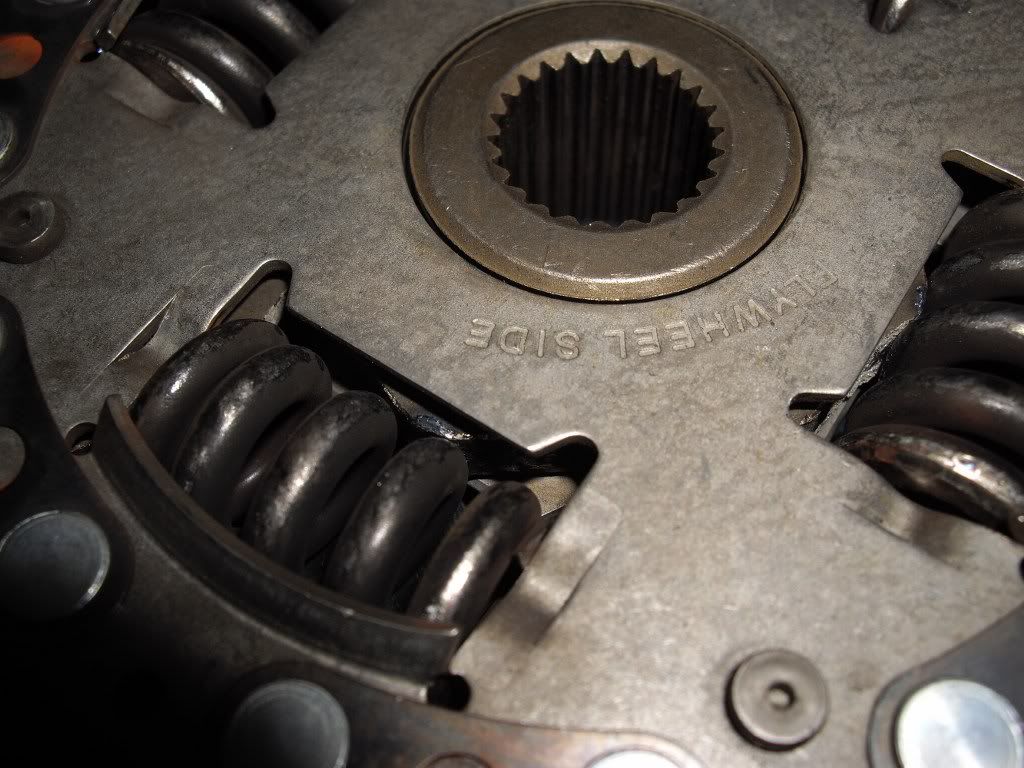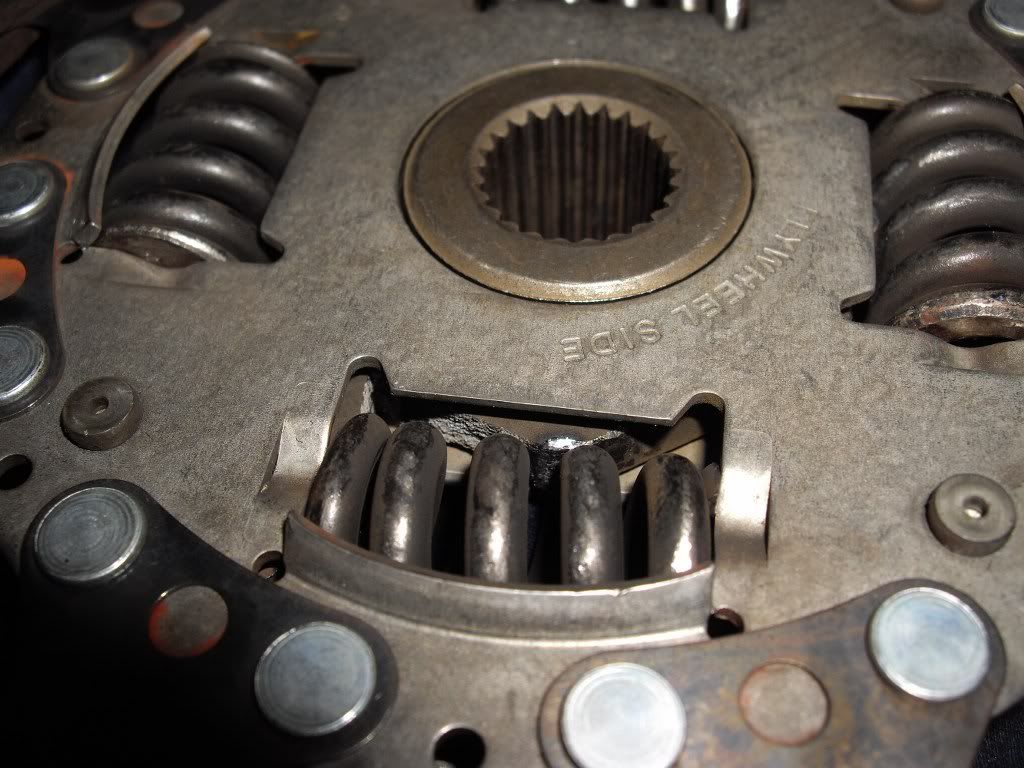 So after having a bit of a "what the f$#k do I do now?" moment, I moved onto stripping the gearbox to have a "captain cook"

What I found was no great surprise to me by the sounds the old gearbox was making but...

It stripped both 2nd gear driver & driven gear & also mashed up the layshaft out support bearing!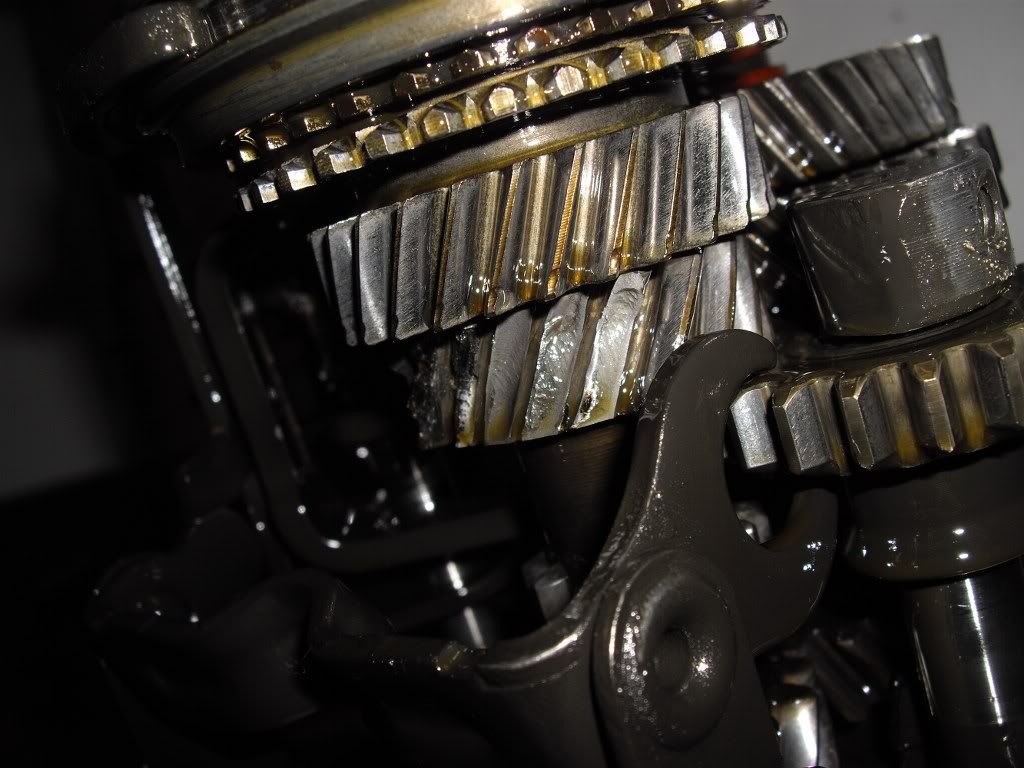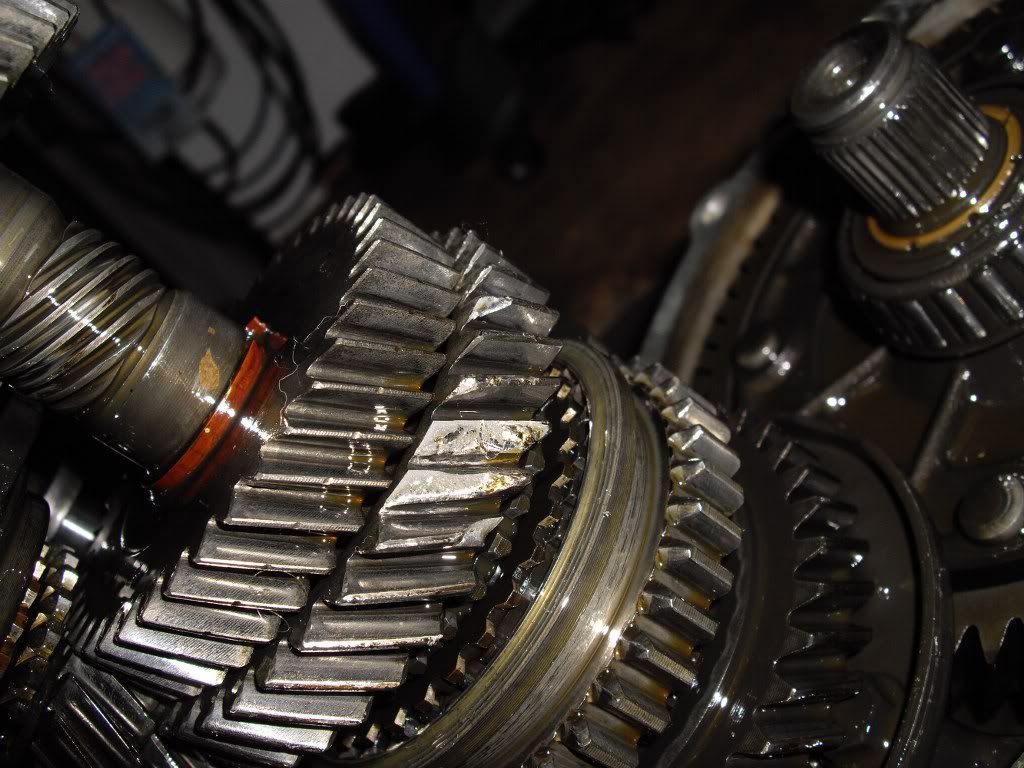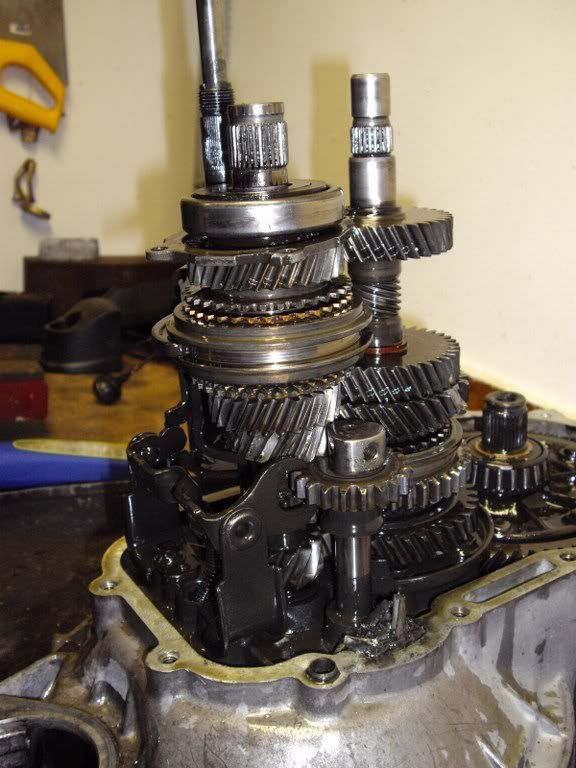 So all in all, pretty much screwed! No signs of the diff rivets letting go or any other bearing marks from little metal fragments getting through the oil.


So for now, I'll source another HD clutch hopefully this week & refit the trusty old diesel 4spd which I always resort too in times of need!
---
motha

-

August 14th, 2011 at 10:09 PM

I've never seen a clutch let go like that. Not even reading through all the drag & horror stories on vortex!

This was also a HD Sachs clutch with the 3 drive tabbed pressure plate!

Depends on what I can get, but may just bang another HD one in. Don't have time to get one in from the states, as much as I'd really like to!

I was hoping the clutch would have lasted until I finally had the auto up & running, as there was no point buying a solid centred 4 puck racing clutch & only having it in there for a few month's!
---
motha

-

August 14th, 2011 at 10:09 PM

Well I finally drew up enough motivation to fit a new clutch & fit another gearbox.

Its just a stock replacement 210mm clutch for now, but refitted my HD clutch pressure plate for alittle more bite.

Hopefully the stock old diesel 4psd box can cope.


I finally got some time to bed in the clutch & take the old banger for a spin.

The old diesel 4spd ratios weren't half bad with the NA's 276TT cammed setup, but with the turbo.....

diesel ratios are 1st & 2nd are close then a long jump to 3rd with a short jump into 4th


So now it will light the tyres up just about where ever & when ever it feels in 2nd, whereas before it would still light them up, but would power on through to nearly 100. It was the power gear!

Now with the shorter ratio, its all over & done with much early & you have to shift into a far away 3rd & bogs down for a split second & then away it goes again.

Coming home it spun up in 3rd through a corner, so its still not tall enough that it can't break traction in 3rd pushing 100!


Will have to deal with it until the next gearbox failure!
---
motha

-

August 14th, 2011 at 10:10 PM

Bordom has been kicking lately with this car so I thought I'd add something for stupidity & laughs.

Behold.

Garfield!

My nephew & niece love it. Even though they don't actually know who Garfield is!





Also removed the stock wheel chrome centre caps for a more conservative base model black cap. I like it, but its a bit more of a pain to clean.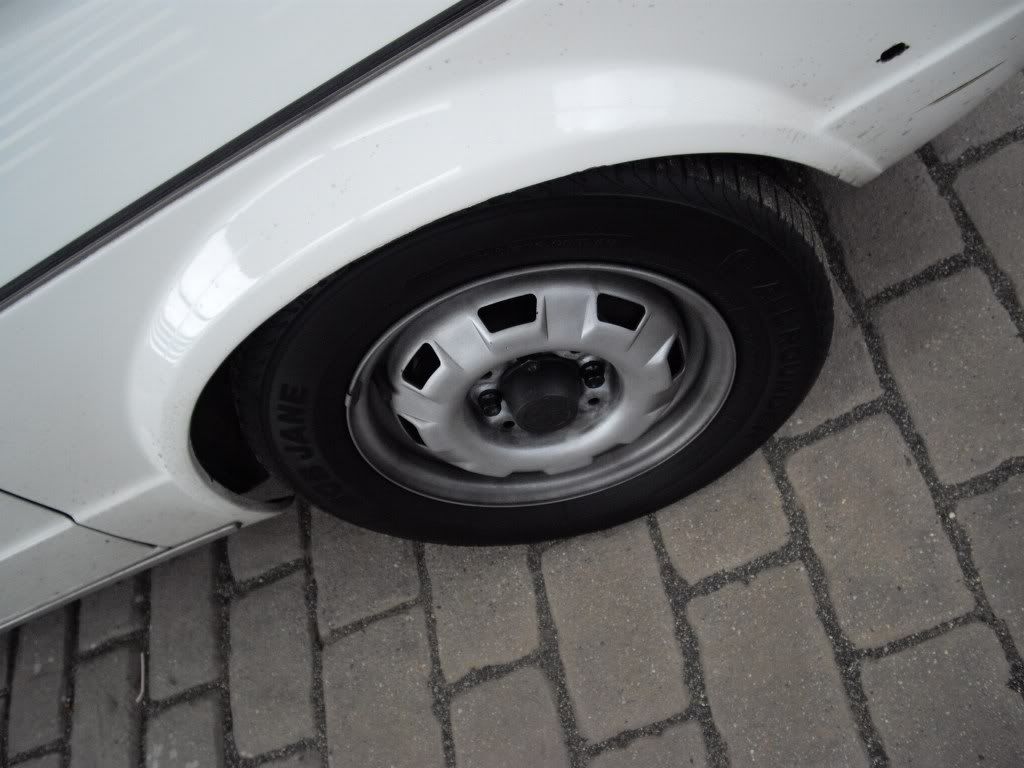 Oh nearly done 25K on the turbo setup & "still" going strong too! hahaha.

Not bad for a stock engine that people said wouldn't last. (incl. myself! I only gave it less than 5K before it went bang)
---
motha

-

August 14th, 2011 at 10:13 PM

Well I finally got around to racing the HOS (mk1 golf) this arvo/tonight.

Yes I did trailer it this time too! Call it what you like eg. trailer queen, but with as crap history as I have with racing VW's, they always break on me, so its better to be safe than sorry.


My prediction as many people would know was approx a high 13 @ 100mph.

Tonight didn't disappoint!

Ran the car in full street trim, as I drive it to work everyday. All that was removed was the spare wheel & jack.
Full seat's, trim everything, even down to the crummy 13" Bob Jane Allrounders!

Running on PULP (premium unleaded fuel) & 1/3rd tank of fuel

I did cop alittle bit of flack while waiting in line, but after the first run & with that mph & high time, the true drag racers & people that know whats going on took notice, & then alot of people were interested & when I said its my daily driver that does 700+km a week, they were dumb founded & instantly said "that much be one fun street car!"



1st run

14.36 @ 101.8mph 2.6 60ft! Yes very lazy take off, but was also on the bald 165/65R13's!!

2nd

Fitted up the stickier road tyres with 10psi

13.99 @ 101.53mph 2.3 60ft. Still lazy & slow on the take off. Slight wheel spin & mild clutch slip

3rd

13.78 @ 101.6mph 2.2 60 ft. Still very slow take off as I didn't want to just rev it up & dump it & break it "AGAIN!", slight wheel spin & mild clutch slip.


I reckon with a proper race clutch, alittle bit more track time & a few suspension tweaks there is still a few tenth's in it.

Not bad for a a so called "crap" Fuel Injection that people told me it couldn't work & a car that cost less than a just a APR/GIAC remap, Exhaust & CAI on a mk5/6 GTI.





13.9 pass

http://www.youtube.com/watch?v=ByhxErXu2RA&feature=player_embedded


13.7 pass


http://www.youtube.com/watch?v=2FgAJiTSm9A&feature=player_embedded

Enjoy!
---
motha

-

August 14th, 2011 at 10:14 PM

Some pics from the Meeting above







One of the most entertaining cars of the day!!!


---
motha

-

August 14th, 2011 at 10:15 PM

Thought I'd just up date this as not much has been going on with the car apart from being driven & driven hard.

Now the setup has clocked over 25+k & so far the only problem that has just started has been the $200 turbo has started to smoke just after cold start up during warm up. It doesn't smoke continuously, but the seals must leak oil during the cool down & pool up inside the exhaust housing. Which when warming up decides to smoke for a couple of minutes. Not to flash while sitting in traffic either!

So as the turbo has to be repaired, its much cheaper just to upgrade & I'll now be upgrading to a T3/4E 50 trim .48A/R & looking at retuning the K-Jet system with more fuel pressure & possibly another extra injector.

I'd like to push the K-Jet gear as far as I can within money reasoning. If it gets to the point of having to buy more K-Jet gear (which is very expensive in Aust.), I'll just upgrade to standalone.

But for the time being, I'll stick with it & try & push it as far as I can within reason.

I'd also like to be one of the fastest FWD VW's in OZ (which is only a high 12 in a stripped out car with race fuel!) & would be nice & more of a challenge to use a fuel system which too many people in OZ underrate & think its crap & can't be tuned properly. It would also be nice to do it in a 34 year old Mk1 instead of everyone using the easier to mod Mk5's!

If I can get it to do this all on still a bone stock 1.8L 300+K engine & make it live, I can't wait for EFI & a properly built engine!
---
motha

-

August 14th, 2011 at 10:15 PM

How long will can a stock VW engine last for???

32,000km on a bone stock 350-400K unopened engine (bar cam & springs) with 16-18psi of boost using CIS.

I drove the car 300km to a weekend performance car event & decided at the last minute to enter.

Anyway. The car copped a pasting all weekend by myself & a couple of mates with track duties, drag racing & powerskids.

On the morning of the last day, I thought I'd just check over the fluids, only to find the oil catch can had spewed a fair amount of oil out all over the RHS of the engine bay! It had also developed a fair amount of oil sweat around the base of #2 spark plug, which on removal I found it soaked in oil & had a build up of deposits on the electrode.

So I left the decision with a mate of mine if he still wanted to take it out & give it hell, to which he said "yes". So with a quick clean up, out he went again.

When he came back in after the session, the oil had spewed out again & lined not only the RHS of the engine bay, but also the RHF inner guard, all of its components & part way down the RH floor pan in oil too!

So I wound the boost back to spring pressure, cleaned it down & drove it the 300km home without a problem apart from being a tiny bit smokey on long hills.

Since being back at home, I found the engine to be still running strong (apart from alittle bit of smoke), so I wound the boost back upto 16-18psi, fitted my MSD 3 step module (which is absolutely awesome fun!!!) & have still been driving it for daily duties, hard driving/boosting & have added another 3000km on a stuffed engine!!!!!
It still hasn't used much oil apart from being alittle smokey & spewing alittle bit out of the catch can & its still getting an average of 35L/420km.

But not to worry, as I'm still driving the car 500km a week & will continue to until all my parts arrive. So all up the engine will have covered 35-36K before I strip it down.

I've ordered a new set of rings & bearings along with a full set of ARP main studs, head studs & rod bolts & also a G60 headgasket.
The plan is to strip it down, check whats wrong. Whether its a broken oil ring or a cracked piston. Replace the damaged parts (I've got a few spare stock GX pistons here), a quick hone & back together.
The gearbox will be stripped down at the same time & I'll fit the ARP diff bolt set, lock the diff up & fit the new clutch.
I'll send the turbo off too, to have it rebuilt & possibly have it high flowed at the same time.

Once its all back together, run in hard, I'll take it to the track & hopefully be able to shave a few tenths of my previous best of 13.7@101mph.

Photo's will come once the engine is pulled, stripped down & the rebuild commences.

Anyway. A couple of pics I had in my camera of a few parts & also some of the spewed out oil!

MSD 3 Step module. Which is now fitted & is an absolute blast to use. 2nd gear, hold the button, bring the revs upto the 4800rpm pill & have it start to pop, bang & fart while building boost upto 16+psi. Let the button off & dumped the clutch & enjoy the 60+m powerskids!!!!!

I wired it through a 3 way switch using the module earth to allow me to switch between using the horn as normal & then switch over to earth out the 3 step. There is also a normal 12V kill switch, so there isn't 12V constantly applied to the module. So all you do is power up the module, switch over from the horn to the 3 step & you have a very stealthy setup which is not only very easy to use but its within a fingers reach to the horn button & no extra buttons/wires hanging off the steering wheel.

I may get a video of it before I pull the car apart.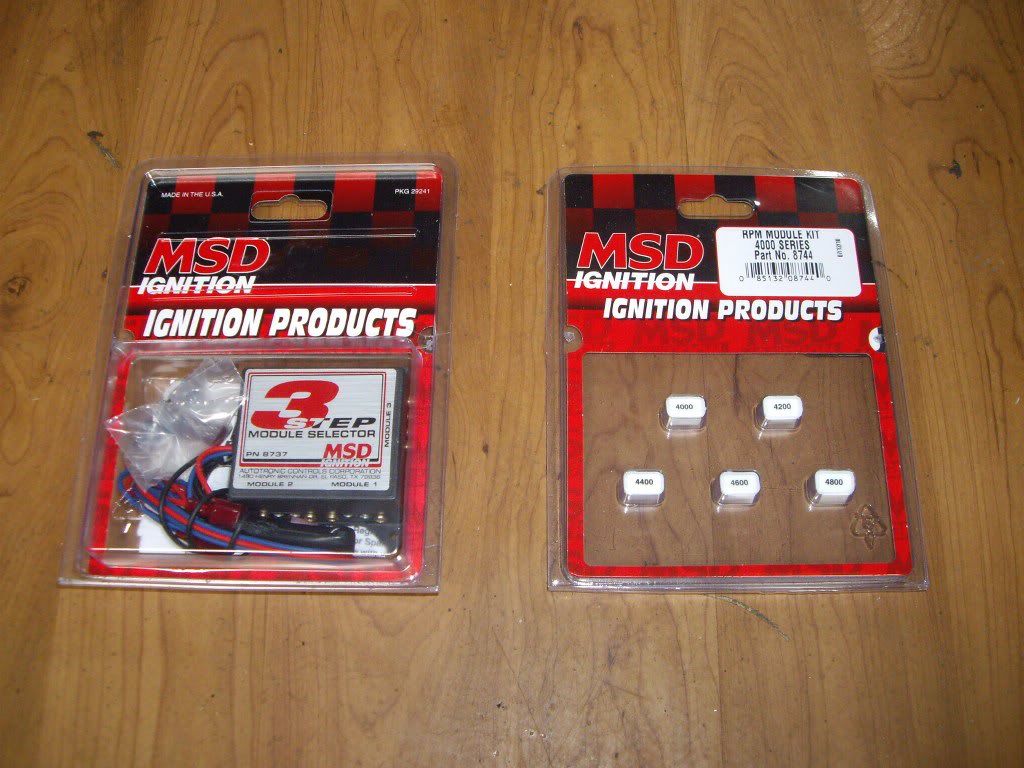 This is only a tiny bit of oil compared to what actually came out after a weekend of track work.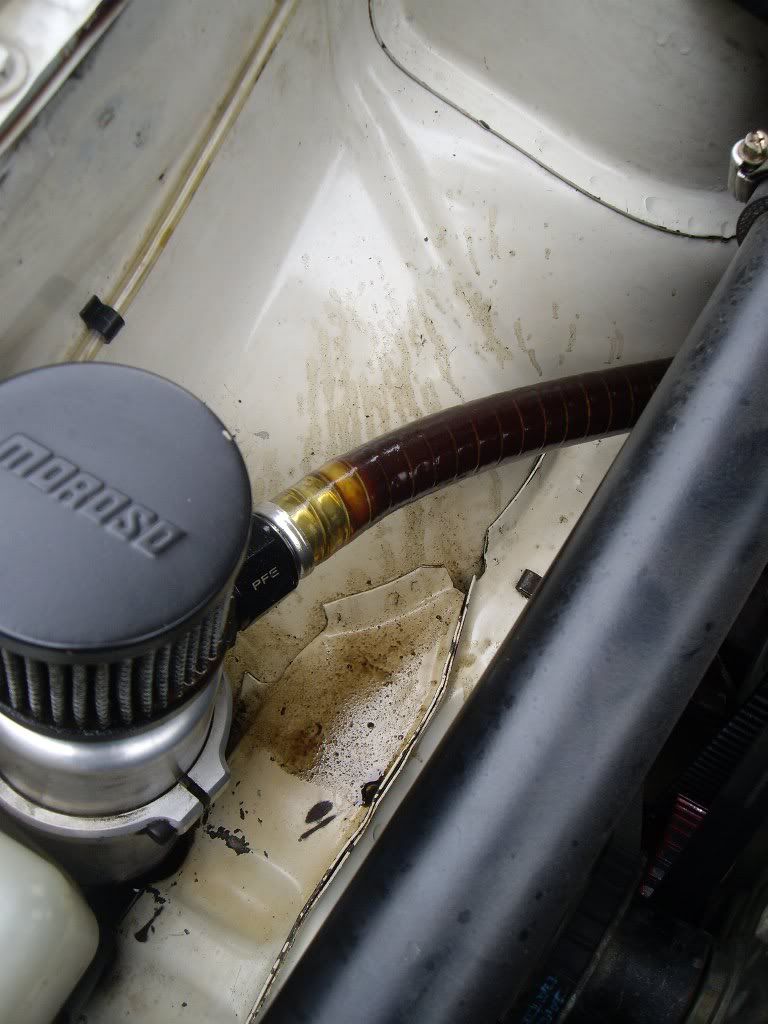 Oil sweat bleeding past #2 plug.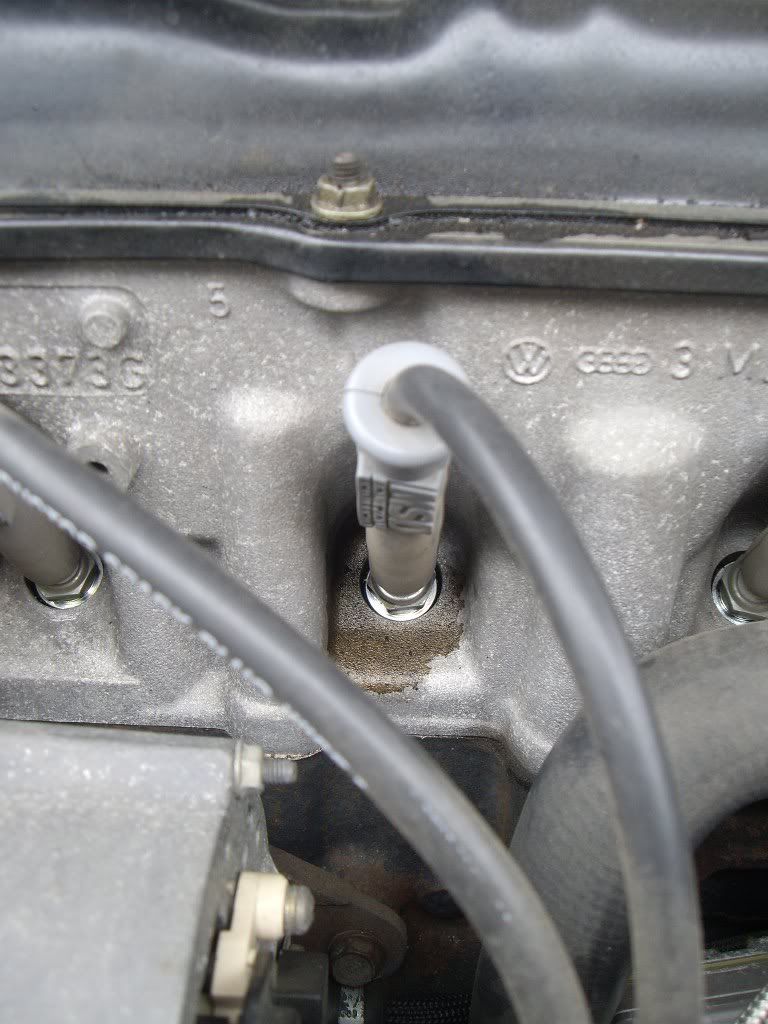 The oil sweat pumped out into the entire RHF inner guard, all its components & part way down the RHS floorpan!!!




A couple of pics from Performance Car Mania

Setting up camp. My friends old 500+hp Holden HG Premier & another friends airbagged Passat wagon.





As we were basically the photo car, there was nothing taken of my own car out on the track unfortunately. But it doesn't matter. We still had a ball.

This is sitting in line waiting to get out onto the track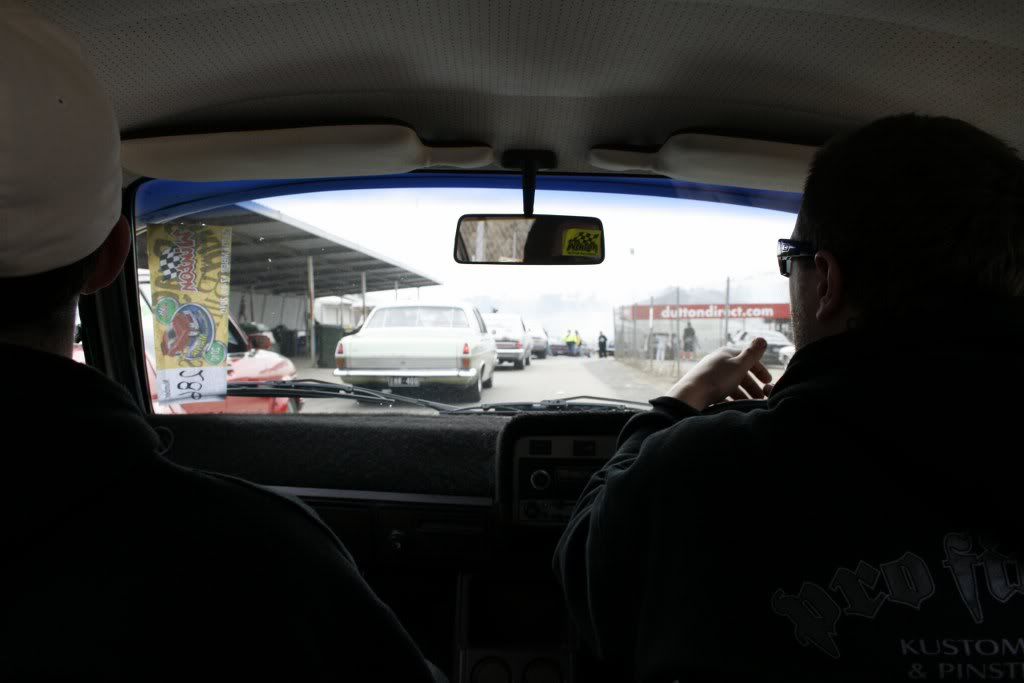 ---
motha

-

August 14th, 2011 at 10:16 PM

I have all the parts required to pull the engine & start on the rebuilding of it, which I should make a start this weekend for sure.

So far the parts line up is...

VRS set
G60 Steel Headgasket
Short motor gasket set
ARP Main Stud Kit
ARP Head Stud Kit
ARP Rod bolt kit
Main bearings set(6-piece thrust washer)
Big end bearing set
New oil pump pick up baffle
New NGK BKR7E Spark Plugs
New Hengst paper style oil filter (retrofitted a hengst late model style alloy housing, as it was just lying around not being used)
T3 flanged exhaust gasket
Oil Drain gasket
3" Dump Pipe Gasket
Full set of new Pressure Plate & Flywheel bolts
A full set of seals & gaskets for a 020 4spd box
ARP Diff Ring Gear Bolt Kit


The best bit!!!

The new turbo arrived today along with the new style Tial Recirc BOV.

I decided to go with a recirc style valve not cause my current atmo one doesn't work. It works 100% OK, but rather sick of the noise. The car is stealthy enough, but when taking off, you get the whooooosh & I hate it!!
Plus this bolts straight onto my existing Tial mount, so I only have to mod the turbo inlet pipe with a 1.25" flange for a 90° hose to plumb it

Anyway, the turbo is a T3/4 50 trim, .48A/R with a stage 3 wheel.

The turbo is a fair bit bigger than the Stock Saab T3 currently fitted to the car & I think I may run into a couple of dramas in stuffing it in down under the intake along with the wastegate actuator. Which I had a couple of drama's fitting with the smaller T3!

The turbo also has a larger intake, so I will need to resize the intake piping.

Anyway. On with some pics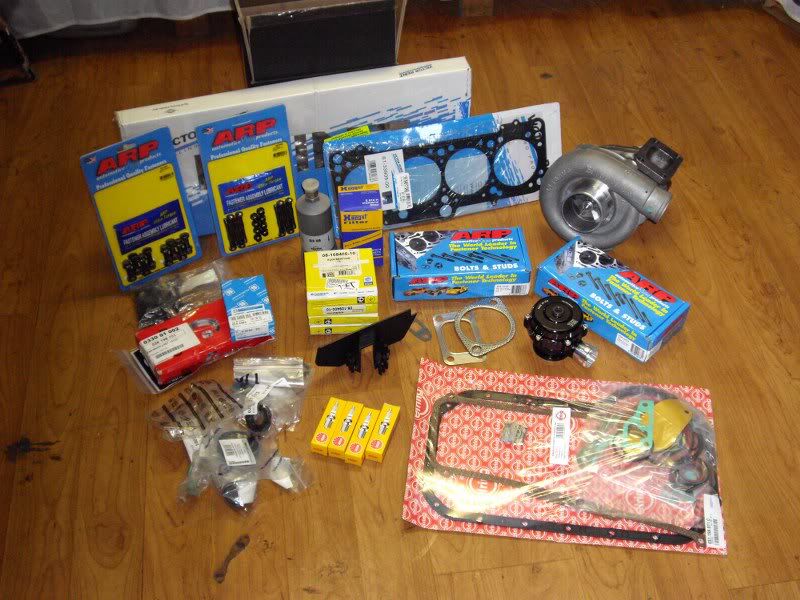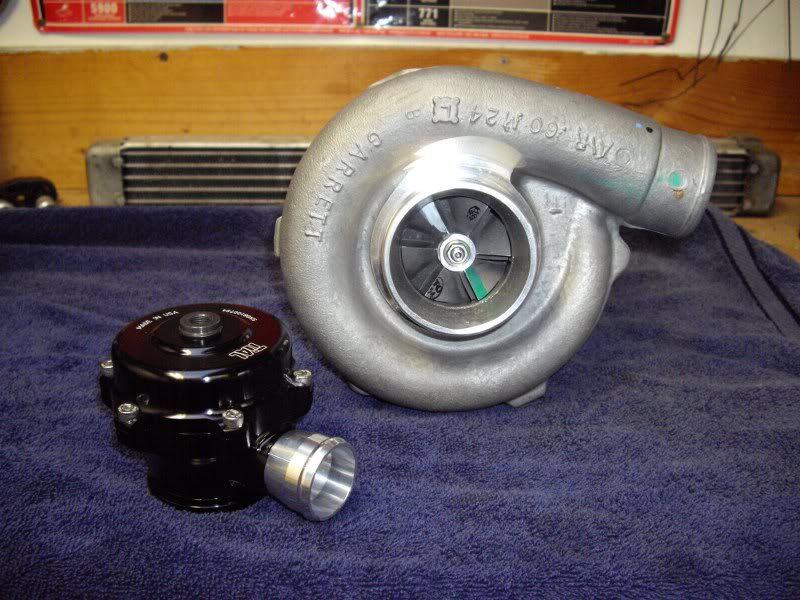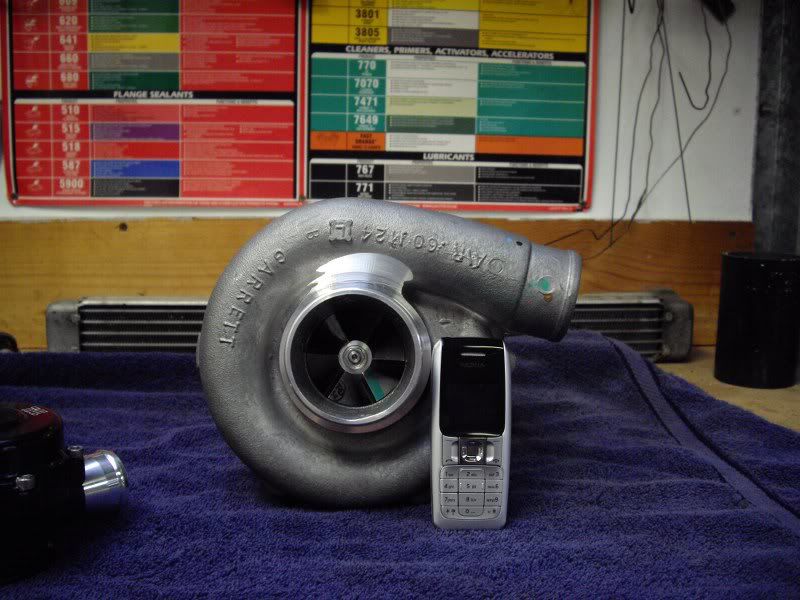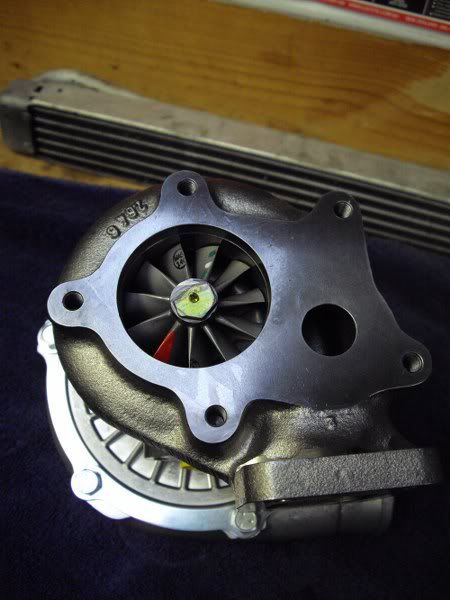 Here is the T3/4 on the right with a GT3076R on the left, I have here for another engine build when much more funds allow.

Once the old T3 is out, I'll put them all up against each other for a comparison. I can safely say the T3/4 has a much larger exhaust wheel & compressor housing.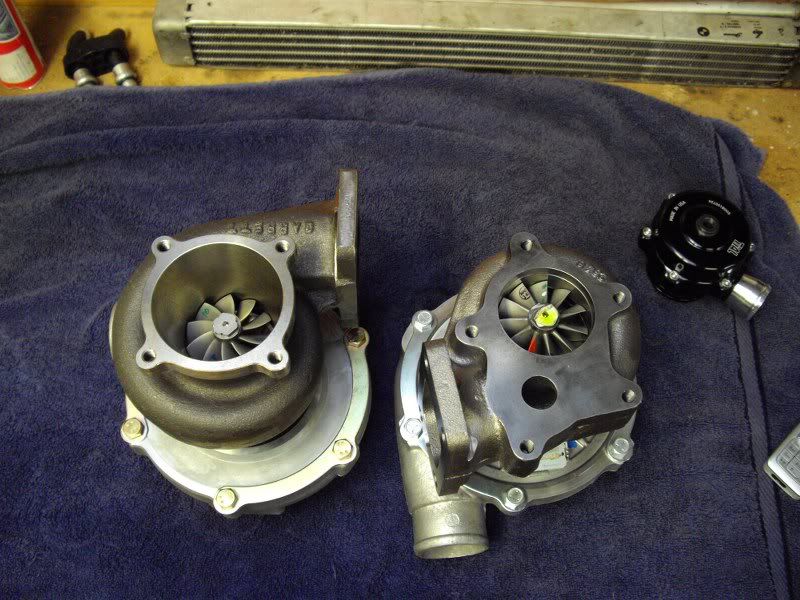 I'll try post up pics along the way during the rebuild which will not only be the engine, but also all the porting of the head (which I nearly have down pat), match porting of the intake & exhaust manifolds & also the turbo exhaust inlet & the stripping & modifying the box of gears too.
The head will be skimmed & the flywheel will be surfaced too.

A bit of a play with some porting burrs. These are only test ports & haven't had any finishing work done with cartridge rolls etc. The proper ones will be mint!





The plan is to get it all together, run it in hard on 10psi with a conservative tune, bed the clutch in properly & then start to step the boost up again. I'd like to hope that I can make the same power as before, but with about 12-13psi. So if I can fuel this turbo upto 16-18psi, it should thump the current setup, or just blow the engine up! We'll see.

If everything goes to plan, I'll try & get it back to the drags to see how much of a improvement it has made.
---