Has anybody put a double din headunit in an L bug?
---
Isola

-

August 17th, 2012 at 07:32 PM

If so, HELP!

I can't work out how (if at all) to make the thing fit. I have a double din from my old car that I kept, and would love to work it in to the beetle if at all possible, but I don't want it in an awkward or silly spot. In the glove box is fine as long as it doesn't look like it was installed by a monkey tripping on LSD, but I really would love to shoehorn it into the dash if possible.

Otherwise - can someone suggest a good single din headunit that allows me to run a touch screen to scroll through music folders and will read BIG memory sticks/cards/hard drives? I don't want to scroll through a thousand music folders with a jogwheel/remote. And I don't just want to piggy back in an mp3 player with an AUX cable or what have you.

I have looked at some single dins with fold up screens, but then they will block my dash air vents, so I'm starting to run out of ideas... short of going completely MacGuyver on my dash with an Android tablet and fabricating equipment. And then I'd still need to install a CD player somewhere for the CDs I haven't ripped to the computer yet... painful.

Thanks!
---
Shuffs

-

August 18th, 2012 at 05:41 AM

Have you given any thought to making a centre console,mounted over the transmission tunnel,incorperating the gearstick and intergrating it there?Saves chopping your dash up,and may even give you enough room to fit a couple of extra gauges if the need arises.You just need to be handy with plywood and vinyl..
---
beetleboyjeff

-

August 18th, 2012 at 09:45 AM

I was going to suggest the same thing. I got this fibreglass one years ago to mount my CB radio. I don't have the CB any more, but I am planning on fitting a GPS in there one day when I can afford it.

The advantage of the black fibreglass centre console is that it matches the dash and looks like it was a standard option.


---
Joel

-

August 18th, 2012 at 10:37 AM

There is physically not enough room behind the dash anyway because of the firewall shape.

I ran essentially what was a double DIN setup in mine in the late 90s.
A head unit and a DSP/graphic EQ mounted together in a custom console.

It's not too hard to make something up like mentioned.
I'm back to that now with just a single DIN headunit in my console
Lbugs run out of room quick when you start filling them with electrical goodies.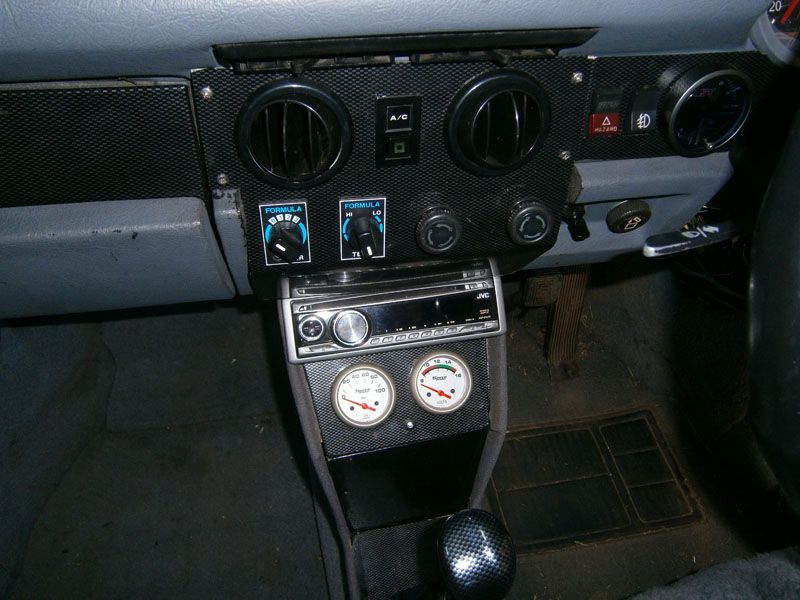 ---
MISS VDUB

-

August 18th, 2012 at 04:57 PM

Ditch the double din, total waste of time and space, just not necessary. Sounds like you are making things more complicated for yourself than needed.

We picked up a nice JVC head unit for under $100 from Super Cheap for under the rear seat of the beetle. It has an AUX output which i run a cable to my iPhone and play my music through that. For a little more money you could get the same unit with USB and others there had Bluetooth function. With todays technology you dont need big bulky units unless you want the "wank factor" of a pretty picture display.

Our other vehicle doesnt even have a head unit, merely a small amp and speaker installed under the bench seat of the Single Cab with the jack cable pokiing up between the seats and we plug our phones in to listen to music and radio. That way we could have something "modern" without it being seen.
---
tar76

-

August 18th, 2012 at 05:07 PM

Ash whats the radio reception like from the iphone? I've been thinking about doing the same for bud.
---
MISS VDUB

-

August 18th, 2012 at 05:10 PM

Absolutely awesome, but of course Iphone doesnt have an inbuilt radio as such and I use the TuneIn radio app so is dependant on phone coverage. Bob has an inbuilt radio on his HTC and that's fantastic.
---
Isola

-

August 18th, 2012 at 10:00 PM



Those are the things I don't want to do though.



I don't want wires hanging out of the dash or running to the glove box, or need to plug my phone in or connect it with bluetooth or anything else. Hell, half the time I don't even have my phone with me, and if I do it might be one of the days I actually bothered to charge it.

I'm after a purpose installed stereo. The only problem is that I have so much music that I really need to operate whatever is in the car like a mini computer. Simple clicking through folders and using a media player interface is what I really need. It's not "wank" factor that I want the double din setup for. It's ease of navigation, ample storage, and it's neat and tidy.

Joel and Jeff, those center console ideas are pretty cool, but will kill my cup holders in front of my shifter

I might measure things up, or maybe mount the head unit on a test bracket under the dash to see if it's too annoying to use there/in the way of everything. So it's a good starting place, thanks! Did you have to relocate your fuse boxes or anything though?
---
beetleboyjeff

-

August 18th, 2012 at 11:59 PM

I just swung my fuse box down and into the side of the fuse box. You can see it a bit in the photo, just below the fire extinguisher.

I will get a better photo tomorrow.
---
MISS VDUB

-

August 19th, 2012 at 01:54 AM

Ummm, you don't have wires hanging out the dash, it's a cable jack that plugs into the Aux imput on the head unit and removed. No one installs double dins anymore, and the above was a suggestion as there isn't room in an L Bug for something so big and bulky and not pleasing to the eye. Ease of navigation, ample storage and neat and tidy is not what springs to mind with a double din unit.

If you have so much music and want to listen to it on the go, why do you not have an iPod or other music storage device? It would make it so much easier, plus eliminate the hassle inside your already small car. Plugging a music storage device such as ipod is far easier in terms of navigation and eliminating clutter in your car. There is that much memory on an ipod, music storage has personally never been a problem! What I have mentioned is what most people run these days with available technology for music storage, and will recommend on most ICE forums for small cars. Head units are no longer for music storage, phones and iPods are.
---
Isola

-

August 19th, 2012 at 11:48 AM



A cable from the front of the headunit down to whatever it's plugged into, is a wire hanging out the dash for me.

As for no one installing Double Dins anymore... Quite a lot of OEM stereos in cars these days are still double din, and there are still a lot of aftermarket options. You will see more and more of them as companies follow the trend of putting GPS in thier head units. So, it's not like it's an uncommon head unit style, nor are they exactly an extinct monster. And pleasing to the eye is a matter of opinion.

I only listen to my music at home or in my car, so I don't have a portable music player. I have a hard drive that I keep at home, and then another hard drive that goes in my car with the same data on it. When I buy a new CD I rip it to the computer and add it both hard drives. Everything is stored in folders and is formatted the same way and keeps it nice and neat. I just want something to navigate that hard drive, and my old head unit could. I could get a large list of folders on the screen at one time because of the large screen size. "Big and bulky" to some, is just perfect for others.

And yes, as has been suggested, I think under the dash will be the way to go. As long as it sits in a good spot to operate comfortably.

Jeff, I can kind of see the fuse box in the side there. I wasn't sure if that was your main box, of if you'd made another one with fuses for other equipment.
---
beetleboyjeff

-

August 19th, 2012 at 02:56 PM

I can see why you want to put in the double din setup - I find that trying to find things on my phone or whatever while driving a bit of a pain. If the light isn't real good, I have to find my glasses and put them on. A big screen is sooo much easier in my opinion.

It also depends on what you are used to. I also can't see a lot of use in using up time to learn a new system when the way you already know works very well for you - even if it does take a few tweaks to get it set up.

Anyway, here is my fuse box hanging loose while I had my interior out when I re-sprayed my car a few years ago.



And this is the fuse box mounted in the console. There is still holes from the CB that I used to have in the console, and you can see the second fuse box that runs the alarm, remote central, electric windows, etc.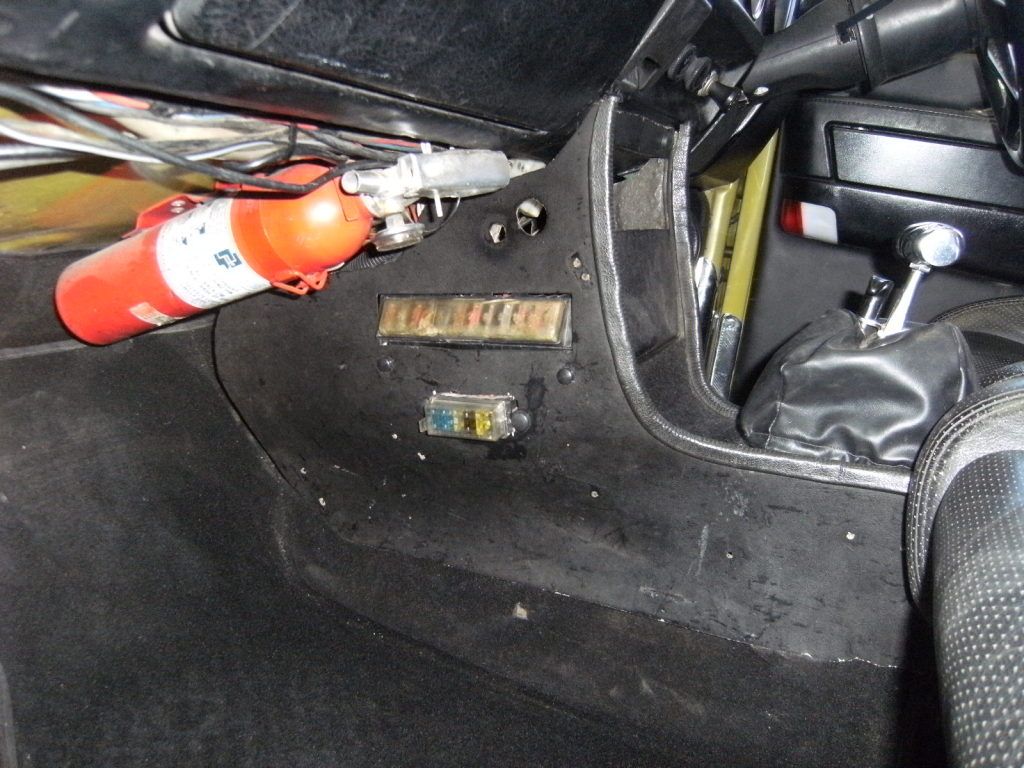 My plan is to fit a built in GPS into the console when I can afford it. I even have ideas of taking out the console, getting someone to make a plug of it and filling the holes (making it a blank again) and making me a new one.

No time, no money though.
---
Mr Muppet

-

August 19th, 2012 at 03:44 PM

This is an early dash but the concept would be the same. This is a box made from MDF (craftwood). I just custom shaped it to the dash and mounted it with a couple of bolts, but you could build it full height down to the tunnel. I too used this unit out of one of my other cars.
---
Yogie

-

August 19th, 2012 at 03:48 PM

You can get the type of cup holder that plugs in to the ash tray and that will allow you to use a centre console as well as leave you with somewhere for your drinks.

Yogie
---
MISS VDUB

-

August 19th, 2012 at 04:39 PM

Sorry but I guess I just think the above looks absolutely awful, and in an L Bug even worse. My reference to no one installing double dins was nothing to do with new cars, most new cars come with double dins already, I was talking about classic cars with small dash boards and limited space.

Best of luck with your mission
---
Mr Muppet

-

August 19th, 2012 at 08:54 PM

Isola, I guess with a centre console you don't need to cut up your dash, and when it comes time to upgrade your equipment or your taste it's not an issue. What I suggest is to make a cardboard shape of your head unit and move it around the dash while your in the drivers seat and then plan from there. But hey, it's your car and your personal choice .So if you want any advice on installation just PM me, Im not an expert but I can tell you what I've learnt from experience.

Cheers

Michael
---
Isola

-

August 19th, 2012 at 10:21 PM

Thanks for all the input, everybody!

I think that cardboard mock up idea is fantastic, Michael. I'll definitely test the waters with that! And thanks very much for the offer of assistance.

I'm also going to keep my eyes peeled at cars that come through the workshop and see if there are any parts that already exist in other small cars that I may be able to track down second hand and incorporate into my plans.
---
BiX

-

November 18th, 2012 at 05:36 PM

I would second going Ipod or similar with a single head unit.

In my wifes Corolla (yes not a vw, but) we just installed a new Sony head unit . It was about $130, and comes with USD out, extra input in the back and Bluetooth. I would then add a cradle for the phone and your away.

With a iphone or ipod it connects straight away, and you can navigate either on the phone or on the head unit. No hassles with connection or similar. Plus it gives you hands free phone when you want (main reason we wanted to install it). Plus if you never charge your phone, you have a USD plug to charge in the car.
---