anyone running serious horsepower?
---
DieSchnelleKafer

-

November 28th, 2011 at 12:03 AM

im keen to see if any of the young poeple here are running large hp figures? drag racing, street, circuit.. go on show us some of your creations

---
MISS VDUB

-

November 28th, 2011 at 06:46 AM

You will find some states now have restrictions in place for P Platers

http://www.tmr.qld.gov.au/Licensing/Getting-a-licence/Car-licence/Provisional...
---
esevwbits

-

January 5th, 2012 at 06:50 PM

doesnt stop me from green p's and a 2332 powerplant though

---
Joel

-

January 5th, 2012 at 08:35 PM

You're right till you're in a prang, even if you're not at fault then you're f**ked.

The law and insurance companies gonna rape you goodly.
---
1303Steve

-

January 5th, 2012 at 10:21 PM



Hi

P platers in NSW cant drive a car with any engineer certified engine modification, if your car has a modified motor and isn't engineered with motor modifications your screwed again.

Steve
---
DieSchnelleKafer

-

January 7th, 2012 at 08:06 PM

thanks for answering my question guys, its good to see the setups you have posted up!
---
esevwbits

-

January 15th, 2012 at 04:19 PM

being under 25 you get raped on insurance regardless.

secondly, try and prove my 1600 is a 2300..

i can't see nrma assessors turning up with cc measuring equiptment in the case of an accident..
---
SuperOwen

-

January 15th, 2012 at 05:07 PM

Economics, if stripping your engine got them out of paying a large claim they would not hesitate. Whether it occurs to them to check, who knows.
---
Adsman

-

January 16th, 2012 at 05:45 AM

Usually the big carby's and zorst are reason to look
---
DieSchnelleKafer

-

January 18th, 2012 at 06:20 PM

ffs seriously tho, i asked if anyone was running big horsepower figures in the young dubbers ection, i didnt ask why it shouldnt be done. typical AVD crew

(edited 18/1/12 helbus)
---
DieSchnelleKafer

-

January 19th, 2012 at 07:02 PM

yay censorship
---
Lachlan VL

-

January 20th, 2012 at 11:40 PM

im only running a 1835cc got some guts and has a really argressive rpm the previews owners have done some serious work to it but i dont know wat. dont know wat my power rating are either find out when its registered
---
SebastienPeek

-

January 21st, 2012 at 11:24 PM

I originally had a 1500cc single port in Zelda, now a 1600cc twin port with dual carb setup. Looking at probably getting her up to something quite large.

I'm considering going 1916cc but am also considering jumping above the 2000cc mark as well. Just depends on the time and effort to get her there.

Will update my thread more in the Members Ride section when I get the chance and the engine is back up and running. Need to get an electric fuel pump for the carb setup which should be quite good. Just need to find the cash, spent most of it on my holiday and getting the base engine. Didn't think too much about the overhead.
---
esevwbits

-

January 24th, 2012 at 09:32 PM

just finished a 1916 turbo in a manx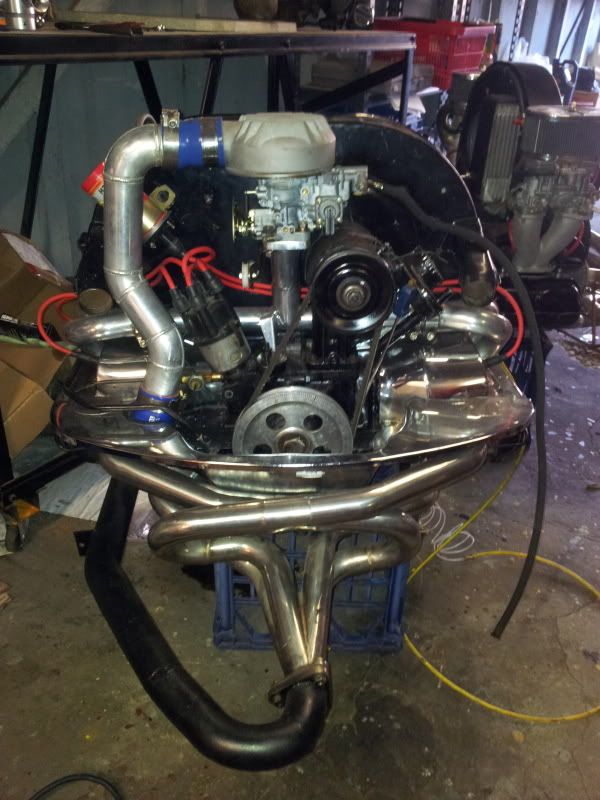 goes pretty good!

and my 2332 highcomp moves along nicely!



have 2 more motors in the build, 2332 and 2276 13:1 avgas drag motor. should be good fun down the track

---
DieSchnelleKafer

-

February 8th, 2012 at 10:16 PM

that my friend is awesome! love the hot dog from the turbo, that in a manx would fly

---
blistered_bug

-

May 31st, 2012 at 08:48 PM

yea would love to see some big hp machines
---
moonlite6t6beetle

-

August 7th, 2012 at 08:56 PM

My partner is 21, and her 63 beetle has an 1835 with duel barrel webber, empi manifold, ported heads, engle cam, high flow 4to1, will get track times soon.
Probably similar to your Lachlan
---
type3vw

-

August 20th, 2012 at 06:54 PM

its good to see the young dubbers into power and not doof doof and neons.
when i was on my Ps i had a 1958 bug that i built a few motors for, learning alot too. ending up piecing together a good combo 1835, lightened std crank, lightened flywheel, lightened std rods, all balanced, ported my own 044 heads twin 40mm dels and my own cam spec cam ground by wades and the quickest a ran at calder was 13.12 at 98 mph. loved my little 1835cc been thinking of building another the same.
---
schnike007

-

July 11th, 2016 at 03:12 PM

I have a standard flat four pancake motor with syrup power
---