Finally I am ready to start my Resto.
---
ArtyP

-

July 25th, 2010 at 03:40 PM

Its taken me a while to get my head around this project but now i am ready to go ,Firstly Graeme I have given you a bum steer I got my numbers back to front KO 370 is the one with the Flared guards KO 401 is my original one .This is the one I brought new it was stored in a mates shed on its side for 20 years with the roof leaking so that is why one side is rusted I was tempted to restore 370 as it has no rust I have only owned it for for 25 years so even though 401 is a lot more work it has great sedimental value to me ,we have been through a lot together (more about that later) I have all the original gear including hood and side curtains seats and the front boot lid, rear lid, inside tray& windscreen are in really good also there is no rust in the floor pan .as you will notice in the photos I have just made a Jig which will make it easy to work on and move around, And CB John is making me a new side no need to hurry John I have plenty to do. And to CB Bill thanks for your patience he has been waiting for about 20 years for me to do something .

---
11CAB

-

July 25th, 2010 at 04:51 PM

OK, numbers swapped around and new ones uploaded to gallery.
Cheers
Graham
---
58camper

-

July 25th, 2010 at 08:18 PM

Mate,
It certainly looks like you are ready to power into it. Just remember ,its only money and just think what you will end up with,

Must get up there for a look.
PS- Love the Jig.

Regards,
Bill.
---
ArtyP

-

August 18th, 2010 at 08:27 AM

Well I have cleaned it up ready for the sand blaster. Glad I have another on to copy off when it comes to putting the wiring back, in all I have is a box full of tangled wires, my problem is the rubber seals that are in the body around the motor area, guess they would be there to keep out the dirt, the front on is in ok condition but the side ones and back one are RS .How hard are they to get out (seems difficult) and is it hard to put new ines in and are they available ? By the way that Jig is invalueable. Art
---
58camper

-

August 18th, 2010 at 07:55 PM

Art.

Rather yours than the other one that has just come to light.

Those rubber seals slide in like the old sail track.Put some WD40 in and around the seals and then use a flat screwdriver to slide them out. They will be fragile and will probably break a few times but will come out.
The seals can be obtained from a number of places but wait until you have a full list of requirements and buy them together for a better price.
countrybuggybill
---
Craig Torrens

-

August 19th, 2010 at 11:02 AM

cool....another resto

---
bevoracing

-

August 20th, 2010 at 11:04 PM

Arty
Donít worry mate, thatís what weíre all here for, to help you get it done. Donít panic about the parts, theyíre almost all available, even all the rubber bits. They donít always match the original parts book numbers but with a bit of internet work you can work out whatís what. If you need any help on specific parts just yell out, weíll give you the tip. Iíve done some of the work (about 170 parts) and I was pleasantly surprised, thereís much more available than I expected, at quite reasonable prices and good quality too. Stick with it.
Cheers
Tony
---
11CAB

-

August 21st, 2010 at 08:01 PM

Are the tail lights still available anywhere?
---
CB CRAIG

-

August 22nd, 2010 at 05:51 PM

Hi Graham,
Yes you can still buy the rear tail lights but they have chrome trims were the origional ones were black.You can get them from any Hella dealer,they might have to order them in for you.
Cheers Craig.
---
donn

-

August 23rd, 2010 at 02:39 AM

Take care, I have them on the buggy and there are two types, festoon bulb and bayonet, I have the festoon on mine (they were on it when I bought it) and while they haven't given me a problem I am constantly aware that they are second class, also I have been told they are illegal on a car, not sure if that is true.
---
ArtyP

-

August 23rd, 2010 at 06:22 PM

How in the hell do I remove the windscreen washer jets (its a little round bulb in the centre with 2 jets in it )I spent about 2 hours trying to figure it out , and its the last thing I have to dismantle ,would'nt have taken much longer to get an engine out, also does anyone know if the original rubber bellows type pump on the back of the washer knob is still available mine is perished
Cheers Art
---
OZ Towdster

-

August 23rd, 2010 at 07:54 PM

Art,
I don't believe you can by a replacement bellows for the early wiper switches , but i do have 2off of these switches with good bellows

Andrew
---
58camper

-

August 23rd, 2010 at 08:09 PM

Art,
Take advanatge of Andrews's offer for the replacement bellows as you cannot buy them new. I did find a NOS one on Ebay 3 months ago but it was worth the price of a rusty CB.

From what I recall the plastic washer jet just pushed into the rubber hose carrying the water. You can bet your rubber has perished and is stuck to the hose. I dont think there was any clamp. Will have a look at mine tomorrow and let you know if not the case.
countrybuggybill
---
ArtyP

-

August 23rd, 2010 at 08:17 PM

Thanks Bill I just sent a PM to him and will ring him in the morning Art
---
bevoracing

-

August 25th, 2010 at 08:49 AM

I see CIP1 has what they call "VWC-141-955-517-EC - GOOD QUALITY - WIPER/WASHER SWITCH - BEETLE 62-67/GHIA 62-67/TYPE-3 1967"and "VWC-141-955-517-AEC - GOOD QUALITY - WIPER/WASHER SWITCH - BEETLE 68-71/GHIA 68-71/BUS 68-72 / TYPE 3 68-71"
Don't know what the difference is or which one we use. Both have the same picture. They both use a type of pump, but not with the rubber boot thing. Might be worth a look.
http://www2.cip1.com/ProductDetails.asp?ProductCode=VWC%2D141%2D955%2D517%2DAEC
---
ArtyP

-

August 25th, 2010 at 06:13 PM

Thanks for that Tony but I have already ordered one from Andrew the picture of the one in your post is not the same as mine I dont know what what the one Andrew has looks like but heres hoping Art
---
ArtyP

-

November 14th, 2010 at 06:24 AM

Well here it is back from the blaster I am very happy with the job Tom did ,he is at Heatherbrae near Raymond Terrace I have to replace some damaged panels but its starting to lookgood to me .Art








---
ztnoo

-

November 14th, 2010 at 09:22 PM

Art,
Looking good! Looks like you have some momentum going now, keep on rollin' along.



So did you go ahead and have it sandblasted or was some other media used?
Any surprises discovered after it got stripped?
Where are you getting the panels you need?
Regards,
Steve
---
58camper

-

November 15th, 2010 at 12:40 PM

Art,

Not bad for a bloke who only three years or so ago wasnt contemplating a restoration because he thought his son might do it one day.

Being the original owner for so many years and getting your CB to do things that others could only ever dream about must be a cause of immense satisfaction and that is what life is about.

Keep up the great work.

countrybuggybill.
---
ArtyP

-

November 16th, 2010 at 05:13 AM

In reply to tour questions ztnoo He doesn't use sand but various grains of beads as far as I know ,I will ring him and ask if you want me to,I didn't get any nasty supprises as I had cleaned it up fairly good so I knew what to suspect and CB John is doing the left hand side and inside right hand side panells which needs replacing, he would be one of the best tradesmen I have ever come accross .I am really looking foward to this project now I can see something happening I have given myself 2 years to get the body finished ,and luckily the floor pan and running gear is in good condition and always been maintained properly so it wont be such a big job Regards Art
---
ztnoo

-

November 16th, 2010 at 05:28 AM

Art,
My best guess is he used glass bead media. Its my understanding it is much easier on the metal under the paint and rust. Basically it just removes the crude of the surface rather than etching into the underlying surface.
CB John is the best! Anyone who can completely rebuild a CB body to original spec is someone whose skill should be applauded and admired. His CB is a work of art, no pun intended. Looks like you have chosen the best guy for your panel repair needs.
What color are you going to paint it when you get around to that stage?
Keep up the good work.
Regards,
Steve
---
ArtyP

-

November 16th, 2010 at 08:40 AM

Steve
Probably the original colour but I am very tempted to do it in a satin finish, I can hear all the purists groaning already so I will be doing a test bit first to see how it looks . Regards Art
---
ztnoo

-

November 16th, 2010 at 10:06 AM

Art,
Thanks for your reply.
If you can, check out your stripper's choice of media.
Looks like he did a bang up job for you.
Also......if you don't mind.....I'm sure other mates out there would have interest......could you give us some idea as to the costs involved with what you had done.
Keeping this pieces of history living and running is important. The more info all of us can share and assemble from the experiences of others doing CB restorations, the more it helps everyone....i.e., the more CBs will continue to live........rather than rusting away in sheds.
Regards,
Steve
---
ArtyP

-

November 17th, 2010 at 12:35 PM

Hi Steve
I called in and saw the Blasting bloke today ,he uses glass beads said they are the best , It cost me $800 remembering that I had cleaned it up fairly good, he didn't have to do one side (the side I am replacing) or the Bonnet, boot lid , windscreen surround & I supplied him with the Jig which made it easier for him .He said it could cost $1000 if anyone wants to know ,I must say I am very happy with his work & service.
Regards Art
---
ArtyP

-

November 23rd, 2015 at 04:28 PM

Well this has taken a bit longer than I expected

but I am getting there, nearly gave up a few times but had some encouragement from Bill and Lindsay Wilson.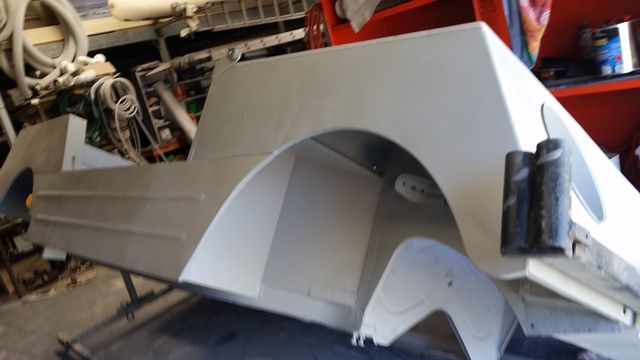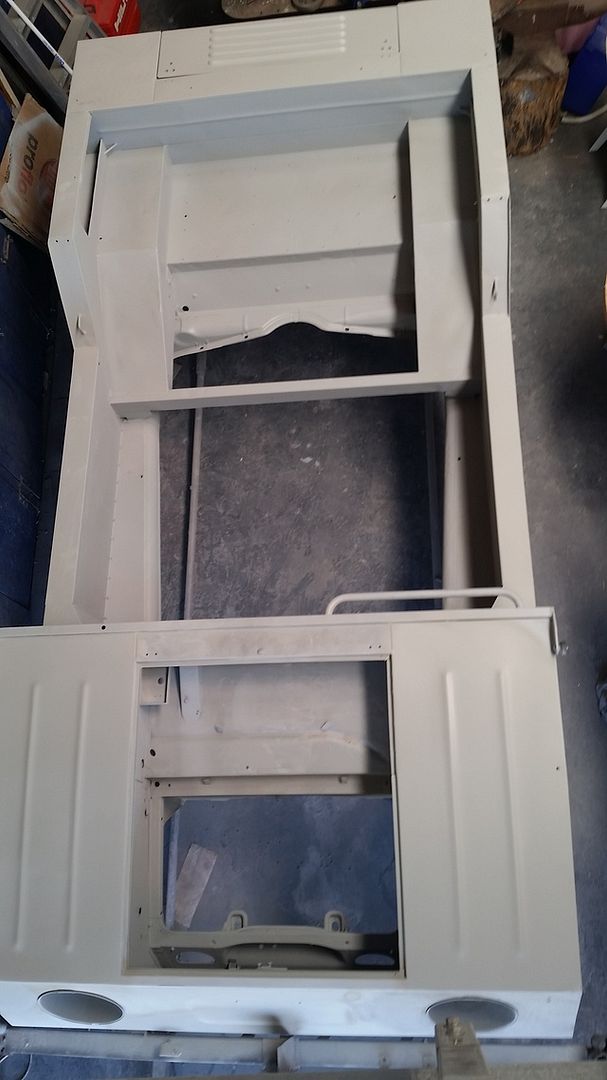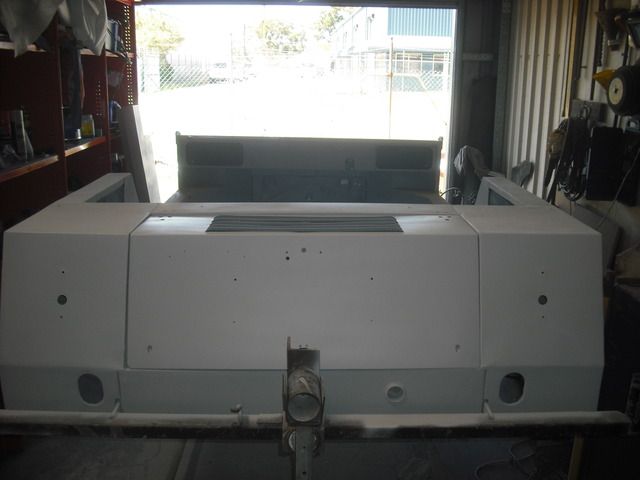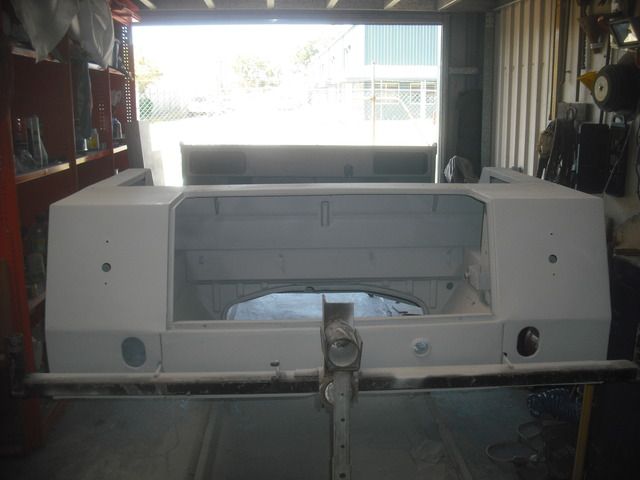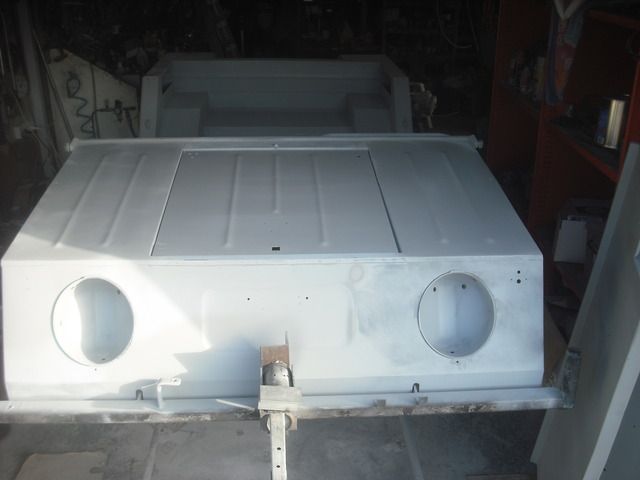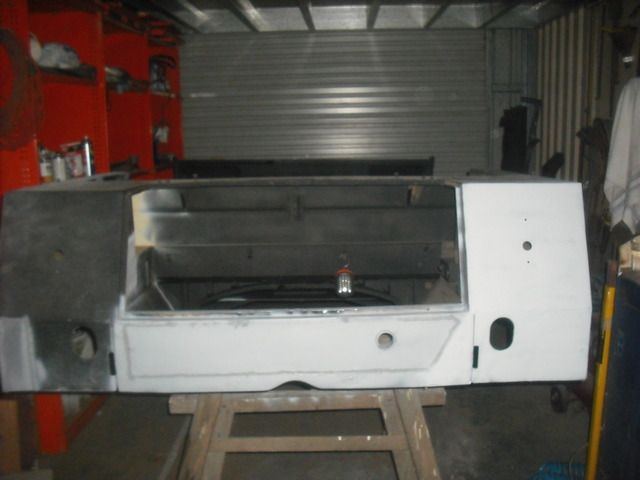 ---
ztnoo

-

November 23rd, 2015 at 04:31 PM

Looking good!


---
ArtyP

-

February 20th, 2016 at 03:06 PM

How good does this feel its now painted. Had a young bloke help me he is a great tradesman (spray painter) and so particular,, I didn't realize how important it was in the preparation, it took a lot longer than I thought , and I was lucky enough to have a bloke across the road with a spray booth which he lent me so we just wheeled it over on the rotisserie straight into the spray booth. I now have it on the mezzanine floor out of harms way while I work on the rest, I just wish Bill was around to see it I recon he would be pleased ,I still have a fair bit to do but most of the running gear should be OK except the brakes it, hasn't been going for about 15 years but it was OK then ,been parked in my shed and I have kept on turning the motor over . I am aiming to drive it to Valla in 2 & half years ( wont get done for this year ) so by then it will be 50 Years old I bought it new on the 10-9-68. By the way I painted it 1968 VW car Savannah Beige its slightly richer colour than the CB colour and we put a coat of clear mat lacquer with a hardener in it, over the top I am very happy with the result maybe the purists won't be.
will be posting photos real soon

Regards Arty
---
ArtyP

-

February 20th, 2016 at 03:41 PM

I am having a lot of trouble with this NEW Photobucket will keep trying, sorry.

---
ArtyP

-

February 20th, 2016 at 04:15 PM
---
Carl and Emily

-

February 20th, 2016 at 07:04 PM

Looks great.
Well done for keeping on it.
Another old vw coming back, awesome.
---